The Good, the Bad, and the Newsworthy
The original and continuing criticism of all digital photography was that even the very best did not approach the quality level of film. Kodak has now, although at a considerable price, destroyed that substantial disadvantage. And, as we all know, in the field of electronics every significant breakthrough eventually floats all boats. Therefore, we can now expect major increases in megapixels for the buck at all price levels below the new Kodak benchmark.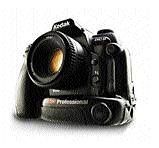 Kodak produced the first professional digital camera more than a decade ago, and Popular Photography magazine described this latest offering as the first digital SLR to outperform ISO 400 color film. The DCS Pro 14n is also the industry's first SLR digital camera that can shoot variable-resolution RAW files at 3, 6, or 14 megapixels.
The unique sensor of the new Kodak Pro14n covers the same area as a 35mm film frame (36 x 24 mm), and produces a maximum 4,500 x 3,000-pixel resolution image without interpolation. This model sets a new record for 35mm-format portable digital SLR cameras. There's no lens magnification factor or focal length multiplier, so you get the same image with this lens as you would with film. This optimizes wide-angle shots. It also has a Nikon "F" lens mount that accommodates most Nikkor F-series lenses, good news to anyone who already owns a Nikon 35mm camera setup.
Increasing the size of the image sensor increases image quality. Thus far, only three digital SLR cameras provide imagers as large as a frame of 35mm film. None of them, the $5,000 Kodak Pro14n, the $8,000 Canon EOS-1D, or the $7,000 Contax N, have reached consumer-friendly price levels yet. Canon was the first manufacturer to use a CMOS sensor, and their newest model Canon EOS-1Ds (www.canoneos.com/) can simultaneously save up to 11.1-megapixel images in both RAW and JPG format. The Contax N (made by Kyocera Optics, Inc., www.contaxcameras.com/body.html) still uses a CCD sensor, and produces good quality 6.2 megapixel images. All three cameras support Compact Flash Type I and II and IBM Microdrive storage media, and have firewire transfer cables.
CCD vs. CMOS
Traditional CCD (Charge Coupled Device) sensors are used in the vast majority of consumer digital cameras. These sensors use an array of photodiodes arranged in a grid pattern. CCDs have been used as imaging devices since the 1970s, when the first solid-state video cameras appeared on the market. The first sensors produced tiny images by today's standards (only 320 by 240 pixels) but pixel density has steadily increased over the years. By the early 90's significant improvements were made in CMOS (complementary metal oxide semiconductor) technology to produce the simpler, cheaper and more energy-efficient sensors in common use today. CMOS sensors have built-in converters on every pixel that immediately change electrical charges to the signals used for composing an image. The result is faster reading speed than CCD sensors, and very low electrical noise.
While the most significant differences between the two sensor types relate to how electrons are transferred from the sensor and the fact that CMOS can incorporate more functions right on the chip, their beginnings are quite similar. Neither one initially had anything to do with digital photography - both CMOS and CCDs were invented as solid-state memory storage devices. Kodak actually manufactures both CCD and CMOS image sensors. There are strengths and weaknesses in both, and together they will define the future of imaging.
Bigger Storage Media Needed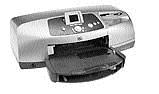 Quite obviously the larger image sizes produced by the newest digital cameras would require more storage, and Lexar Media (www.digitalfilm.com) has announced a new larger Compact Flash card line, their Professional Series, in 256MG, 512MB, 1GB, 2GB and 4GB capacities. The 2GB is still a Type I card and is already available, while the 4GB card will be Type II and is expected to ship later this year. In addition to large capacities, these cards are capable of a minimum sustained read and write speed of 4.8MB per second and are equipped with Write Acceleration technology (WA), which further increases the write speed performance in enabled cameras like the Kodak 14n.
The Microdrive will get a significant capacity increase later this year. Hitachi Global Storage Technologies, which assumed control of IBM's storage division on January 1, has announced a 4GB version of the Microdrive CompactFlash Type II card. It's expected to be available in the fall of 2003.
Printing Digital Images
InfoTrends Research Group's latest study of digital camera users confirms that the rising digital camera penetration is bringing waves of change for the photo industry, including changes for preferred digital photo print locations and services. Currently, 82% of digital camera users print digital photos at home and 81% of those who plan to purchase a digital camera in the future expect to print their digital photos primarily at home.
After lagging behind the market HP (www.hp.com) has finally seen the light regarding photo quality prints, and released a new Photosmart 7550 inkjet printer for under $300 that promises crisp detail and color up to 4800 X 1200 dpi on photo paper. Based on accelerated light exposure and dark aging tests by Wilhelm Imaging Research (www.wilhelm-research.com), the Photosmart 7550 has the best fade resistance in its category - up to 73 years or more, which is longer than that of most traditionally processed photos.
This model is HP's first to use up to seven-ink printing, and is compatible with both PC and Mac using a USB connection. It prints up to 17 pages per minute in black and up to 13 pages in color, and can print directly from CompactFlash Type I and II (including Microdrives), Memory Stick, SmartMedia and Secure Digital cards. While the HP traditional ink printers use a CMYK cartridge scheme, this printer takes an interesting approach. It comes with three distinct cartridges: Black, Regular Tri-Color, and Photo Tri-Color, that are all inserted into the printer at the same time. The photo cartridge has nozzles designed for much finer firing. It remains inactive for text printing, and can be engaged from the computer through the Print dialog box to print high-resolution images.
Epson and Canon inkjet printers have used 6-color ink printing for quite some time. The additional photo color inks produce better color with skin tones and an expanded color range. Printing at the same resolution with a four-color printer will produce a more visible dithering pattern than the 6-color models. With fewer ink colors, higher resolution is necessary because inkjet printers build up color through lots of discrete ink dots.
The digital camera revolution is remarkable in the level of acceptance by the public, as well as any measurable timeframe that can be documented. The rapidity of this acceptance not only confounds casual observers, but it has come to light that significant segments of the photographic industry were completely unaware of the direction the market would go. In the field of instant photography, even in commercial applications such as passport photos and identification badges, Polaroid Corporation has been so devastated as to now be in Chapter 11 bankruptcy. The esteemed leader in traditional film, Kodak Corporation, has announced significant personnel layoffs reflecting the decline in demand for their film-based products. On the local front, off-site custom developing labs for major retail outlets such as drug stores and discount stores are suffering consolidation so extreme that they will only exist on a regional basis in centralized state locations, which has already been the pattern for some time for slide film developing. Thus far, the on-site one-hour-or-less film developing remains viable.
Postscript: Lost Image Recovery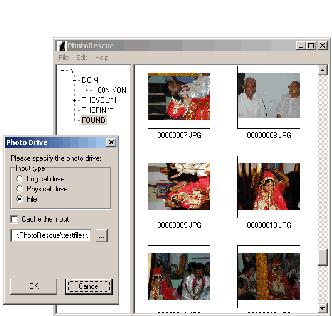 Have you ever accidentally erased all your images before you could transfer them to your computer? Or lost them when your card crashed while removing it from a camera that was still powered on? In the past 12 months, the data recovery needs for users of storage cards have increased ten-fold compared to last year. A digital image and data recovery program called PhotoRescue can undelete, unerase and recover pictures, images and files that are lost on corrupted, erased or damaged Compact Flash, Smartmedia, memory sticks, mmd, XD, multimedia or secure digital memory cards when other solutions fail. The company even guarantees data recovery performance. Once the demo previews your pictures, they will be recovered or you get your money back. PhotoRescue supports the recovery of all file types but its algorithms are optimized for JPG or JPEG files, TIFF files, GIFs and BMPs. There is constantly updated support for CRW, NEF, ORW, MRW and many types of movie files. PhotoRescue even deals with cases where the media is no longer visible as a drive letter. The company suggests trying the demo first to see if the software will recover the files before purchasing the $29 program. Download the Windows or Mac OS X demo from www.datarescue.com/photorescue/download.htm and if it previews your lost files, then order a copy to complete the recovery. Go to www.datarescue.com/photorescue/purchase.htm to purchase it online or by fax, phone, or mail with a credit card. I can tell you first-hand that it really works.