Diskeeper 7.0, by Frank J. Harrison
Second Edition - Workstation Edition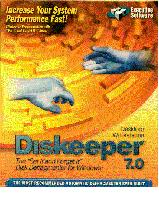 Last month we reviewed programs to help you kill worms and various viruses. This month you'll read the review of a program that can take those files and speed your access to them. After repeated use, files become fragmented. That is, a single file is broken into smaller pieces and stored in a number of different locations.
Defragmentation is simply the process of rearranging your files back to contiguous spaces on your hard drive. Your hard drive works less and you can more quickly access a particular file.
Fragmentation causes slower file access because the system must find the fragmented files over a wider area of the hard drive before it can read them. Free space on a hard drive can also become fragmented. This leads to performance problems.
Neither condition affects a file's contents, but both hamper your hard drive's efficiency. Charles W. Evans, Reviews Editor
The Program.
The main interface or menu is simple to use, easily understood and displays all drives, volumes, and options. On completion of its Analysis, Diskeeper advises on the condition of the volume and suggests a suitable course of action. If the drive needs cleaning up, simply select the Defragment button.
A Set It and Forget It option runs the program at scheduled times. This is a handy tool for those who prefer to let their PC defrag when the system is otherwise idle. You can opt to run it continuously or at various intervals, or excluding specific days. A Smart Scheduler makes this even easier. It determines the most appropriate interval by monitoring the number of files moved on each run and dynamically altering the schedule.
I picked Quick Defragmentation and ran the operation in the background while creating a spreadsheet and periodically accessing the Internet. I noticed no change in overall system performance. Quick Defragmentation is designed to defrag recently created files. It took about 14 minutes to defrag my hard drive.
Diskeeper has little, if any, serious competition. The majority of utility suites offer similar tools, but most pale when compared to Diskeeper. The basic version is in Windows 2000 and XP. Diskeeper 7 is offered in two formats: Server and Workstation. The latter supports only local operations, while the former provides remote management facilities allowing operations to be carried out on other networked systems.
For Windows NT, 2000 and XP systems, Diskeeper requires exclusive access to the MFT (master file table), paging file and directories, so clean-up tasks can only be safely run during the boot sequence. Boot-Time Defragmentation runs three activities to defragment the MFT and paging file and consolidate directories into a single location. Unlike Win9x, you cannot move folders under an NTFS file system.
Diskeeper functions as a MMC (Microsoft Management Console) snap-in and requires the DCOM (Distributed Common Object Model). Many systems won't have these loaded, but it is on CD.
This latest Server version introduces many useful features designed to reduce support department overhead. A Remote Install tool can push Diskeeper installations and upgrades to network clients. Boot-time defragmentation tasks can also be automated on remote clients, while a command-line interface allows Diskeeper to be run directly from a DOS prompt. Diskeeper Server allows the same tasks to be run manually on other systems simply by choosing them from the Select Computer window. The new scheduling and remote install features in Diskeeper Server will be appreciated by overworked support departments.
Tech-Support often does a poor job of following up and sometimes they do not do what they promise. There's a complete, helpful manual that answers most questions. Single users already running the previous version of Diskeeper Workstation will only see minor improvements with an upgrade. If you want the best of the must-have basic utilities, Diskeeper is it. The update retails for $49.95 for the workstation version and $249.95 for a server version. For more info and updates go to www.diskeeper.com.
Frank J. Harrison is a HAL-PC member who owns a small plumbing supply company.