Worm & Virus Killers, by the Reviews Team
plus Firewalls, Antivirus Software
Preface.
We've reviewed five antivirus programs to help you. I say "help" since the real power to catch rouge worms and virii is you. If you practice safe computing and are careful with e-mail attachments, you will be at the head of the class.

Here are some actions you can take:

Carefully read each e-mail and make a decision about keeping/deleting it.
Update your Windows system with Microsoft's security patches, etc. It's like they say about weeds - they don't grow in a well-nourished, good yard.
Get protected. Install an antivirus program. Ditto for a firewall if you have cable or DSL.
UPDATE your antivirus software regularly. Don't rely on someone else.

You are your own first line of defense.
Enjoy.
Charles W. Evans, Reviews Editor
PS: Reviews are listed in descending order of estimated street price.

Panda Antivirus Platinum 7.0, by A. M. Schaer
Panda is a feature-packed program with less than trouble-free installation. It is a combination antivirus and firewall product designed for individual and SOHO users. The retail price is a license for one computer. Additional licenses can be purchased.
I had several problems installing the software. The installer prompted me for "Disk 2" or the path where layout.bin can be found. I found only one CD in the package and discovered in searching for layout.bin that I had several files by that name on my system, so I clicked one at random and the program stalled. I forcibly shut down the program and then restarted it and the installation was completed. I had to manually register the program later. You cannot get updated antivirus signature files unless you register the program. The program will check for updates daily.
The configuration options and associated screens are similar to other antivirus products. You can schedule scans of your whole computer or of specific folders and also perform on-demand scans. It has heuristic scanning (which looks for a pattern rather than known viruses). There is an option to turn it on. Panda's redesigned interface makes it a breeze to change default settings.
Once installed, the antivirus scanner performed flawlessly. It is fast and did not seem to slow down my PC as much as does McAfee. Like its competitors, Panda scans incoming and outgoing mail for viruses, prevents malicious Visual Basic and JavaScript files from running amok, and updates its virus definitions via the Internet.
Once Panda detects a virus, it eradicates the virus without pestering you. Panda's e-mail scanner works with SMTP and POP3 clients - but not AOL - which means that it scans incoming and outgoing mail for rogue code in most popular e-mail programs. Panda is the only program which scans web surfing, ftp, newsgroup and AOL e-mail attachments and integrates your mail folders into the antivirus interface.
If you have Sygate's firewall installed, you must uninstall it. Ditto for other antivirus programs.
The firewall worked fine until I tried to send and receive mail with Pegasus. It blocked my attempts, even though I had specifically told it to allow Pegasus to access the Internet. I eventually got it working, but the details are beyond the scope of this review. Except for the above-mentioned problem, firewall installation and configuration was easy.
During the installation, the program prompts you to decide which network adapters will be used for file sharing. Look carefully at their default choices; you may want to uncheck some of them. To access all the configuration options, you must be logged in with an administrative account. You must have administrator rights to install the program.
Updates to the program and 24-hour tech support via e-mail are free for one year from the date you install the program. Tech Support responded within two hours to a question I had. No phone support (not even for an extra fee). For more info, support and updates go to www.pandasoftware.com.
A. M. Schaer is a HAL-PC member and free-lance web designer who can be contacted at schaer@hal-pc.org or seen at jove.prohosting.com/design.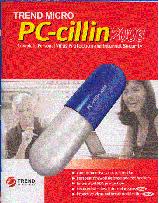 PC-cillin 2003, by Martha Harston
Trend Micro's PC-cillin has a well-designed interface and first-rate performance that make it a first class antivirus application for any Windows PC. It has minimal impact on system resources; free phone support for one year; and an easy-to-use interface. On the less good side: it has a pricier subscription fee than any of the competition. (Warning: the program requires Internet activation for ONE computer, e.g., WinXP.)
PC-cillin jumps to the top three antivirus programs on the market this version year. It provides fast virus scanning with little impact on overall PC performance. Its logical, efficient interface is easy to navigate, and the program delivers all the essential virus-busting tools you'd want, including e-mail and instant-message scanning, virus alerts via the Web, and the eradication of malevolent Java and ActiveX applets. PC-cillin includes a firewall to prevent Net-based malcontents from breaking into your PCs.
Setup is simple: load the CD, click a few standard Next buttons, and let the program do the rest. Upgrading, however, isn't quite so easy. To upgrade, you must uninstall PC-cillin 2002 (or earlier) before you load the new version. The program's personal firewall installs by default. This is good because it starts protecting your PC from intruders immediately. The WebTrap feature, which detects and destroys malevolent Java or ActiveX applets, is turned off by default.
Thanks to self-explanatory tabs and icons, the program is clutter-free and as easy to configure as the competition's apps. Also, it is a breeze to schedule weekly or monthly scans. It is the first AV program to include a feature to Secure Wireless Internet Access. I found the Virus Outbreak Notification especially useful.
It also detected my firewall software and suggested that we remove it in favor of the one PC-cillin offered. You must register your software in order to receive updated virus definitions, technical support, and product updates.
By including antivirus, firewall, PDA, and wireless protection, PC-cillin 2003 covers all major Internet security threats and provides protection without requiring any adjustments. With a simple interface and toll-free phone support, it's a good choice for beginners, too. By default, PC-cillin checks for updates every 3 hours.
The integrated firewall blocks Trojan horses from ports or specific protocols and lets you configure rules. You can also block URLs using the built-in site filter. A unique Wi-Fi protection feature lets you click a button to block all incoming traffic on a wireless network connection. Inexperienced users will welcome PC-cillin's toll-free phone support - unique in this group of products. For more info, support and updates go to www.trendmicro.com.
Martha Harston is a HAL-PC member and HS science teacher who can be contacted at MHteacher@aol.com.

Norton Internet Security 2002: AV & Firewall, by Paul C. Breenen
Norton's interface is simple enough for beginners, yet offers plenty of flexibility for experienced users. It scans and cleans attachments from popular instant messengers and automatically repairs infected files without troubling you. Plus, its script- and worm-blocking technologies stop e-mail viruses, including SirCam and Klez. Current NAV (Norton AntiVirus) users, however, should stick with NAV 2002 - version 2003 doesn't justify the $29.95 upgrade price.
Out of the box, NAV's default settings provide solid protection against e-mail-borne viruses, SMTP-based worms and Trojan horses by scanning incoming and outgoing e-mail, then automatically repairing infected files. NAV scans file downloads in AOL, MSN, and Yahoo IM applications.
NAV 2003's main screen lists its primary features: Auto-Protect, E-mail Scanning, Script Blocking, etc. and shows the date of your most recent virus definition update. On the left, a list of scanning options allows you to scan individual drives, removable or floppy disks, folders, or even individual files by simply clicking the appropriate menu item.
NAV boots with Windows and runs in the background, detects rogue code while you work, and downloads current virus definitions from the Net automatically. And like version 2002, NAV 2003 scans both inbound and outbound e-mail in POP3 e-mail programs. (Sorry, AOL mail users, you're out of luck.)
NAV 2003 scans ZIP files during the extraction process-after you've downloaded them.
The help menu includes links to Symantec's support site, where you'll find a wizardlike tool that steps you through common problems, including software bugs and virus definitions.
A couple of negatives: it tends to be a resource hog; it has trouble on systems with multiple accounts; and it is difficult to uninstall without manual intervention, involving cleaning up the registry.
It does support these e-mail programs: Outlook and Express, Eudora and other POP3 based programs.
New to antivirus 2003 is an automatic update feature, which retrieves the latest virus definitions from Norton, without the manually initiated request previously required, and installs them automatically on your system.
A Script Blocking feature empowers your PC to perform a preemptive strike against previously unknown viruses by detecting script-based threats like the infamous "I Love You" virus.
The program can be configured to scan all outgoing e-mail sent from your system for possible virus infection. Should a virus be discovered, antivirus automatically removes it before transmitting the e-mail, thus preventing it from being inadvertently passed on to a friend or coworker.
Unfortunately, Symantec's phone support is expensive at $2.95 per minute (up to $300 maximum) or $29.95 per call (M-F, 5a to 6p, only). For more info, support, FAQs and updates go to www.symantec.com.
Paul C. Breenen is a HAL-PC member, entrepreneur and co-owner of www.tias.com, the largest purely antiques and collectibles site on the web. He can be contacted at pcbeenen@hal-pc.org.
McAfee VirusScan 7 - Home Edition + Firewall, by Betty Allyn
VirusScan 7.0 is a top-notch virus slayer for first-time users, but unless you use Outlook Express or Eudora, VirusScan 6.0 users won't need to upgrade. It scans for viruses faster than Norton AntiVirus 2003; scans and cleans instant-messenger attachments; and, includes McAfee Personal Firewall at no additional charge.
Virus eradication requires your involvement. VirusScan provides a logical, clear interface that's quick to navigate; squashes malicious scripts, worms, viruses, and other digital miscreants. Unlike NAV 2003, VirusScan 7.0 has superior technical support and faster scanning times, and it comes with a personal firewall - essential for anyone with an always-on connection.
Current VirusScan users who use Outlook Express or Eudora will want the new features for those apps and should take advantage of the upgrade, while current Outlook users should pass for now.
First-time installation is quick. But if you're upgrading from a previous version of VirusScan, you must uninstall your old copy before loading version 7.0, which is a major hassle. Plus, you'll need to reconfigure your customized settings - preset scan times, firewall configuration, and so on.
Unlike NAV 2003, which automatically deletes viruses once it intercepts them, VirusScan 7.0's default setting posts a warning dialog asking whether you'd like to delete, clean, or quarantine the infected file, which gives you more control over the process. However, if you prefer a "don't bother the user" method, you can change this setting.
McAfee's Hostile Activity Watch Kernel (HAWK) detects unfriendly viruses, such as mass-mailer worms. HAWK supports SMTP-based e-mail programs, such as Microsoft Outlook Express and Eudora, in addition to Outlook, so if your e-mail app tries to send a message to more than 60 percent of your address book, HAWK will alert you. There is limited protection for AOL e-mail users.
VirusScan's VShield in-memory scanner monitors active scripts for potential trouble from Visual Basic and JavaScript and also scans file transfers between your PDA and PC. It now examines downloads from the popular instant-messenger applications of Yahoo, AOL, and Microsoft.
McAfee Firewall, included, prevents unauthorized access to those machines with always-on connections. The firewall is unchanged since the last version, except that it now automatically allows desktop applications such as Internet Explorer, AOL, and Music Maker to access the Net.
VirusScan Quarantine feature lets you clean files at a later date. Script Stopper detects, alerts, and blocks malicious script actions to keep your computer safe from script-initiated threats.
Some good points: excellent virus detection record; one of the better heuristic engines; and, provides Pocket PC support. Negative points: can be difficult to install; includes a less useful firewall; and poor archive support.
VirusScan 7.0 fully automates its virus-definition downloads. It also includes a complimentary one-year subscription to McAfee's virus-definition service, which costs $9.95 per year thereafter. For more info, support, FAQs and updates go to www.mcafee.com.
Betty Allyn is a HAL-PC member who owns a floral shop. Direct any questions to the Reviews Editor.
AVG Antivirus, by Charles W. Evans
How about something free for a change? AVG is a solid, basic antivirus scanner. No firewall is available. AVG originally hails from the Czech Republic. AVG offers as many features as the other AV programs this month, and more than some costing quite a substantial sum of money. The personal edition is free. All you do is download it and click on one file. Voila, you have few options and no settings. It runs on startup and includes a DOS scanner. Although it slows down your system a bit more than the better-known antivirus programs, I didn't sense it was of particular note. The log file displays limited info on what has been scanned and the results. It's basically, a no brainer.
About once a month, download the virus updates. That, of course, is the real bug-a-boo. In today's computing environment, you need at least weekly updates. However, if you are very careful and don't use Outlook/Express, you might get by.
Its virus detection rate is a bit on the modest side and it deletes infected files without warning. This is especially bad if you have a "false positive". That is, a file is IDd as having a virus, but did not, in fact, have a virus. It is not especially good at detecting scripts, backdoor entries and Trojans. It does scan ActiveX/Java, boot sectors and nested archives, but not networked drives. (Available in the server version.) AVG provides real-time virus protection. It has a very low overhead and is extremely unobtrusive. After installation, AVG can essentially be forgotten about for most users, since it sets itself up very nicely. Infected files can be repaired or deleted, and AVG also has a quarantine area where files you're unsure of can be stashed for later examination.
It does support a wide range of e-mail programs: MS Outlook and Express, Eudora and MS Exchange.
Furthermore, AVG Antivirus gets paid by inserting an ad for itself at the bottom of all outgoing e-mail messages (when you use the free, personal edition). The e-mail scanner is a very handy feature, given the fact that most virii these days propagate via e-mail. It scans every incoming and outgoing e-mail and immediately quarantines any nastiness before it can reach your inbox, or leave your outbox.
Unlike the others, the heuristic back-up engine generated a couple of false alarms from applications known to be 100 per cent safe, but this can be disabled to rely on the signatures only. And it did catch both deliberately infected mail as well as the many genuine virus cases. I'd recommend AVG for all uses. Just take note of its limitations.
For more info, tech support, FAQs and updates go to www.grisoft.com.
Charles W. Evans is a HAL-PC member who can be contacted at cevans@hal-pc.org