Software Helpers, by Robert Du Vernay
For Better CDs & DVDs
NERO 6 Ultra Edition: The Ultimate CD/DVD Burning Suite
aHead Software brings NERO v.6 to life and it does DVD video. The box includes a Neato CD Label kit with printable labels, and a very nice bit of software to design labels and jacket covers and a device to apply the labels. Even if you have avoided printing covers in the past, try this one. It works very nicely. A new Nero 6 Wizard (with almost an XP look) gives you access through a series of inter-related units. The graphics of the wizard take a little getting used to; they could be easier to read.
VIDEO recording, yes! V.6 allows for direct, real time capture of video input (USB, Firewire Analog, MPEG-2 capture cards and TV cards). It includes an MPEG-2 encoder and a ShowTime DVD Player/Playback, which will handle any DVD format. This product will not copy copy-protected Audio CD or commercial DVD movies, but you can convert those special VHS tapes (wedding, graduations and vacation) to a DVD format. And, it supports all DVD formats.
DATA recording is covered very well. The first thing I noticed was the software buffer, which is created by NERO and can be controlled as to size; this is in addition to a hardware buffer provided on the burner unit. Don't be fooled, you can still make coasters! Everything tested worked. It also supports the new Mt. Rainier format (MRW). Using NERO, I've never had a music copy fail yet.
AUDIO suite is weak. You can only rip 30 MP3s and then need to buy additional software to keep the MP3 converter running. The quality of the MP3 output is also limited. There is no Gracenote CDDB connection ("Gracenote" is a web based, music info database). However, it has MP3, MP3Pro, WMA, ACC and HE-AAC decoding support. Nero has a scenario for cassette and LP conversion to CD format. SoundTrax is for those of you who want to edit and mix your music.
PHOTO suite editing abilities are very basic; the box advertisement mentions slideshows, which I couldn't get to work. It does support VCD, SVCD and mini-DVD formats. More extensive editing/handling can be done under the Video section.
BACKUP/UTILITIES features are excellent! A to Z, backups to either CD or DVD, full or incremental and spanned. V.6 provides compression, password protection and a scheduler. Nero will test and tell you everything you want and don't want to know about your hardware, (regardless of what is on the box that the burner came in). You can create a bootable CD or you can create your own CD, which can be read on your friend's MAC, if you desire.
Technical support for v.6 is free via e-mail and then there is telephone service at $1.29/minute. The QuickStart Guide is well organized, but only includes an introduction. The bulk of documentation is electronic. Updates to documentation in several languages are available to registered users at the home site.
NERO 6 ULTRA EDITION is an expanded and totally redesigned product. If you intend to do video on DVD or create your own CD/DVDs, then NERO v.6 is for you. If your burner came with the "lite" or older version of another program, then this upgrade should be at the top of your list. I am very impressed with the new Nero. For more info and driver updates go to www.nero.com.
CloneDVD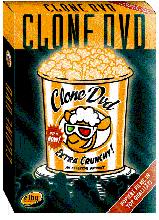 CloneDVD, by Elby Software aka Slysoft of Antigua, is an interesting little program. It doesn't do a lot of things, but what it does, it does very well.make copies of DVDs. There are three basic screens and all are the check-the-box type.
You should read the Help files first time through. I would strongly suggest it be used only on a high-end computer system for this type process.
NOTE: CloneDVD does not backup copy-protected DVDs! Many DVDs are Content Scrambling System (CSS) encoded, which is a copy-protection file system. If a DVD is CSS-encoded, then the DVD reader will refuse to access the disc. Therefore, CloneDVD cannot read the files and make a copy. CloneDVD does do transcoding and burning nicely.
As of 9-11-2003, Elby sold CloneDVD to an organization called SlySoft (you gotta love that name) of Antigua. The European Economic Union law forbids copy of any copy-protected CDs or DVDs. This is a Confederation Helvetica (Switzerland) company.
The elves will now have a great opportunity to do contract work and tan in Antigua. CloneDVD can still be downloaded and purchased through their web site. As a true shareware product, you get a 30-day trial period with a fully functional product, then buy the key ($46) or delete it. This highly efficient CloneDVD is a winner, period.
If you want to know more about the replication process (ins/outs and how to deal with CSS, for instance), visit www.CDFreaks.com and review DVD Copying - the Basics. CloneDVD is mentioned and a product called AnyDVD (also from SlySoft); it rips, which takes care of the noted problem. For more info, drivers and software (as of press date) go to www.ELBY.ch.
Robert Du Vernay is a HAL-PC member, the CD Burning for Everyone class senior instructor and conducts a New Internet Users class. You can contact him at rpd@hal-pc.org.