Thanks for the Memories!, by Charles W. Evans
And the Reader.
Walking down the aisle at one of our local discount computer stores, I noticed a whole rack of digital memory packs.
Before researching this article, I just assumed that there were a couple of different types of memory and that was that. Oh, not so. There are six basic, physical memory sizes and capacities from 16MB to one gig. Not only do you have to decide which memory is required, but memory comes in various speeds - just like the RAM in your computer. For instance, CompactFlash can be as slow as 600KB/sec or as fast as 3.6MB/sec. Determining which speed you need is another article, but basically depends on your camera's capabilities.
I think the real question is: why haven't the camera manufacturers built in X amount of memory, so that we could just download pictures onto a flash drive or small hard drive or directly into our computer and save all this intermediate hassle. You wouldn't need any type of removable memory storage or a reader for that matter. At least a proprietary file format is history. Most digital camera files are saved in a JPG format, which is one of the most frequently used and popular color photo/graphic files.
So how do you get from camera to computer? Well, you take your memory [commonly called digital media] card and insert it into a "reader". The reader is a device connected to your computer and typically, most readers are USB 1.1. Like last month's USB hard drives and this month's flash drive, an icon will appear in your system tray to let you know it is "installed".
ImageMate 6 in 1 card reader/writer by SanDisk is typical of the better quality card readers. It is a USB 2 capable flash card reader and writer for the PC and Mac, and works with the six most common digital media cards. At a price of less than $34 (August), this multi-media reader is a bargain. Especially when compared to one that reads one or two cards for about $26. For families or businesses that use different media cards, a multi-format reader is required.
Because USB 2.0 devices are backwardly compatible with USB 1.1 ports, the ImageMate will work with all existing USB ports. It will read/write data to/from your digital media card, thence directly to a computer. It is currently the fastest way today to transfer pictures, music, data, etc. and it reads these digital media cards:
CompactFlash Type I and II
SmartMedia Card
Memory Stick - Sony
MultiMediaCard (MMC)
SD (Secure Digital) Card
XD (Extended Digital) Card
All four memory slots are active, which allows you to copy data between the different memory cards at the same time, but WinXP may not recognize all slots immediately.
Separate reader and docking station for quick desktop/laptop connections.
Just drag and drop your files.
It uses power from your computer so you save camera batteries.
The ImageMate is smart looking and about the size of a deck of cards. The included CD has drivers for Windows 98/2K and Mac OS 9.1x, the 6 in 1 Reader itself, a docking stand w/40" USB cable, and a very short 4" USB travel cable (for laptop users). If you use WinME or XP, all you will need to do is plug the ImageMate into a USB slot on your computer (no external power cable is required).
After the flash card reader has installed itself, you will find four new removable drive letters listed. Each of the four slots in the reader acts as an independent drive, allowing you to copy between different cards! Note that you can also WRITE to any of the digital cards - handy to transport files. Write speeds to Compactflash cards are about 1.3MB/sec through USB 2 ports. Read speeds average 3.3MB/sec.
Each of the four card slots has a green ready light. Cards slide into and are removed from the slots easily. The reader also can be quickly detached from the docking station, and comes with a convenient travel cable which allows you to move it between the desktop and laptop.
The only problem I have found is that on my WinXP system, if I first put flash cards into the card reader slots, and then plug the reader into a USB port, my computer will not recognize the reader. If no flashcards are in slots, the computer recognizes the reader without fail, but only recognizes the CompactFlash II slot. I tried this on a Win98SE and it worked perfectly. This might be either an O/S or firmware problem.
For more info, FAQs and updates go to www.sandisk.com.
Digital Media Cards + Cameras
DM Cards are available in six basic, physical shapes and capacities from 32MB to two gigs. A few, like CompactFlash, have different speeds or transfer rates. Each of the Cards tested was well constructed and easily slid into/out of the Reader. You can perform two functions not typically associated with Memory Cards. One is that you can reformat the Card and two, you can write to it.

This SD (Secure Digital) Memory Card by SimpleTech represents one of the better cards of a new generation of storage. It combines high storage, fast data transfer rates and excellent security (on the left edge is a write-protect switch - small, but useful.) It comes preformatted and ready to store your files. "SD" is an electrical format that is compliant with the industry standard: Secure Digital Music Initiative. As with all Media Cards, its heart is non-volatile solid state. With a multi-format "reader" you can transfer files between different Cards and skip the computer intermediary. It is available in capacities from 32MB to 512MB. The two lower capacity cards, one of which we tested (128MB), reads at about 3MB/sec and writes at 2MB/sec. I did my own basic tests and copied a 95.8MB AVI multimedia file, which took 1+09 minutes. Then I played it back. Keep in mind that USB does not transfer large files as well as Firewire. However, the playback was flawless and gets an A. For more info, go to www.simpletech.com. Typical cameras include Pentax and Minolta.
Toshiba's SD Memory Card had similar specs to SimpleTech's SD Card. It, too, has a write- protect switch. It is a very thin card - less than a typical credit card thickness, but there is a switch. Just leave one of your fingernails long enough to move it! I reformatted this very small card to Windows XP's file system (NTSF) without a problem. Well, except that you cannot read it using Win98! The size we tested is 128MB. Transferring the same 95.8MB AVI file took 1+26 minutes, which, considering the file size, is not a significant difference. Viewing the AVI file was a bit different. Although it played the file without a hitch, there were a few dropped frames and occasional blurred action images. Not much, but I would have to grade the multimedia playback at an A-. You'll find this SD card in capacities from 64 to 512MB. A nice, well-designed and well-made card. For more info, go to www.toshiba.com. Typical cameras include Pentax and Minolta.

SimpleTech's SmartMedia Card is twice the size of SD Cards, but half the thickness - just be careful. It is hardy, but can be broken! Like its brethren, its storage is non-volatile (which means it will hold data even without power, unlike typical computer RAM which requires power from the computer) solid state. The type of flash memory used in this Card (read about it on their web site) creates a better and faster read/write function. This may explain why, out of the four Cards, this one replayed the AVI file perfectly and I'd give it an A+. It was a smaller file, but still a large AVI stream. Transferring a 48.2MB file took about 48 seconds - somewhat on par with the other three, larger Cards. As with one of the other Cards, you have a copyright protection feature. It responded too well to measure the read/write speeds, which is fast. This would be an ideal storage media (larger size however) for MP3 music, photo printers, PDAs and, of course, cameras. For more info, go to www.simpletech.com. Typical camera is Fuji.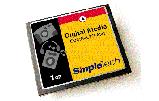 CompactFlash Cards are currently the most popular or most frequently used in digital cameras. The 256MB Card by SimpleTech tested well and was easily the best designed of the lot. Actually, there are CompactFlash Cards I and II (I=32-640MB and II=1GB). Again, this Card could be used for not only digital camera storage, but MP3 toons, ordinary data files, handhelds, etc. It is approximately the size of a matchbook and is pre-formatted to DOS specs. You can, of course, reformat it, but be careful. Are you a traveler? Copy some map or atlas files onto it and use it for your GPS unit. Put it to work on a laptop - I have seen one very nice reader that plugs into your laptop's PC slot. Even though it is lightweight, it is the most rugged of the four Cards, but with the female connections, it needs some type of protection from contamination. It transferred the 95.8MB file in 1+22 minutes and earned a respectable A for viewing the AVI file. Although the specs say it has a burst speed of upto 8MB/sec, the more realistic daily use of read/write is more like 2MB/sec, which isn't too shabby. For more info, go to www.simpletech.com. Typical camera is Canon.
PS: Special thanks to Abby at Houston Camera Exchange for her generous assistance.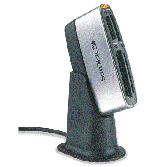 Charles W. Evans is a HAL-PC member and the Magazine's Reviews Editor who can be contacted at reviews@hal-pc.org.