Addonics
5.25"/3.5"USB 2.0/1394 Combo External Enclosure
by Marcie Thorton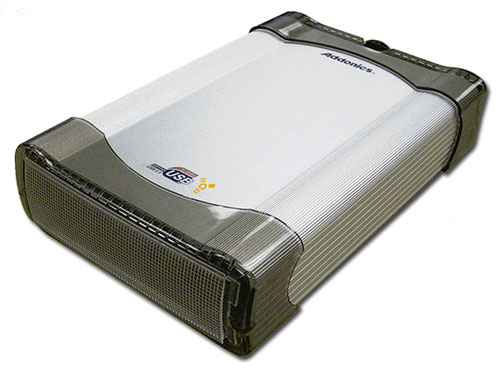 This model IDECSU2F, by Addonics, looks as if it were styled in the 1950's with a sort of metallic aluminum finish - it is not just another pretty face. It has both USB2 and Firewire connections so you can hook it up to a Mac to share files.
It looks great and is easily assembled. New to most external cases is a nice, low-noise exhaust fan. It does, however, require an external power "brick", but the cable is conveniently long, so that's no biggie.
The section with the electronics is on the vertical back plane of the horizontal tray. Just connect the internal cables to your device, slip the tray inside the case, tighten the two thumb screws (nice touch) and you are ready for action. WinXP will recognize it immediately.
For this combo model, you'll need an IDE device. It could be a 5.25" optical drive or a 3.5" hard drive. You'll find a package of screws to secure your device, but be careful. The screws are small and the threads are different. Use the wrong screw and it's the devil trying to extricate it. I really do think a third grader could assemble this unit (but don't call me if you can't – just find a third-grade neighbor!) It is beautifully engineered, except for the curved edges of the two plastic end caps. Some of the edges are sharp. There's a tiny, lets-pretend power switch on the rear panel, but it does the job. Earlier units had no power switch.
PCs have only recently included Firewire as a standard feature. It is now becoming more widely used, especially for video enthusiasts. Firewire moves large files more quickly and efficiently than USB2. Neither one is as fast as a device that you have connected to your computer's motherboard. Convenience comes at a price – speed reduction, about 15% or so.
Their new Oak chip may increase the transfer speed. If you are considering this unit for video files, I'd wait a few months for the Firewire 800, which will move files about twice as fast as the current Firewire 400. Considering it is unlikely to be your main hard drive or an occasional use of your CD/DVD burner, that's not much of a price to pay.
Since my company has both Macs and PCs, this is an especially useful model. And it is now even simpler to take my training aides from one locale to the next. I'm impressed with this unit's design and style and ease of assembly. For more info go to www.addonics.com.
Marcie Thorton is a HAL-PC member and corporate trainer for a large land developer. Her responsibilities include design of video training and collateral materials.