Kidview: A safe way for kids to surf the 'net
by Charles W. Evans and neighbors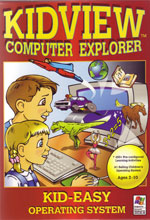 This program came to me rather late, so I grabbed three neighbor kids and we think Kidview, by Hoopah Software, has great possibilities. It is basically a program that rides on top of Windows 98, and newer, to control web access. It is particularly designed for kids 2-10 years and, frankly, will allow them a great deal of surfing freedom. Parents set the limits. It allows more than one child and each child has a unique name and limits.
It comes preconfigured for access to a very wide variety of web sites, such as Tigers which takes a kid to the National Parks and Wildlife "Save the Tiger Fund" site, Ben Franklin and historical events associated with him, Kidz Astronomy, Reading is Fun, etc. Oh yes, even though this program is designed for 2-10 year olds, many of the program's hot buttons are for up to 12 th graders – so it is for a wide variety of interests and age groups – a system that can grow with your child.
In general, you can let your kids' surf anywhere Kidview will take them. It does require constant internet access and almost all sites are third party – the Smithsonian, the Discovery Channel, the National Zoo, BillyBear4Kids, Disney Playhouse, the Dinosphere at the Children's Museum, Fisher-Price, etc. With the wide range of web sites, your child won't be bored and should be able to write a whiz-bang essay! I think it will also help children enhance their reading and comprehension skills
Since the Kidview "desktop" covers the entire window, aside from exiting the program, there is no way to "stray" to inappropriate sites. However, and this a big however, at almost every third party site, there is a "Search" function which could take a child to an unsuitable web page. Under Parental Controls there are limits that can be placed on this loophole, but will not totally guard against it. Since the program is password protected, which includes Exit, there is some additional protection.
It's obvious that Kidview is serious about parental controls. The main control menu has tabs across the top from Toddler to 5 th grade in increments. The various accessible web sites for a particular age/grade level and/or specific subject area are displayed. You can edit, remove or view a pre-selected site or add one of your own choosing. For example: 1 st Grade Language Arts and you have a list specifically for 1 st graders in language arts. Not all subject areas are this specific, but a very good jump start according to my young neighbors! (Or, in their vernacular…awesome!)
The parents of my young neighbors liked the fact it provided a safe surfing environment plus it would be great for home schooling and homework. It is almost totally picture driven. Their new zoom enhancement technology creates a full screen experience of vivid graphics quicker than you'd think, even over a dial-up access. There are no instructions but ample on-CD help and on-line support. I didn't like the initial screen since it appeared to require certain info that I was not prepared to provide. Just click on Done and proceed.
If you are not sure, download the trial version. If you like it, buy it and you'll get the serial number. Go to www.hoopah.com for more info, support and the full trial version.
Charles W. Evans is a HAL-PC member and his neighbors are Alex, 9, Julia 7 and Alice 4. He can contacted at cevans@hal-pc.org.