What photo you take? Now you can change it.
by the Reviews Team
Preface.
With so many features on current digital cameras it is easy to forget a setting or change the white balance, etc. It's far better to edit with a separate set of software tools on your computer. This month the Reviews Team looked at three difference programs. Read the reviews and check with friends or at a SIG meeting for the one that best suites you.
For the next three months reviews will include various camera storage media and some unusual approaches, a photo printer, digital camera reviews and a review of two programs to reduce noise. Well, not that kind of noise, but you'll read about these two in June.
Meanwhile, whether you buy a camera or software go to the vendor's web site for updates. Yes, now you can update your camera!
Enjoy.
Charles W. Evans, Reviews Editor
Microsoft Digital Image 2006 Suite
by Robert Du Vernay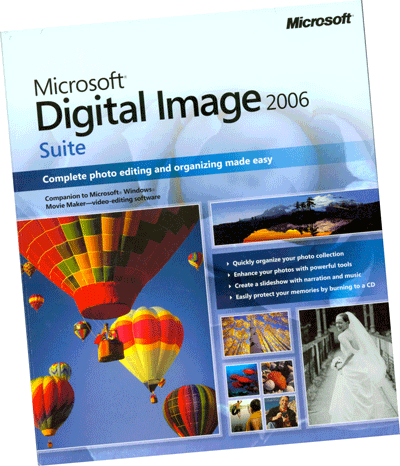 Digital Image 2006 is a complete photo editing and organizing made easy companion to Windows Movie Maker video-editing software.
Digital Image has grown up into a Suite and includes a real book of 275 pages! It is real paper back book and it absolutely wonderful not to have to manipulate an Internet column of text. There is even more on the website and several talking video tutorials, an extensive set of help local and web. Please invest a little time with the book; you will need to learn what MS calls things and much of the photo world jargon is explained.
Organization wizard provides a full set of tools which will allow you to import photos, view and group, a label painter, preview/view RAW files (only Cannon and Nikon), formats for e-mail, flag items for further processing and touch up. You will be encouraged to protect and preserve by archiving your photos to multiple devices including CD/DVD. Please do so.
Organization Wizard will ask you to allow it to run, the first time through. Do it! You may be surprised to see what you have on your machine and didn't know was there. You can then really delete what you thought you had already gotten rid of. Thumbnails tell all sorts of tales.
Painting Attributes (or, really coding of clues) is a fantastic feature. Couldn't be any easier than as it is done here, but you have to do it! If you do take lots of pictures, you will find this to be most valuable and a great time saver. If you like me suffer from CRS sometimes, this is a lifesaver. Plus, being prompted to the back up is helpful. I strongly recommend you back up your photos. You can write to your CD/DVD burner from this product.
Enhancement provides a few new interesting touches…there are the usual fix-ums, and then there is create a panorama (auto stitching). I tried this auto-stitching thing with three pictures, and I have discovered that I need to learn how to take better pictures. There are 200 filters included! Even a feature for fixing up those camera phone shots. Now that is real magic.
Digital Image provides a Clone, Blemishes/Blending and a Gaussian Blur tools. You will have to play with these to realize the full benefits. In addition there are a number of auto fixes for your photos. Take the tours, written and video. There is a Levels Auto Fix, which provides a tonal range of control for your pictures.
Photo Story, is what slideshows are called in this product. You will want to take a little time and read the Digital Image book. Adding text, verbal clues, music and transition is easy and the results are delightful.
You will find it easy to make maximum use of your photo paper and organize multiple images on one page. In addition, a Thumbnail Sheet function is provided in the product.
Digital Image 2006 Suite lacks layers, there is a stack but it is not the same as a layer in other products. Also, there is no native format; the TIF format is recommended and talks about PNG for none loss handling. Digital Image is impressive and is represents a big step up from MS Picture It, which is what this guy is replacing. The street price is about $55 or less with rebates, etc. Please read the fine print! For more info and updates go to www.microsoft.com.
Robert Du Vernay is a HAL-PC member and chief instructor for CD Burning for Everyone and the DVD Burning for Everyone classes and ditto for the Digital Imaging class. He can be reached at rpd@hal-pc.org.
ACDSee 8 Photo Manager
by Paul Downs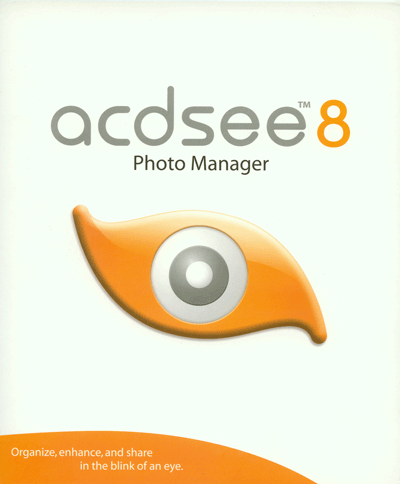 Since digital cameras have come to dominate the photography market everyone who wants to take pictures should consider a photo manager product. ACDSee 8 Photo Manager can read most camera formats and organize and utilize photos very efficiently and quickly. Named for the famous music group AC/DC, this software "rocks" with fast uploads, productivity tools and quick print results.
Windows users will see a more photo-friendly version of Explore when they install ACDSee 8. Installation is fairly straight forward. Do install the separate Media support package that allows for burning of disks within the program. A feature called "activation" request or requires registration within seven days to install your software permanently.
When the program is opened four major windows or "Panes" are open for interaction in the Browse mode. A folder Navigation pane, the File List pain (where photo are listed or presented as thumbnails), a Task pane, and a Preview window. These panes are customizable and can be resized or deleted. A "Burn Basket" window can be added for files that you wish to assemble then burn to CD or DVD. The Preview pane will show a larger view of each photo. The Task pane allows several manipulations of the photos in the list window even acting on multiple files.
The main workspace is the File List pane. Thumbnails of your photos can be resized with a handy slider. Individual photos can be selected with a click and edited in a fix mode with a double click. Multiple photos can be rotated, resized, or renamed right in the browse mode. After accessing photos from a camera, scanner, or card reader there are inevitably a number of pictures that come in. With ACDSee 8 once you have picked all the pictures to rotate in one direction you simply click on a button in the Task pane and all are quickly adjusted. You can then select other images to turn the other way, or perform other batch operations. For instance, you can correct brightness on a number of photos at once.
The Browse mode offers tagging of individual photos into categories such as work, home, family, etc. These categories appear as virtual folders for navigation but do not make duplicate copies of the photos on your hard disk. Keywords can also be applied to each photo. A handy search bar allows you to find photos by categories, keywords, and file names. It uses an internal database to organize this information.
By double clicking a single photo the edit mode opens up a studio space with handy tools for editing. Red eye and healing tools are provided. Exposure and color controls are available along with color cast correction, sharpness, and anti-moiré correction of scanned images. Text can be added but the font seemed distorted. Many artistic effects including oil painting are available. This is not a painting program since no tools, not even an eraser, are offered to manually edit the picture or create clipping paths.
ACDSee lets you move adroitly through your files, make basic changes, and prepare simple presentations, including Web html albums and portable slide shows with musical accompaniment. ACDSee burns VCD or DVD. I'd suggest you use fairly high resolution photos for best results on the big screen.
Even if you use another program as your main bitmap editor, ACDSee is a simple way to organize and prep your photos for more intensive work. If you simply need to acquire, adjust, and print your photos on paper or make a slide show this is all you need. ACDSee is an excellent performer. For more info and updates go to www.acdsystems.com.
Paul Downs is a HAL-PC member (twenty years) and a leader in the Corel and Adobe Windows Publishing SIG. He is the Assistant Ad Manager at Teas Nursery and he can be contacted at madriguy@hal-pc.org.
Adobe Photoshop Elements 4
by Marie Georgsen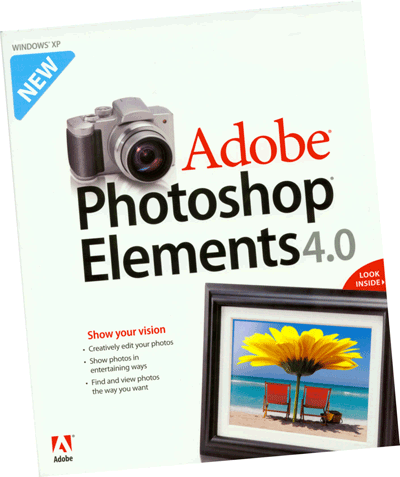 Elements 4 incorporates many of Photoshop's powerful features without overwhelming the novice user. Elements adds even more power to an already top-flight image editor/organizer package. Equipped with a modish interface and a fantastic toolbox, this program is designed for the photographer who is new to editing and wants to learn, or the serious enthusiast who doesn't do enough retouching to require Photoshop CS2, Elements 4.0 is an exceptional value.
How-Tos help users get started and automated features simplify many tasks. Photoshop Elements has added a powerful, integrated photo organizer, making it a perfect all-in-one solution for the majority of digital photographers.
The newest quick-search feature? A face finder. The program scans your library for heads and displays them in a grid. The software misses a few here and there.
The Magic Extractor is somewhat arduous but still faster than the "lasso" and a tool that fixes color based on skin tones will be invaluable to every one who forgets to check the camera's white balance. There's a basic version of Adobe's Camera RAW converter and support for DNG.
Interesting Additions.
Greatly improved slide show features: pan & zoom, advanced transitions, etc.
New Face Tagging feature. Wow!
Scrapbookers will love the new magic extractor, magic selection tool, and font menu with previews.
So, So Notes.
Somewhat sluggish performance and screen flickering when switching modes.
Marginal success with the new automatic red eye.
What's New?
Face Tagging - It does take a little while for the face detection, especially if you have a large number of photos selected, but offset by the time it will save down the road. I had a few false positives.
Enhanced Slide Shows - The Slide Show creation type now features a full-fledged slide show editor where you can add pan and zoom effects, text and audio captions, and advanced transitions. For more advanced editing tasks, you can go to the Photo Editor. Narration can be recorded in the slide show editor. You can output slide shows as WMV movies files, PDF slide shows, or VideoCD. Pretty nifty applet.
Magic Extractor - This tool will help make complex extractions. You can continue to refine your selection with additional tools such as the Eraser, Smoothing Brush and the Feather.
This tool isn't a miracle worker. It works best if the object you're selecting has defined edges. Alas, it's dreadfully slow, but accurate.
What's Gone?
File Browser - Browse folders with Organizer.
Auto Fix Window.
Send to TiVo - Now you must use Windows XP Media Center Edition to send photos to your TV.
Elememts 4 Tutorial - Try this site for tutorial and related sources: www.photoshopsupport.com/elements/tutorials.html.
The biggest addition to Elements 4 is new selection technology for the Magic Selection Brush. You can now just draw/paint a red overlay over the area of the image that you want to select and you don't have to follow an image's exact contour or edges. Eat your heart out Harry Potter!

The new Adjust Color for Skin Tone feature is a very solid addition. You can correct the color of probably the most important part of a people image and this new feature adjusts the other colors accordingly.
Adobe Elements 4 is excellent for both the casual home photographer who just wants an easy and quick way to touch-up and correct aspects of a photo as well as the experienced user. This version is not drastically different from its predecessor, but there are a horde useful, new features that make it worth an upgrade. Two thumbs up! For more info and updates go to www.adobe.com.
Marie Georgsen is a HAL-PC member who is assistant chief layout designer for a national consulting engineering firm headquartered in Houston.