It Rolls Up and Portable: the CoolThree Keyboard
by Francis Brownly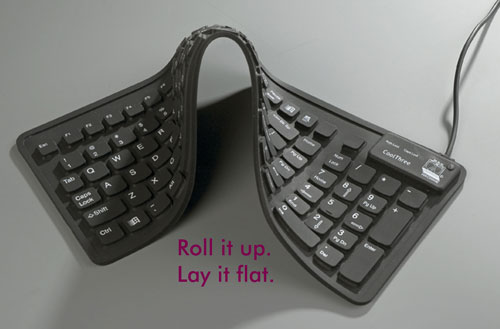 Many times I wished I had a standard size, full featured keyboard for my laptop. Laptop keys are just too close together. Here's a keyboard with no moving parts, made of pure silicone rubber and about a half inch thick. And you can roll it up, tuck it into your carrying case or brief case. Close your eyes and you'd never know it wasn't a regular desktop keyboard. It has that actual tactile feedback your fingers love! It is brought to you by Man & Machine, Inc.
It couldn't be easier to "install" - just plug it into the nearest USB port and in a few seconds you are typing away. It even has two blue lights. One for "CapsLock" and the other for "NumLock". If you don't have a USB port handy, they've thoughtfully included a PS2 adapter. The cable is about six feet.
You can roll it, but don't fold it and don't roll it like paper towels. Speaking of towels, it cleans with soap and water, but not dishwasher proof! It is about a half pound and for the geeks, it consumes 26mA. Oh yes, it is latex free. Since it is sealed I can see where it would be practical in some type of messy work environment such as marine or manufacturing site where dust and/or moisture are prevalent.
A MAC person? That's OK, you can use it too. It has all the standard keyboard features and keys and keypad. The illustration is the black version, but it is also available in a light grey. The keys are very readable (OK, I'm a touch typist, but sometimes I peek!)
For work environment where quietness is a high priority, this keyboard is silent. (Personal example: when I take notes in executive committee meetings the members don't want to hear a clickity keyboard.) However, having said that, on the next iteration of this keyboard, I'd appreciate a small speaker next to the two lights to give me an aural feedback plus a switch to turn it off. For more info go to www.man-machine.com.
Francis Brownly is a HAL-PC family member who is an executive secretary and still does lots of typing!