Animal Hospital: PetVet 3D
Frankie, FFA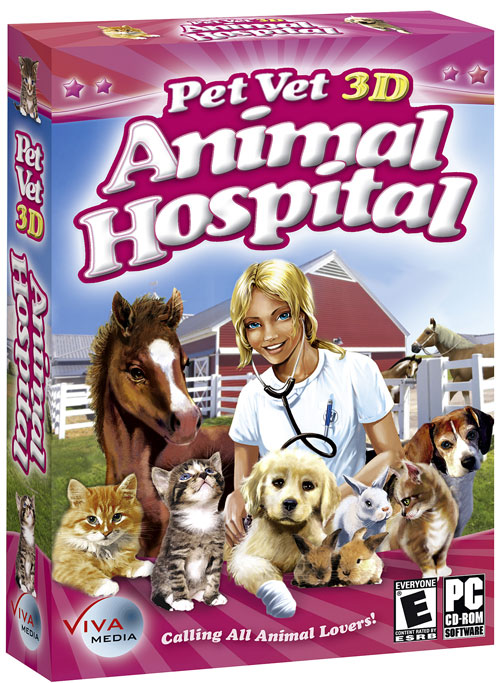 For students interested in veterinary medicine or animal care, this is reasonably challenging, but doesn't get into the "messy" part of vet med. Pet Vet 3D, by Viva Media, is a program with a moderately rich and varied feature set and in the breadth of pet health facts and situations presented. Patient, inquisitive fellow students interested in pet health will find the program attractive and will spend many hours with it as they develop their knowledge and their simulated veterinary practices. The background music is a form of reggae. Cool.
The box says it's for ages 10-16, but I'd suggest at least 12 years for independent work and 10 if parents assist. It's above average with pretty good graphics, though the animations are somewhat artificial. However, those things really don't affect the basic quality of this program. New users are start with a short, clear tutorial that explains the objectives and program operation. Returning users can start a new "game", or continue with a previously saved scenario. Action is centered around the vet's clinic.
Note to guys: don't be turned off by the "girlie" look - lots of pink and cute little animals. Become a Pet Vet and a chick magnate at the same time.
Pet Vet 3D is a simulation-style, problem solving program where the user is a small practice veterinarian. The pet vet has to juggle the challenges of a stream of owners bringing in sick pets, and their exams and treatment, with the business end of the practice. You the pet vet, have to use a variety of instruments and tests to make a diagnosis from a set of options presented. That's a lot, but the program is very "vet friendly". There are very nice, well organized cheat sheets - easy to access.
There are three levels of game play that include five different species from horses to cats and piglets, more than 100 illnesses plus well designed 3D graphics. You can play pet vet in either the freestyle or storyline mode. Something unique in game play: you can earn a good reputation while your business grows. And there is an actual library you can "buy" - 27 ref books on animal illnesses and vet instruments.
Along the way, the vet has to purchase the appropriate supplies and instruments, and study a series of "books". Correct diagnoses and treatments are rewarded with an improved reputation, which attracts more patients, and hence greater earnings and more stuff to improve the clinic.
Pet Vet 3D does a good job at highlighting some of the aspects of a veterinarian's work and lifestyle. The information resources in the program are limited to high-level overviews and factoids and not be confused with true veterinary medicine. This DO NOT give you license to practice on your neighbor's cat!
Each activity features a mini-story to hold your interest and involvement. Encouragement is provided throughout, and a help screen offers information to facilitate success with the program. Also included is a Progress Tracker that provides information on user strengths and weaknesses. Pet Vet installed easily and completely on the hard drive.
I was surprised by the unpredictability in the location of clickable hotspots. For example, clicking on a new patient/pet does nothing, but clicking on the pet's owner gives the user the option of accepting or declining the patient. It runs on Win98SE/ME/2000/XP, 800 MHz CPU, 340 MB hard drive space, 256 MB RAM, 3D graphics display, CD drive, sound card and DirectX 9.0c. I liked the program and thought it was sufficiently challenging to return to several times with different scenarios. Less than $30. This program is not a one-trick pony. For more info and a 1.5MB up date go to www.viva-media.com.
Frankie is a HAL-PC family member and VP of her high school FFA club. Her current project is two Angora goats.