Magnificent Blue Hard Drive 1TB Enclosure
by Charles W. Evans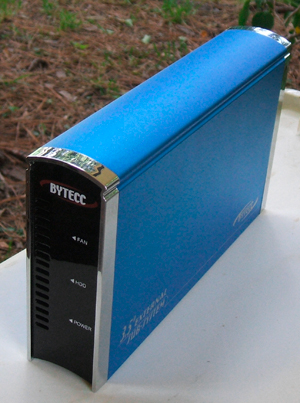 This external hard drive enclosure by Bytecc, Inc. is simply a striking, contemporary design that fits together with no sharp edges or mismatching case parts. It is a perfect solution for today's increased use of digital media such as movies, photos, presentations, music, etc. plus space for backing up critical files.
This model ME-747-SATA is a stippled ocean blue case-housing that is trimmed in polished black. Its moderate weight makes it easy to stash in a laptop bag. Three subdued LED lights on the front, black panel: hard drive activity, power and fan. The back panel has the power switch, separate USB and e-SATA ports and a power port.
Installing the drive is a simple task. There are three steps and all you need is a small Phillips screwdriver. One, secure your hard drive to the internal frame with four of the six screws included. Second, plug in the power and data cables to the back of the hard drive (these are already attached to the small circuit board). Three, gently insert the frame or internal plane into the case and use the two screws to secure the internal frame to the case. The internal 8cm fan is ducted to the front and back.
It shows up as a local drive on your PC and you can now format or partition it. The box included a small CD with drivers and two sets of screws.
Form factor: 3.5"
Oxford Chipset: SATA II hard drive – USB2 or e-SATA external connection
Operating Systems: Windows 98SE through Vista and MacOS 10.3 or better
Hard drive: 3.5¨ SATAII only
Interface/Ports: SATAII to USB2 or e-SATA
Dimensions: 11.25" x 8.25" x2.0" – 3 lbs.

The data cable is at a 90 degree angle to the hard drive. It is awkward connecting it in such a small space. A FireWire interface has repeatedly proved its superiority over USB 2.0 in practical applications - for sustained large file transfers. Despite it is slower, most devices offer a USB port to give you more connectivity freedom. A bit of planning advice for PCs at least, Firewire has not caught on and will never be a significant connectivity player. Put your money on e-SATA for the next and faster connection.
The case itself is simply fine looking. Just the kind of enclosure you could proudly take home and introduce to your mother! There are no mismatches or gapes between parts. The case is solid, heavy duty aluminum construction. During the 4+ hour formatting, the case became very warm. The fan needs to be redesigned for better cooling. But remember there were a trillion tiny bytes inside being formatted.
Concluding thoughts: Several years ago we reviewed an enclosure with a built-in power supply - no bricks to lug around. Another enclosure came with a small temperature controlled fan - the fan will cycle on and off as need. As hard drives increase capacity, enclosures will need more sophisticated cooling. One characteristic common to all enclosures is the vulnerability of the data and/or power cables coming detached. Since most external drives are at the computer level, the heavy power brick tends to hang in the air and it takes little effort to jerk it and the data cable from the case. Isn't there some simple mechanism to better secure these two connections? Now my big worry: this vertical unit can be knocked over – it should have some type of stand or feet to insure better stability. Bytecc, please look into these issues.
Having said all the above, I don't hesitate to recommend this enclosure. This enclosure will last until the next version of Windows….well, maybe not that long! It is well made and the Oxford electronics are excellent. For more info go to www.byteccusa.com
Charles W. Evans is a HAL-PC member and reviews editor for the Magazine. Contact him at reviews@hal-pc.org.