CES 2007, by Fred Thorlin
The annual Toyz-4-Boyz show-and-tell did not disappoint. Over one hundred and forty thousand fellow geeks attended to find out what is new, weird and wonderful this year at the Consumer Electronics Show. Some say the theme of the show was "convergence." As far as I could determine the theme was "let's connect it all together."


Wow! Weird! Actually, WowWee, the makers of RoboSapiens, introduced a new robot in their line…a life-sized Elvis head controlled by twelve motors capable of animating the eyes, eyelids, cheeks, lips, etc. Naturally it sings, but they haven't quite got the movements synchronized with the sounds yet. Sorry, pricing was not yet available.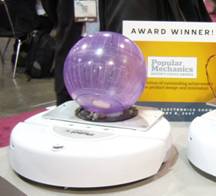 Robots were hot at the show. Bioloid was one of several companies offering robot kits. Microsoft recently released their Robotics Studio, which is available for free on the web, and offered a training seminar at CES. The most interesting robotic offering was from iRobot. This is the company that produces the Roomba and the Scooba, which cleans up my sister's tile and wood floors. For the robotics developer, they offer the motion base for their products, with the functional components removed, for $130. By functional components I mean the parts that do the mopping, sweeping or whatever. For an additional $60, you get the command module, which you will want. iRobot's development tools are driven by C or C++. The unit is accessible from the Microsoft Robotics Studio, which should make it accessible from Microsoft's languages. iRobot had some examples of what could be done with the kit on display. I thought the cleverest one was configured to be controlled by a hamster moving in a plastic ball.
The iRobot products have come quite a way since their 2002 introduction. Various models recharge themselves automatically, clean up pet hair, pick up nails and sawdust--actions beyond their initial mop and sweep tasks. iRobot had an apparent competitor from the Korean company Microrobot. Their UBOT also cleans hard floors and recharges itself. Its main distinguishing characteristic is its ability to navigate around rooms where an invisible barcode has been imprinted into the flooring. This enables it to do regional cleaning on a schedule.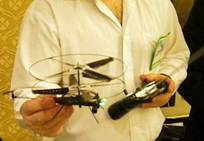 My toy of choice this year? The helicopters. I had a BladeRunner II that worked fine. But then I got stung by four PicoZ helicopters from another company. The BladeRunner people were at the show with newer products. The BladeRunner Recon has a video camera mounted underneath. The radio controller receives, displays and stores the images. Look for it in the fall for about $200. I think that unit will be of more importance for cannibalization of parts; flying inside a house doesn't present many opportunities for interesting aerial photography. Of most interest is the BladeRunner 3, sometimes referred to as the MicroMosquito. It is about half the size of the BladeRunner II and appears much more stable. They blithely flew the unit over the crowds where I saw it demonstrated and it showed exceptional stability. It should be available now at Radio Shack for about seventy dollars.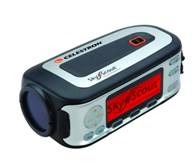 The cleverest product shown has to be the Celestron SkyScout. It looks like a pair of binoculars and works like a pair of binoculars, magic binoculars. It tells you what you are looking at and it tells you where to look as long as you are dealing with celestial objects. Look at a star through them and the SkyScout will tell you its name and a bit more. Tell it you want to see Mars and it will guide your binoculars to the appropriate orientation. Six thousand stars, fifteen hundred double and variable stars, all of the constellations and over 100 deep space objects are known to the device. An SD card provides the capability of including tour, extended narrations and addition of new objects. I wish I was an amateur astronomer so I would have an excuse to buy one.
There has to be a way to find my glasses and car keys better than the traditional Easter egg hunt. Loc8tor offers small tags and uses RFID to locate them. A device the size of a small cell phone serves as the locator. The closer you get and the more accurately you point the locator the louder the beep. It seems like a great way to find my hamster. Now where did I leave the locator?
SpeechGear offers Compadre software to perform consecutive translation, voice to voice, between English and a second language. Text input and output are also supported. It can't handle slang or mixed languages, such as Spanglish, or noisy environments. It isn't cheap at $1,000 per station, but it appears to be popular with police and the military since it "is the only game in town." My tastes run more to the pocket-sized Lingo products. For $100 the Lingo 20 translates between 20 languages and English. It will display results in foreign alphabets so you can display the native phrase in the native alphabet in case your Thai diction isn't up to it. Unfortunately, the product is hard to find and, like every translator product I have ever bought, has a manual written in broken English.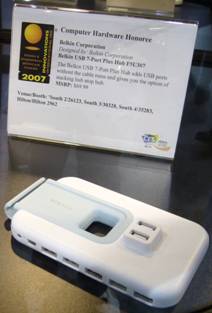 Each year CES makes Innovations awards to the best new products. The showcase area is overwhelmed with huge speakers and television screens costing thousands of dollars. My favorite item there was a bit humbler. The Belkin USB 7-Port Plus Hub F5U307 is a jewel. I have an earlier version which I treasure, yet the improvements are obvious. If you have enough USB ports and they are easily accessible, then you do not need this device. The rest of us are amazed to discover how many USB ports we have a need for. This svelte device is designed to be stacked so that you can have fourteen USB ports in a small amount of space. The vertical jacks are perfect for SD card readers or devices you don't keep plugged in. This hub is highly recommended by CES and me. I bought mine at Fry's.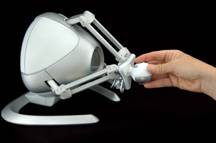 There are always new user interface devices at every CES. TD Vision offered this years' 3-D headset and ButtKicker had the most startling vibrating game chair. More innovative was the 3D mouse from Sadio Technology. The $90 unit is like a normal mouse with 3 joysticks added to it. It sounds worse than it is and I can see it being quite helpful if you do 3-D modeling; it would eliminate a lot of trips to the menu bar. They also asserted that in games you can now navigate without using the keyboard. Then why can't I use my joystick with Far Cry? My favorite new interface device is the Novint Falcon. The device presents a ball which you move in 3-D space using it roughly as a mouse. The distinguishing feature is that it implements real force feedback. When you try to move through a wall… bang! You hit the wall. You can't continue to push the ball forward. No vibrator kicks in to make it "like" hitting a wall. You stop. You may even bounce back. They also simulate moving over rough surfaces and through viscous substances. Interesting. $100.
The other new peripheral that impressed me is the Brother line of Color Inkjet Multi-Function printers. For $100 you get 6000x1200 dpi borderless printing with 1.5 picoliter drops along with scanning and copying. The big deal is for fifty dollars more you get a MFC-440cn with an auto feeder for the scanner, a network connection, faxing and direct printing from memory cards. For a light duty home unit I think it will be hard to beat.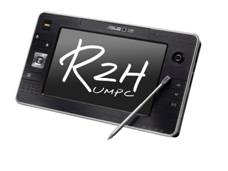 There was more activity around the PC proper. Multi-core processors and liquid cooling are now common place. AMD and Intel say you don't need liquid cooling since their chips run so cool. Nevertheless, it looked to me like most of their booth demo machines had hoses running through them. More dramatic to me is the number of devices that are now included in the newly announced notebooks. HP's new $1,000 tablet has a fingerprint checker. The ASUS R2H UMPC, Ultra Mobile Personal Computer, for $900 has a fingerprint reader, GPS, Bluetooth, WLAN 802.11 a/b/g, webcam, NIC, SD reader, 60 GB disk, .75 GB RAM, a microphone and Tablet Windows driving an 800x480 screen.
There won't be a Tablet Windows for Vista. Instead, all but the entry-level versions of Vista will include its features; this should make tablets a suddenly more popular peripheral. Further, Vista has features to make using a touch screen about as easy as using a stylus. This is a big plus because one of Windows for Tablet's biggest bummers is losing the stylus.
At Bill Gates keynote Microsoft revealed a few more features of Vista and Office that I like. Search has been extended to the entire network. Earlier versions of documents are retained. Word offers a collections of styles/themes; hover over them and you will get a preview of what your document will look like with them applied. You can use your Xbox controller to operate your PC. The Vista PhotoGallery includes an editor superceding the earlier MovieMaker, and it burns DVDs. The desktop is more configurable. You can now have a video as your desktop. That will distract you from getting anything done. You can also display your open windows in perspective to make finding them on a cluttered desktop a bit easier.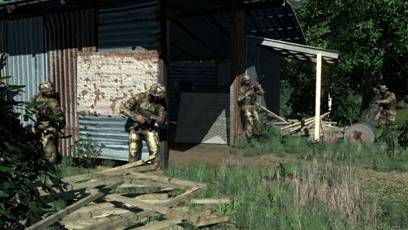 DirectX 10 promises still more dazzling graphics; some major new games, like Crysis, will require it and will not be released until fall. I did get to play an early version and it made me think of Far Cry, created by the same people, with more detail and physics in a complex tropic island setting.
As I said at the start, connecting is big. The Microsoft Media Center edition of Vista connects your Xbox, PC and Zune and supports backing up them all. A million copies of the current Media Center have been sold. Microsoft claims the Zune is the #2 selling MP3 player and will ship a million units this year. Windows Mobile phones are outselling the Blackberry. Judging by what I saw on the floor the Treo has just about taken over the world.
They said that the Xbox 360 has sold 10.4 million units, has 160 games and is available in 37 countries. "Gears of War" is selling Xboxs and Halo 3 was previewed. And I know you parents are looking forward to this year's Xbox release of Grand Theft Auto 4….not!
At the end of Bill Gates presentation Ford announced that their new cars will synchronize with the Media Center devices. It will read text messages to the driver and let him create play lists by voice control.
As you can imagine Vista's having video and film editing and DVD composition included in the operating system box upset some software houses that have been making a living in that market. Nero has come out with a new Version 7 Ultra Edition Enhanced product. It supports everything from blu-ray to mobile phones, VOIP to TV recording. You have to go to their website to believe it all.
There was quite a bit of exciting software being shown. Animation Master, from Hash, always impressive, has made some major improvements. Tooning, fabrics, atmospherics and particles on top of the basics make its $299 price a bargain.
Phones Gone Wild! Don't you need a massively multi-player online role playing game you can play on your phone? Check out shadowoflegend.com.
I was impressed by the new Pocket Tunes. The basic version is packed out with every Treo. Version 4 Deluxe supports a directory of Internet radio stations, sound file bookmarks, album art and an improved equalizer. The coolest item has to be the SlingBox. Connect this to your TV set and you can watch your programs on your Internet-connected device;, that includes your cell phone and notebook anywhere on the planet you have access to a fast connection!
TV sets were a big item. 1080p seems to be passé now and is available on almost any size screen. Below 42" the benefits of that format aren't visible. For the large-screen enthusiast, a 1080p projector won an Innovations award, as did some paint for covering your destination wall. I also learned that no plasma sets under 38" are available and even that size is probably no longer available. LCD screens are available in any plausible size and seem to be preferred for bright environments. DLP systems are most popular in the over 50" sizes. The technology improvements seem to only be coming in the LCD and plasma technologies. Someday I will turn in my tube set.
Editor's Note: To view Bill Gates' one hour CES keynote address, including a brief preview of Microsoft's new operating system Vista, go to www.microsoft.com/ces/