Defrag: Diskeeper 2007
by Julie R. Risemore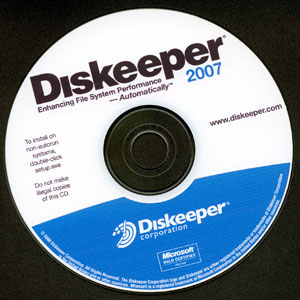 Disk fragmentation occurs when a file is broken up into pieces to fit on your hard drive. The effects of fragmentation are far more widespread: Slow performance, long boot-times, random crashes and freeze-ups. Because files are constantly being written, deleted and resized, fragmentation is a normal status.
The interface is cleaner and more accessible to newcomers, with a wizard that both walks you through the process and explains the terminology associated with defragging a hard drive. At the top left corner there are big blue buttons for analyzing and defragmenting to easily run a manual defrag. NOTE: I would prefer a bit of text to quickly ID the purpose of each button.
Frag Shield prevents fragmentation of the Master File Table (MFT) on NTFS volumes. Part of enhancing file system performance automatically is preventing fragmentation in key system files. And with the I/O smart built into the program, you won't notice a drop in performance as you defrag. Diskeeper can run in the background while you multitask. Plus, Diskeeper can also defrag multiple devices at once!
The Professional version includes a special laptop Power-Saving mode that pauses defragmentation sessions during battery operation.
If you choose the new InvisiTasking technology, there is no need to schedule defragmentation jobs. Diskeeper's operations are completely automatic, ensuring that disk performance is always optimized.
To me, the main difference between the "free" one that is bundled with XP and the full version is the ability to perform a "boot time" defragmentation, which allows you to defragment and modify the Windows Master File Table or MFT which is used to store much of the file system's data. The full version will, if you choose, continuously defragment your disk. The full version also runs noticeably faster than the free version. However, if you don't use your computer often, the basic version will suffice.
This illustrates the main advantage of using the "Set It and Forget It" option. People, myself included, just don't remember to defragment their disks. In particular, the Intelligent File Access Acceleration Sequencing Technology (I-FAAST) monitors your disk to determine which files are accessed most often and positions them so that they can be accessed faster. Data is never at risk, even if the computer crashes while Diskeeper is running, or if the user aborts the operation in the middle of the file relocation process.
Intelligent File Access Acceleration Sequencing Technology (IFAASTTM) was added to Diskeeper in Version 10 to speed access to the most frequently accessed files and updated in the 2007 version.
Remote Installation: Diskeeper 2007 Administrator Edition allows administrators to install Diskeeper simultaneously on multiple computers across a network.
Depending on Diskeeper edition, all versions of Windows XP, all versions of Windows Server 2003, Windows 2000 Professional, Vista and all server editions are supported. Diskeeper has a wealth of info at: Web site: www.diskeeper.com; Blog: www.diskeeperblog.com; Knowledge Center: www.diskeeper.com/products/documentation/documentation.asp . The complete DK 07 product line is: Professional Premier Edition, Professional Edition, Home Edition, Enterprise Server Edition and Administrator Edition. Not sure about Diskeeper? Download the trial version. Use it for a couple of weeks - you'll have longer, but you'll know after two weeks if you want it...and you will. This is one of my primary tool box programs.
Julie R. Risemore is a HAL-PC family member who is the Administrative Office Manager for a regional land developer.