The Electric Jalapeño: A new system driven by Vista
by Charles W. Evans
Preface.
One of the toughest but most rewarding responsibilities is to review a computer system. The sub-systems are not as difficult because they are specific. However, with Windows Vista being introduced, I thought it was time to combine an advanced system review powered by Vista. To keep you from being overwhelmed, I've divided this review into two sections. First is the review of the computer. In a future issue, the second part will be completed, which is the tests and supercharging, etc.
Even though you may be unfamiliar with the technical part, I'd strongly suggest you read it just to familiarize yourself with some of the terms. You'll find this handy when you buy a computer part. The results of nationally recognized tests by Bapco which provided SYSmark 2007 will be published in a future issue. When you read a product's brochure you'll have a handy reference to any "technical numbers" they provide.
Last, and most important, is the purpose of this review and all others in the Magazine. Even though you might buy a complete computer from Dell, Compaq or off the shelf at your local retailer, you'll be better satisfied with your purchase if you have some basic computer knowledge, understand the basic terms, etc. And that is the purpose of any review: to assist you in becoming an "informed consumer" so that you can separate the facts from the sales talk.
The reviews are the work of fellow readers who evaluated each part of the system, then comiserated with all the other reviewers to validate the other's review.
I like to publicly thank and acknowledge the invaluable assistance of Build or Buy SIGs guru, George Walker. This review would not have been possible without him. Work progress photos are by Bob Du Vernay.
Charles W. Evans, Reviews Editor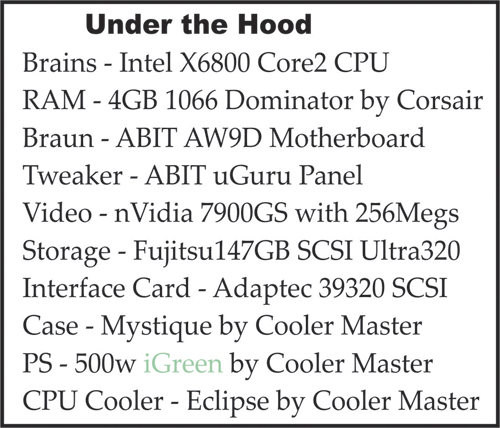 The Electric Jalapiño.
We have looked far and wide to select the best of the newest technology in personal computing to illustrate what you can expect over the next twelve months. We'll start with the "heart" of any computer, the motherboard and CPU. And we found a powerful combination.

ABIT AW9D Motherboard
Lately, there has been a lot of excitement with Intels' CONROE processors. Some said it could reach front side bus'(FSB) never before reached. Well, that is good news for both enthusiasts and overclockers alike.
The key to a processor's overclocking success relies heavily on the motherboard. Everybody knows the ABIT name is synonymous to overclocking. Let's take a closer look at the Intel 975X ABIT motherboard model AW9D. It has all you could want except a fire wire port.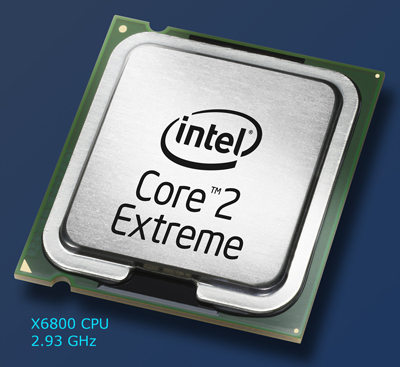 The AW9D is based on Intel's i975X chipset. It supports all LGA775 processors including the latest generation Core2 chips. It has dual DDR2 support and dual PCI-Express X16 slots intended for ATI CrossFire cards. Some of the features include SATA RAID, e-SATA, dual PCI-E Gigabit LAN, and 7.1 CH hi-def audio.
Unique ABIT engineered technologies, such as Silent OTES™ 2 and µGuru™ keep your components healthy while providing total system monitoring and control. The µGuru™ technology puts advanced BIOS-level features like overclocking and fan-control right at the fingertips of the user, making it an easy task to fine-tune your system for the perfect balance between performance and noise. This is simply a super control panel that slip right into an available front 5-1/4" slot. Just make two connections to the motherboard and you are in control.
CPU Support-Intel Core 2 Quad, Core 2 Duo Extreme, Core 2 Duo, Pentium D and Pentium 4 processors with 1066/800MHz FSB, Intel 2006FMB Conroe CPU
System Bus-FSB 1066
Memory-Dual-Channel DDR2 667/800, up to 8GB
Graphics-Dual PCI Express® slots for Dual ATI CrossFire Graphics
Audio- 7.1-Channel HD AudioMAX™ with optical S/P DIF In/Out
SATAII-CH7R- 4 x SATA2 3Gb/s RAID 0/1/0+1/5 JBOD; Silicon Image:3132- 4 x SATA 3Gb/s, 2 SATA connectors of the same area can support SATA RAID 0/1
There are 2 x PCI-E X16 for Dual ATI CrossFire Graphics, 2 x PCI-E X1, and 1 x PCI slot . There is also the presence of an Audio Riser port for the included audio riser card. An SLI connect card is also encluded.
Dual Gigabit LAN is provided by the Realtek RTL8111B chips. It enables fast network performance and easy setup of private game servers.
The AW9D also features ABIT's uGURU technology. µGuru integrates a hardware microchip which interacts with Windows-based software applications to maximize PC performance and stability, while allowing for zero CPU usage. µGuru features ABIT AutoDrive™ overclocking, advanced audio features, auto FAN speed control, self-diagnostic H/W monitoring, one click BIOS updating, and 24 hours e-service. µGuru combines ABIT EQ, OC Guru, FlashMenu and BlackBox applications with a user-friendly interface, providing users perfect environment for performance and stability. For a full understanding of the uGURU technology, go here.
The board provides 7.1 channel audio performance backed by ABIT's AudioMAX technology. With the use of a separate daughter card for audio connectors, ABIT Engineers have greatly reduced the amount of audio noise. The only problem though with this setup is that if you're running dual graphics, you will be forced to use the onboard audio solution. Gamers wanting to use, say, their X-Fi will be highly disappointed.
You will also find a 2 digit LED display attached to the board. It is a diagnostic tool aimed at providing vital information on what's happening to your board.
Around back the rear IO panel is largely empty, there is just a pair of PS/2 ports, and one network/2 port USB blocks along with a lone eSATA jack.
There's plenty of space between the two Physical PCI Express x16 slots so if you're using videocards that take up more than two slots you're ok. When used with ATI Crossfire, each videocard received 8 PCI Express lanes each. With just one videocard installed, it gets the full 16 lanes of PCIe.
ABIT's Silent OTES 2 uses copper heatpipes to conduct the heat from both the Intel 975X Express Northbridge and ICH7R Southbridge chipsets to the larger MOSFET heatsink in the far corner. The system is totally silent.
ABIT places the second Silicon Image SiI3132 Serial ATA II controller and floppy drive connector at the very bottom of the motherboard. A bad location as the cables will have to wrap around the other system devices.

Overclocking uGuru Panel
CPU Operating Speed - Selectable between AUTO or User Define. External clock can be manually adjusted from 133 to 600 in 1MHz increments.
CPU- Can be adjusted up to 1.725v for our particular processor. This can done in increments of 0.025v. Default for our processor is 1.325v.
DDR2 Voltage- Can be adjusted from 1.8v- 2.3v in increments of 0.5v. Default for our particular test
DDR2 is 2.2v.
Advance Chipset Features- This controls the PCI Express and the DRAM configurations . You can set it automatically or manually. The DRAM Configuration will give you all the memory timing adjustments.
With the use of the Intel 975x chipset, this board definitely out shines some of the other hardware on the market today. It is not a high FSB clocker unless you resort to volt mods. That being said, you can do very well with a CPU that has a higher clock multiplier to reach high processor speeds. What more can be said about a well designed and well executed motherboard?