Convert a Photo to a Pencil Sketch…any Photo!
by Kathryn Killmore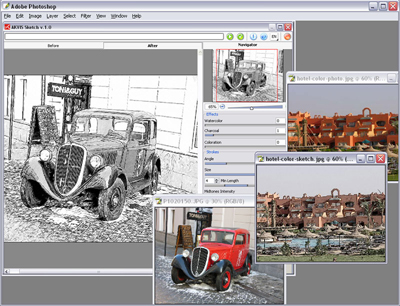 Until recently I've used "illustration" or "draw" programs to create artwork. Definitely nice, but I must be honest; I don't get the same satisfaction using "computer artwork" as when I take pen or brush in hand. Having said that, I can tell you this is a rather cool program. AKVIS Sketch v6 is software for conversion of photos into pencil sketches and watercolor drawings without the need for more complex software.
It may take you an hour or so of playing with Sketch to begin to appreciate its value and quality. It is not an inexpensive addition to your tool box, but very useful. Yes, you can distort pictures and they do look funny, but that's not a real purpose of this program.
You can install it as a stand alone or plug-in or both. The plug-in works with most any image edit program such as Adobe Elements or CorelDraw Picture Publisher. Sketch provides a convincing result and comes very close to hand-drawn works of a human artist. (At this point, I'm tempted to ponder if this is not the "writing on the wall" for human artists, but that's such an obvious pun.) This program will do two major things: (choose from one of two options: Standard Edit or Quick Fix)
1. Alter or edit the physical appearance of your photo – about sixteen different adjustments you can make or simply click on the "auto" button for each one. Auto is pretty good and for most editing it is OK.
2. Using the Standard Edit breaks down picture into layers, styles and effects. Edit each layer or option – great for the more experienced user and sophisticated applications.
Sketch is easy to navigate and produces an excellent image. It allows you to achieve much the same effect and feel as using the advanced tools in Photoshop, but in a much simpler interface and manner. This is not an easy program to review. It is not that it is highly complex, but there are so many options that you could use, but generally don't need to. I'm really impressed with the results.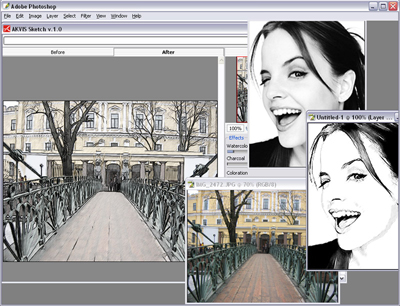 I have seen some tutorials in Photoshop oriented magazines on how to achieve a watercolor painting effect. The tutorials make use of masks and layers, many brush styles, and other advanced editing techniques, some of which the average user may not have mastered well enough to use with confidence. Not so with Sketch. Yes, Photoshop and others of similar sophistication have an exceptional number of tools, but often those are not needed. Just something like Sketch.
The neat interface has a number of sliders to alter effects. At first you can process the image with the default settings and then touch up the photo adding color, or try different techniques - from pencil to charcoal or watercolor. You can make the hatching denser or finer and change the pitch angle of strokes or light source. Sketch can bring much fun: a pencil portrait can be a good present or a watercolor drawing obtained from your last nature trip.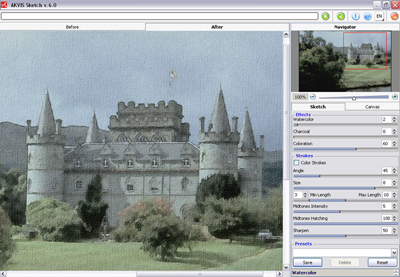 Although their main office is in Russia, their tech support works on our time or at least close to it. The fully functional trial version can be downloaded – try it. The paid-for version is 55 euros. For more info, support and feedback go to: http://akvis.com/en/. Or if you are feeling a bit impish send your incredibly smart teenager to their home page at http://akvis.com/ru/ and read about the other apps.
Kathryn Killmore is a HAL-PC family member who is a free lance artist and recently began to dabble in digital art editing. Send any inquiry to reviews@hal-pc.org.