D-Day: 17 February 2009 - Digital TV Conversion
by George Walker
Update: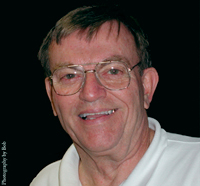 D-Day Date has changed.
Digital TV change over from analog to digital is now June 12th– still time to receive your $40 coupon for a "TV converter". Don't wait. For complete info see the Magazine's May issue.
PS: On the 13th, perform a channel rescan – frequencies, power levels, etc. will change.
Original Article
On February 17, 2009 television transmission will change in the U.S. Stations that transmit analog (tube type TV) signals will shut down and your TV set that uses a roof-top antenna or rabbit ears will see a blank screen. But there is life after death!
For people that want to continue to use their analog TV set, a converter is required and the government will help you buy one. You must apply for these $40-each coupons. You can get two. The coupons are plastic cards with a magnetic stripe and are valid for 90 days from issue. But do not wait until February 2009. Coupons are not valid for all converters.
The following links will help you find where to get the coupons and converter boxes. Some converters can be purchased locally and all approved converters can be obtained over the 'net. You will notice that some of the converters will pass an analog signal, which means that you can continue to watch the analog programs as well as digital programs without moving the converter. The pass-through will only be of use until February 17, 2009.
A friend in HAL-PC purchased two converters for $50 each at a local Wal-Mart. These did not work, and he returned them. He was not able to get his $40 refunded. Once you use the coupon, it is gone. They did refund him $10 for each converter, which was the amount over the coupon value.
Start on this page: Apply for a Coupon
TV Converter Box Coupon Program Website
https://www.dtv2009.gov/
Coupon Eligible Converter Boxes
https://www.ntiadtv.gov/cecb_list.cfm
(Note: asterisk next to some boxes)
Converter Box Retailers
http://www.ezdigitaltv.com/Converter_Box_Retailers.html
Where Digital Transmitting Stations are located, relative to your location and Antenna Information:
http://www.antennaweb.org/aw/welcome.aspx
NTIA: Digital TV Transition and Public Safety
http://www.ntia.doc.gov/dtvcoupon/
George Walker is a HAL-PC member and volunteer, helping in both "Build or Buy a Computer" and "PC Upgrade & Troubleshooting" SIGs. After joining the PC revolution during the CP/M era, he continues to build, use and fix computers. Contact him at gwalk@hal-pc.org.