The Latest Trumors, Beverly Rosenbaum
Can HDTV/Monitor Combo Serve Dual Purpose for You?
After February 17, 2009, Congress has mandated that full-power television stations in the US will broadcast in digital only.
So many people are thinking about what sort of purchase they'll be making in order to receive the digital signal. Those who have older analog televisions that receive over-the-air signals cannot be used at all without adding a digital-to-analog converter. Televisions that contain an internal digital tuner can receive the terrestrial signal, as will those TVs already displaying digital content provided by cable boxes or other services.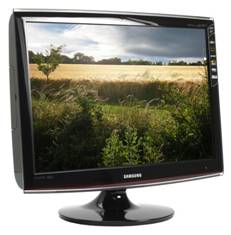 At the same time, it might be a good idea to consider updating your computer as well, by choosing a new HDTV that can double as a monitor. This can be a space-saving, cost-cutting decision if you happen to be in the market for both items.



Making the connection would be a fairly simple process, assuming the video card in your computer already has the correct outputs. To achieve the best video output, you'll need to make a connection from the PC's DVI-out to an HDMI-in on your HDTV. If you only have an analog VGA connector on an older video card, it's possible to attach an analog cable to the VGA connector on the TV/monitor. In that case, you'd get spectacular TV reception, and the same mediocre PC display you had on your old VGA monitor. But you could get much better image quality output from the PC if you spend a little more money to add a video card with DVI support. If you currently use onboard video on your PC's motherboard and don't have an actual video card at all, you'll definitely need to buy one and install it in order to make the best connection. For cabling, choose between either a cable with DVI on one end and HDMI on the other, or an HDMI cable coupled with a DVI-to-HDMI adapter.
Two Independent Functions
Then you could set the resolution from your PC to the highest resolution supported by the HDTV, usually 1024x768 or higher (true HD resolutions of 1280x720 or 1920x1080). Achieving these settings is optional, and does not affect the digital television broadcast quality that the HDTV receives. But it's necessary if you'd like to eventually add a drive to your PC capable of playing Blu-ray discs or other digital content. ATI, nVidia, and their licensees make many suitable video cards with 256 MB or more of video RAM, starting below $100.
Some of the Choices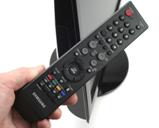 As an example, let's compare several sizes of HDTV/Monitors with comparable widescreen monitors from Samsung. These can be purchased at various local dealers like Best Buy, Circuit City, Costco, Sam's Club, or Fry's. The 22-inch widescreen LCD models (T220HD and T220) have excellent picture quality, with a resolution of 1680x1050 (WSXGA+, but not quite true HD). The 12-lb. T220HD sells for less than $400 and has a 3-year warranty, all the right connections, a TV remote, and built-in 3-watt stereo speakers. The difference in price with and without the TV tuner was around $50 to $100.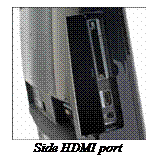 The Samsung T240HD, a 24-inch version of the same HDTV/monitor, sells for only $50 more. It, too, has all the necessary video connections, as well as better resolution at 1920x1200 (true HD). There are two HDMI ports, one on the back and another hidden inside a flap on the left side. At the back are also D-SUB (VGA) and DVI ports, component video and phono audio jacks, a 3.5mm audio input for PC audio and an optical audio output. The optical output is unusual, and very handy for extracting the surround sound audio to external speakers. On most other models, you'd be limited to stereo output. There's even a headphone jack, so you can easily connect a PC or two, an Xbox 360 or a Play Station 3, and more.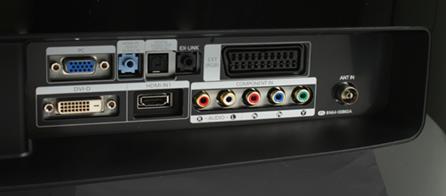 As prices continue to drop, the newest model in this series, the 25.5-inch T260HD, is available for around $499. I chose this range of models from 22-25.5 inches simply for a mid-sized and popularly-priced comparison. You could actually use any display size available; however, larger displays would affect the seating distance and how you interact with the Operating System Desktop. Windows Media Center and other third party applications can provide what's known as a 10-foot GUI -- larger icons, text, and interface that can be managed remotely. For the best clarity, you should set your video card's software to a resolution matching the native resolution of the TV at a refresh rate of 60Hz.
Realize that, whatever TV/monitor you choose, the default sound option is stereo from the two small built-in speakers. However, the HD standard allows for surround sound through multiple speakers, so you should make sure that the model you purchase has those necessary extra audio plugs, in case you'd like to add external speakers later.
Analog TV Tuners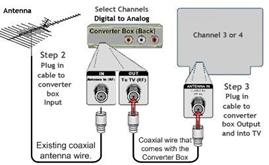 Some of you may have analog TV tuners that will also stop getting TV signals after February 17, 2009. One option is to purchase a digital tuner card to replace it. But there's good news! The standard digital-to-analog converter boxes used for analog TVs will work just as well for those tuner cards. Simply move the antenna cable from the tuner card and connect it to the converter box, and then connect the converter box to the tuner card using the coaxial cable provided. This places the converter box between your antenna and your tuner card. Launch your TV viewing application and set the channel to 3. You'll have to enter this number manually, since you can't cycle to it. Power on the converter box and use the remote provided to complete the on-screen setup, including the local time zone and aspect ratio (4:3 or 16:9 widescreen format). It will automatically scan for available digital signals in only minutes. You can still apply at www.dtv2009.gov/ for up to two $40 coupons per address to help defray the cost of the converter boxes. Most cost around $60.
Jake Ludington (www.jakeludington.com) has prepared an excellent short video showing how to connect an HDTV to your PC, and it's posted at blip.tv/file/617235. For more information about the Digital TV Transition, visit www.dtv.gov/consumercorner.html.
Beverly Rosenbaum, a HAL-PC member, is a 1999 and 2000 Houston Press Club "Excellence in Journalism" award winner. She can be reached at trumors@hal-pc.org.