Partition Change: Acronis Disk Director Suite 10
by George Walker
A "Swiss Army Knife" for Hard Drives.
When it comes to "operating" on your hard drive you want a program that you can trust. In the case of hard drives you usually don't have time to get a second opinion. Acronis Disk Director is a program that you can trust to modify partitions and recover deleted or lost partitions.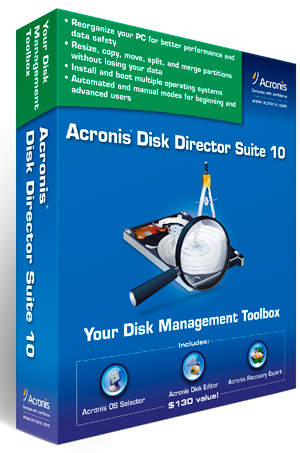 First this is not a program that you will use everyday or even every month. However, when you do need it you will be glad to have it in your toolbox. The suite contains programs that have been tested and proven to work. You can find various versions of these programs around that might work on your operating system and might not. It is generally not the time to become a Beta tester of software.
Disk Director operates under Windows NT4, 98, ME, 2000, XP and Vista. It will perform operations on Hard Drives also attached to the computer via USB and Firewire.
Some of the things that you can do with Disk Manager hard drive operations are:
Changing the size of partitions on the drive.
Creating new partitions so that another operating system or storage space can be added to the drive.
Changing the Drives partition formats.
Adding a Boot Manager so that the desired operating system is selected at start up. You can use this boot manager even if you already have one installed for Windows Systems. It's easy to add and remove.
Editing using the Hex Editor. Every once in a while you may want to look at and sometimes change the information stored on the hard drive and you need a Hex editor. It's right here.
Recovering lost Partitions and their data.
I have used this with success when it was packaged as a stand-alone program. For this test I wrote zeros to the location on the hard drive that contained the Master Boot Record and the Partition Table. The program displays the found partitions as it progresses. This may take a while, but there is a progress bar to let you know that things are happening. The recovery was a 100% success.
The operations should be clear to all users regardless of experience. For example a partition can be resized with a few mouse clicks. Highlight the partition and select "resize" and select the desired results. The process will complete when you click on the Starter Flag in the menu bar. An extensive user manual is available on the Acronis web site in PDF format.
After you have purchased the software and installed it on your computer, create a bootable CD using "Bootable Media Builder" for the event of some type of hard drive failure. You will have access.
More information on the software and updates as well as purchase at www.acronis.com/ or User Group Relations at www.ugr.com/ for less than $50.
George Walker is a HAL-PC member and volunteer, helping in both "Build or Buy a Computer" and "PC Upgrade & Troubleshooting" SIGs. After joining the PC revolution during the CP/M era, he continues to build, use and fix computers. Contact him at gwalk@hal-pc.org.