Magic Wand: A real portable scanner
by Martha E. Walsh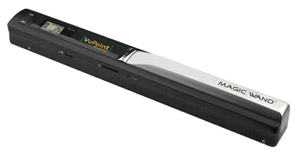 With this compact battery-powered Magic Wand scanner from VuPoint, you can scan most any document without being connected to your PC. It is truly a portable scanner designed to offer a fast and convenient way to scan, archive and organize. Ever wanted a portable scanner that you could tote around with you? Magic Wand could be what you re looking for. It was, for me.
To scan? Push the button and then move the scanner to capture the document. If you move too quickly, there's a red light to warn you. Use the provided USB cable to transfer to your computer from the micro SD card (not included). The scans are saved in a JPG format. It's powered by two AA batteries. The Wand recognizes up to 32GB of memory.
It can scan a full color letter-size document at 600 dpi in just about 28 seconds or it can go quicker scanning black & white documents in low resolution in just four seconds. Your mileage may vary!
It is compatible with Windows XP SP2/ Windows Vista/ Windows 7 and Macintosh 10.4 or above. The connection is USB, so no drivers are necessary.
Taking around four seconds to scan a B&W letter-size document, this portable scanner is also valuable for copying images from books or documents with thick or fragile spines that shouldn't be folded back for placement on a flatbed scanner (e.g., my neighbor's genealogy research). Oh yes, how about cooks! Most important for me is it's useful for scanning docs that are located a looong way from your office.
The scanner has an automatic white balance. A white calibration sheet is included.
Accessories include a USB cable, two AA alkaline batteries, OCR software, pouch and cleaning cloth. There is an "instruction" sheet – of sorts! (Thank goodness this device is easy to use.)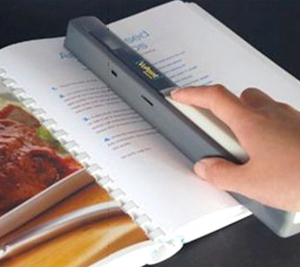 It's fast and so easy to use. I can store hundreds of images (closing statements, reports, etc.) on the micro SD card. The default resolution is 300dpi.
It uses USB2 and is powered by two AA batteries. It has an LCD status window used to select resolution and color or B&W. The scanner measures 10 x 1.2 x 1.1 inches and weighs 7.5oz (a tad less than a Big Mac or, for our European readers, 21% of a kilo).
There are two resolutions: 300 and 600 dpi
There are two scan modes: color and monochrome
A status window shows the number of scanned images on your micro SD card and features selected.
It has an auto off feature. NOTE: Scan length – 52" in mono and 26" in color – I'd hate to meet a flat bed scanner that could do that!
What's not to like?
Mediocre instructions and customer support. Come on VuPoint, for $99 you can afford better docs.
It would be nice if the USB were an alternate power source!
The view window covers up about 80% of the resolution selection line.
There is no format button – must use a paper clip, which is a bit dangerous.
Despite the above four negative comments, the PDS-ST410-VP scanner is well designed and feels comfortable in your hand and not at all awkward to use. It does create a very nice scan. If you cannot lug around a flat bed scanner, buy this one. For more info go to www.vupointsolutions.com.
Martha E. Walsh is a HAL-PC family member who is a senior real estate broker and always "on the go".