Mobile Office S800 Card Scanner
by Bella Marshall Harris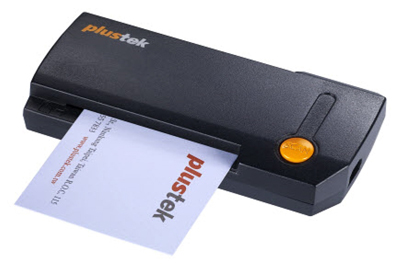 There's lots of power in this small device by Plustek – not much larger than a deck of cards. Stick it in your pocket or briefcase. Take it out when you have a pile of business cards that you want to save – fast and efficient. It makes a high resolution scan in less than 10 seconds. It will scan regular cards, two-sided cards (not at once), searchable PDF files and you can even share info via a separate docking station and some plastic cards. "The S800 is an especially portable, palm sized business card scanning and management solution designed to be use in the office or on the road."
Load the software, update it via the vendor's web site, insert your card into the side slot, face down. Press the orange button and off it goes. Occasionally a typical card will be scanned vertically and no info into the database. Once scanned, you will see the card and the info format into which you can add info and correct any errors – save, then move on.
No AC power needed because it is powered via the USB port. It is USB 1.1 connection, which surprised me. But with the relatively little data to transmit, that is nothing. Creative stuff – logos, names, etc. aren't entered into the database "form". Darker color cards do not scan as well – I simply corrected the info. Two things to be careful about: 1. Insert the card very straight. There is no internal guide. 2. This is a monochrome (B&W) scanner – no color. Color is not really that important for this database.
Before you start to scan: 1. Run the "cleaning" paper through the machine – don't be in a hurry to jerk it out – it will cycle several times then spit itself out. 2. Run the "calibration" sheet through. Perform #1 about every 50-60 cards – the paper cards are made from tend to "shed" and may clog the scanner.
What's the real secret? The IRIS Cardiris OCR and management software. Just think of all the different styles of text and colors, etc. this scanner must recognize. This software also exports contact information to GoldMine, Lotus Notes, Excel, Outlook, GroupWise, Palm Desktop, ACT!, Time and Chaos, iPhone and vCards. Not enough to impress? How about its recognition of cards from 50+ countries, from Albania and Russia to Japan and the USA. Save time at the airport or trade show or on the airplane or any other slow time – scan cards on-the-fly.
How does it operate? There are a number of features. Start with the obvious. What language do you wish to use and the language of the business card. (They range from Algeria to German to American English.) Then set how you want to view your cards – New – Indexed – Verified – etc. There is an additional step called Recognized as well as Extracted and do you wish to scan both sides (not automatic – just turn the card over and scan.) Are you in a hurry? Then select Fast Recognition and when you return to the office, rescan more slowly using "Accurate Recognition." There are numerous other settings to customize your scanner.
Tech Specs:
Optical Resolution - 600 dpi
Environment Requirement – ROHS (EC standard)
Weight – about the same as a medium large tomato! Don't cock your head like that. Take it to your local grocery store and weigh it. Now, explain that to the Produce Manager!
O/S - Microsoft Windows 2000, XP, Vista, 7
For sheer convenience, this scanner is hard to beat. It makes my company money by minimizing our marketing personnel and my time manually entering info AND subsequently finding it. Since starting this review I have bought two for the personnel who cover Mexico and parts south. And since it runs off the USB port, local electricity is not an issue. Visit these folks at www.plustek.com.
Bella Marshall Harris is a HAL-PC family member who is a USA/Central America marketing administrator.