AZIO USB 3.0 External Enclosure + PCI-e Card
by James S. Morrison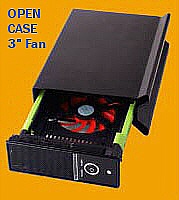 For large file transfers Firewire still beats USB2. That's over, with USB3 quickly coming to a PC near you. Is "3" just another number? No, it is much faster and noticeablely more reliable – from storing home movies to holiday pictures, large volumes of data, etc. at 4.8GB/s! Howz that kiddies for a fast tricycle?
AZIO makes well designed external enclosures for hard drives. This model 377U31 was paired with their two-port USB3 internal board. Load the driver and that's it. Just plug in the power supply and connect the USB cable and you have the best there is. BIG CAUTION: The supplied USB cable is unique at the enclosure end. Do not lose it. You are not likely to find a replacement locally. AZIO – why is this?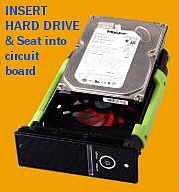 As for the case. It is a substantial aluminum with an excellent base – no tipping over here. Installing a HD just couldn't be easier. Slide the switch down, out comes the internal cage, fold back the two orange "handles", place the drive into the cage, push gently forward to engage the fixed power/data connections, snap the two orange handles inward, slide it in, turn on the power. That's it.
It is the first external enclosure I've seen that did not use short cables for power and data to connect from the small circuit board to your hard drive. This is a screw-less enclosure. Not so with SSDs. The enclosure wasn't designed for an SSD. Although you can insert one, it will just dangle – time for duct tape?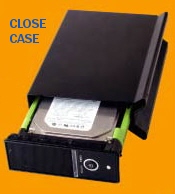 It is smartly styled in matt black with piano black trim. No external sharp edges, but the inside edges of the faceplate can snag some skin. The power button is on the front panel as well as a small silver power button below it is for the 3" fan. The fan turns off when there's no drive activity, so this is a manual over ride. The 3" moves lots of air around your HD and does so quietly. Thank you AZIO!
What don't I like? About the same as most other enclosures. The power cord can easily become disconnected from the unit. Several years ago I reviewed a unit with a built in power adapter. I noticed there is no Firewire connection. Dropping that type connection is long overdue. For any USB3 external enclosure using a 2TB+ drive, insure the specs and your BIOS will support large hard drives.
Often I need to go to a remote office so I simply grab my AZIO, which is now my right arm. It will still work on a USB2 port. This is the nicest enclosure I've seen. For more info and a forum go to www.aziocorp.com.
James S. Morrison is a HAL-PC member who is a supervisor of tech support in a large Gulf Coast construction company.
2-port USB3 SuperSpeed PCI Card.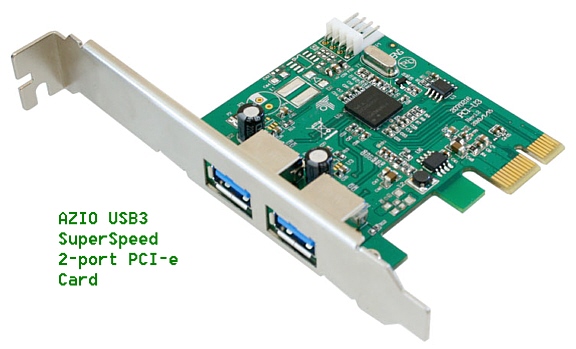 Although USB3 is arriving at a PC near you, for most systems you will need an add-in card. This one is an excellent choice. Simple to install and simple to set up. Just drop the small CD in the caddy and install the driver software. Plug in your external drive and your system will recognize it. Now use it. The circuit board's chips are by NEC which is a leading name in computers and electronics. In fact, my first CD reader was by NEC.