Corel KPT Collection
by A. M. Schaer
The KPT Collection is a plugin for Corel Paintshop Pro X3. When installed, it adds itself to the Essentials menu under plugins. It offers 24 special effects filters you can apply to your photos and graphics or use alone to create background tiles and textures. Cost? Free as an ad-on to Corel Paintshop Pro X3.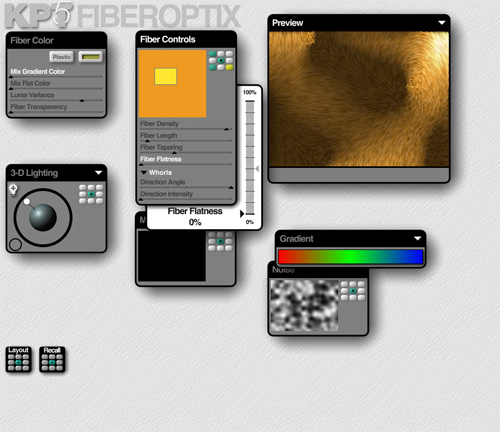 The new KPT Collection combines a selection of all the Kai's Power Tools, the must-have plug-in filters of KPT 5, KPT 6 and KPT effects into a single software solution, to give professional designers an unprecedented set of creative tools. The KPT Collection will work as a plugin in either Paintshop Pro or Adobe Photoshop.
I highly recommend clicking the help button and reading the first few pages of the manual. Although skimpy and inadequate the manual at least explains what each of the filters does. The lack of detail in the manual is my main complaint about the product.
Some of the filters are:
KPT FiberOptix, which lets you create textures that look like real hair or fur. It's also the only one the manual fully explains. I had fun with this one. I was able to create a variety of fiber like textures, not just fur.
KPT Turbulence supposedly you create waves on a surface image. I was unable to figure out how to save the wave-like effects and apply them to any image.
KPT RadWarp simulates a camera lens flaw called barrel distortion. The neat thing about this one is that you can also use it to correct barrel distortion in your images.
KPT Ink Dropper lets you create the effect of dropping colored ink on glass, canvas or into another liquid.
KPT Reaction is supposed to let you create realistic natural textures. I couldn't get it to make anything remotely natural looking.
KPT Gel simulates a gel-like liquid being squeezed out of a tube. Fine, if you like the look of metallic toothpaste.
KPT Shape Shifter can be used to make raised buttons; I played around with this one and finally got something that looked like a purple mother-of-pearl button, but wasn't impressed.
KPT Frax Flame, KPT Frax4D and KPT Fraxplorer are all fractal generators.
KPT Projection lets you rotate a flat image in space and make a QuickTime or AVI movie of it.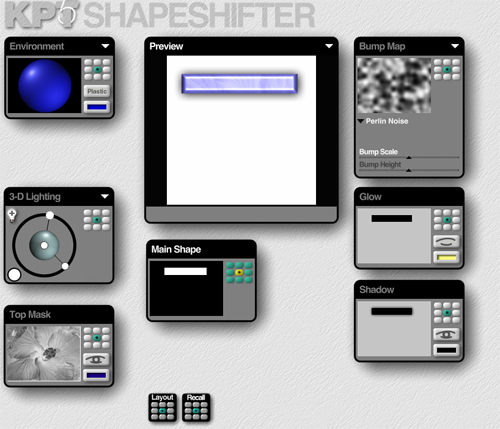 The resulting movies could jazz up a routine slide show, if you can deal with the huge file sizes. It doesn't output animated GIFs directly, but will output a series of bmp images that you could use to create an animated GIF in another program.
Have fun! It's free. It's fun. It's practical. Get it from here:
A. M. Schaer, a HAL-PC member, discovered computer graphics in the early 1990's and hasn't stopped learning since. She is a digital image/camera/image edit class instructor. One of her professional interests is digitally retouching old photos, examples of which can be seen at http://memories.artgeekgal.com or you can email her at schaer@artgeekgal.com.