PaintShop Pro X3
by A. M. Schaer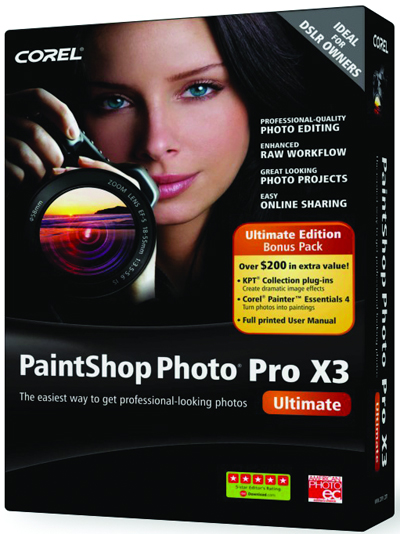 Corel PaintShop Photo Pro X3 has abundant editing, organizing help and support features. The program has full support for viewing and editing RAW images. Check their web site for your device model. I had no problems navigating this program's menus or figuring out any of its features. It is another case of competition bringing the best to us users at a very competitive price!
PaintShop Photo Pro comes bundled with two other programs, KPT Collection which will be reviewed in next month, along with the Project Creator, a part of PaintShop Photo Pro. Painter Essentials 4 is included this month. Confused? Just read on.
The suggested retail price for the above bundle is $99. STOP. Elsewhere, buy it for less than $50.
Minimum/Recommended system requirements are as follows. Notice that none especially demanding, hardware wise.
Windows XP, with latest service packs installed (32-bit or 64-bit)
1.5/2GHz processor
1 GB/2GB RAM
3 GB of free hard drive space
HiColor color display, 1024 x 768 and higher
The program installs easily. Start the installer, follow the prompts and that's it.
When Corel PaintShop Photo Pro starts for the first time, the Organizer appears as the main workspace. The Organizer lets you view and sort photos, view the EXIF data from each photo, tag the photos with key words and rate them. You can batch process photos in the Organizer using built in routines for such tasks as renaming files or converting to gray scale. You can do more sophisticated batch processing in the Express Lab, such as copying adjustments made to one photo to a group of photos.
From the Organizer you can either open the Full Editor or the Express Lab. The Express Lab has all the tools needed to fix most problem photos, and supports most common formats including RAW. "Smart Photo Fix" will even suggest settings to apply if you are not sure to start. It also shows before/after in real time! Notable additions to the standard sharpening and tonal correction tools include Local Tone Mapping and One Step Noise Removal. Local Tone Mapping helps you increase the dynamic range in a photo, drawing more detail out of image areas, such as clouds, sky, stone,
Photographers who shoot a lot of people pictures will appreciate the "Makeover Tool" which has a number of preset routines for common editing tasks, such as whitening teeth and removing blemishes.
The Editor has a learning center panel which gives detailed context sensitive help. For example, clicking on any of the toolbar icons brings up a detailed explanation of how to use the tool - way beyond typical "tool tips".
Two new features of the Editor worth mentioning are the Smart Carver™ and the Color Vibrancy Control. Using the Smart Carver, users can seamlessly and realistically remove photo objects and alter the aspect ratio without distorting the rest of the image. The Vibrancy Control makes it possible to boost saturation in poorly saturated parts of an image, while well-saturated pixels are adjusted less, so no color becomes unrealistically bright.
Note: Instead of opening Paint Shop Pro directly, you open it from the Windows File Explorer by right clicking on an image file, you can only open the file directly in the PaintShop Pro Full Editor or Corel Instant File Viewer. It is not immediately obvious how to get the file to open in the Organizer or Express Lab. This is the one annoyance I found in a program that is otherwise very easy to use.
Overall, I found the program's performance snappy, although it was a little slow moving from the Organizer to the Express Lab; however, this might improve on a faster computer. Two thumbs up for features and price. For more info, updates, forums and help, go to: www.corel.com
A. M. Schaer, a HAL-PC member, discovered computer graphics in the early 1990's and hasn't stopped learning since. She is a digital image/camera/image edit class instructor. One of her professional interests is digitally retouching old photos, examples of which can be seen at http://memories.artgeekgal.com or you can email her at schaer@artgeekgal.com.