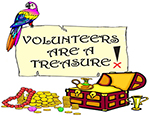 As with any volunteer organization, HAL-PC cannot function without participation from its members.  Some of you are just getting to the point of retirement.  Once the dust settles and you begin to decide on what to do next, how about putting some of that time and energy to use at your club.  As for those of you who are still working but looking for another outlet for fulfillment, consider HAL-PC as a place to stretch yourself.  Here are some suggestions where you may be able to help:
Share your interests and some of those skills you spent years accumulating by leading a SIG.
Become a Front Desk Volunteer who assists other club members over the telephone with a variety of topics including club benefits and procedures, membership or HALNet service renewals, help with resolving minor computer or software problems.
Help get the word out about HAL-PC by marketing your club.
Pass out flyers with membership information to other locations such as the library.
Help others fix their computers at the PC Workshop on Saturday mornings.
Teach a class on some subject related to your area of technical expertise or interest.
Write articles that can be posted on the website concerning some hardware, software or service you have used or even favorite sites you frequent.
If you do not have time to maintain a SIG but still want to share technical knowledge you have with other club members, become a speaker or presenter.
Recommend people you know that would like to speak or make a technical presentation.
Create and manage a Facebook, LinkedIn or other social media account for HAL-PC.
Create your own ways that you would like to help improve the club and let the Board of Directors or President know about those ideas.
If you desire to volunteer and are a current member, please email volunteer@hal-pc.org, check specific needs on the volunteer page,  or fill out the volunteer form. Thank you.