Web-based e-mail now supports SSL
Web-based e-mail interface links:
sqmail.hal-pc.org
Use the same login you normally use. See below for information on how to use the new interfaces.
E-Mail Service update
Please see the HAL-PC homepage for important information regarding e-mail service.
Alert
Several members have reported getting an email that starts with: THIS MESSAGE IS FROM OUR TECHNICAL SUPPORT TEAM and appears to be coming from support@hal-pc.org. This is a scam. Do not reply to it. If you have, contact support ASAP.
Members are reporting a phishing email that reads: "Subject: Mailbox Update. To ensure quick, responsive e-mail services, it is necessary to establish limits on the amount of e-mail each user may store on the system." HAL-PC will never send you an email like this. Do not click on any links in this email.
Recent Alerts
Members are reporting a phishing email that reads: Your Mailbox Has Exceeded Its Storage Limit As Set By Your Administrator, And You Will Not Be Able To Receive New Mails Until You Re-Validate It. To Re- Validate - > Click Here System Administrator. This is a scam. Do not click on the link and enter your information. If you have, email support@hal-pc.org ASAP.
Some HAL-PC users have reported getting an email with the subject "Notice!" and a body with the text "You have 1 new Security Message Alert!" and link. Do not click on the link. This is a phishing attempt, and the link takes you to a FAKE Horde Webmail login page.

If you have entered your password on this page, contact support immediately.
How to avoid phishing attemps
Virtually all phishing attempts have a couple of tell-tale signs:
Something is urgent and/or you will suffer dire consequences unless you act right now.
The acting right now involves clicking on a link in the email.
If you see those two things together, be extremely suspicious.
Always use a different password for every website you create a login for, so if one site is hacked, your other accounts will not be compromised. Never use your HAL-PC email password to create an account on another website.
Web-based e-mail supports SSL
sqmail.hal-pc.org
Use the same login you normally use. You can also continue to use this page to access your e-mail.
Notice
Some people using the secure webmail links have been reporting their browser is giving them untrusted connection warnings. An inadvertent mistake by HAL-PC's provider caused a very subtle error. Fortunately, there is an easy workaround until we can get them to fix the problem. The missing parts will be downloaded and saved by your web browser automatically if you visit a site with the missing pieces. You need only visit the site with the missing pieces once, then you are good until you delete those pieces or change web browsers. By then the problem should be long fixed. Two such sites that have the missing pieces are: https://office.hal-pc.org/halnet https://alphamail.hal-news.net
Visit either one of those addresses, and you'll be good to go. You don't have to do anything once there. Just getting either page to load is enough. Yes, the changes are saved, so even if you turn off your computer, you don't have to go back there.
E-Mail Service
If you are experiencing "Relaying denied " errors please read how to setup authentication. If you are getting an error regarding your certificate, please read this page for more information. If you experience problems with email using your e-mail software, please use either of the web interfaces located at: SquirrelMail or Horde. Login using your email address and password.
Instructions to setup your e-mail software can be found here.
Great news for our e-mail customers!
You are now able to send and receive attachments up to between 18 and 20 megabytes. That means those photos and other large attachments that you could not send or open before are now available through your Hal-PC e-mail. We are continually trying to add value to our Hal-PC e-mail service.
E-MAIL Redirecting
We now have a link that will allow you to redirect your Hal-PC e-mails. Read more...
Features for Horde WebMail
HAL-PC's Horde now gives the same core features that the old CommuniGate installation did:
* WebMail
* Address Book & Contacts
* Rules
* Calendar
* Notes
* Tasks
For more information, visit http://www.horde.org/webmail/.
Information on how to use the new interfaces
Horde Tutorial
Video on how to use Horde mail
Getting started with Squirrel Mail
For your amusement:
Squirrel checking his mail
Squirrel Wars for total dominance of the squirrel-proof bird feeder: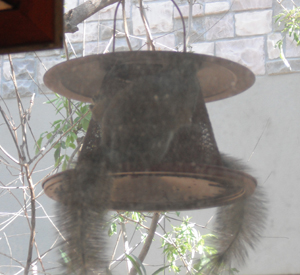 The winner: