NERO Multimedia Suite 10: Three Products – One Solution
by Robert du Vernay
What's the 3-in-1 deal? In a nutshell:
1. Advanced video editing and HD movie creation, that you can do.
2. A reliable backup and easy recovery deal.
3. Industry leading CD/DVD and Blu-ray disc burning and copying.
Suite 10 sports a new, simplified and more easily navigated interface. Use it!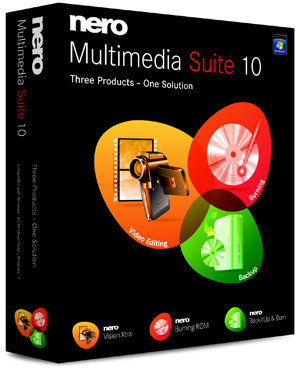 When I first meet NERO it was version 4.6.5 and a long time ago, but it worked and I have always keep up with it. It seems NERO has changed over the past few years, some years were better than others. This new version Suite 10 runs on XP-SP3 and up…. [there are some caveats, please read the side of the box concerning hardware requirements], and you are required to have internet access for a full feature environment. NERO does include several Windows applications which will be automatically loaded if necessary [auto install if you have not kept your O/S updated].
Nero Suite 10 wants to do more for you than just rip a CD or DVD, or a movie in concert with AnyDVD. Nero does not do copyrighted materials, at least not VIDEO. And inside, you will find all of your old favorites and more...
The VIDEO tool set is the big improvement in Suite 10. You can, with a little effort create/edit your video segments into a decent looking piece of video. If you have experience using other video programs, you may find Vision Xtra a bit easier to use. No experience? Then I strongly recommend you invest some time and RTFD and review the tutorials…pls.
Nero Vision Xtra: Nero's video program, allows direct import from a variety of devices, most any file type. Plug in your iPhone, BackBerry, camcorder or those mini DVD's from last year holiday: pull your video in. The edit interface is feature rich… this is where you may want to stop and PLAY a bit, check out the documentation and tutorial stuff. Lots of possibilities, I don't find video editing all that simple and have to tinker to get what I want. The transcode/rendering engine appears to have been improved, by that I think it is faster. Upload your finished video snippet directly to YouTube from your PC or put a favorite movie on your iPhone to watch while you cycle at the gym. I will also add, there were a few places where things hesitated, but did pickup and go.
Nero Burning ROM: Hasn't changed much from last two releases, it now supports Blu-ray burning and playback – without extra charge and the need of a plugin. The basic functionality is all there. There is a push on for SecurDisc, i.e. protection of your data… be careful. If you put passwords or encryption on a piece of media, make sure you remember what that password is. The interface is simple and straight forward. Nero Burning ROM has never disappointed me, it works. I wish their Label creation was more compatible with a plain paper environment.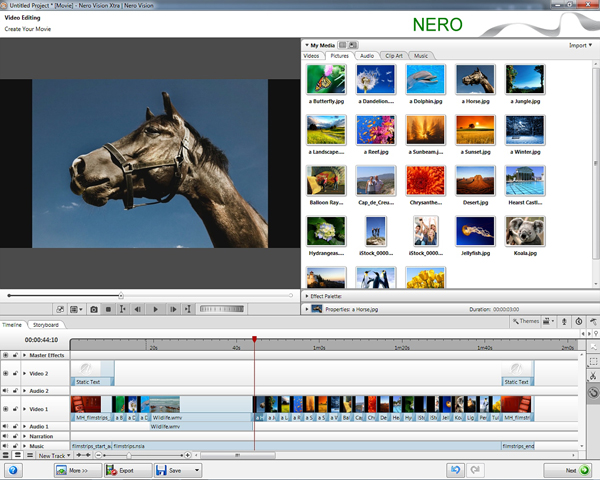 Nero BackItUp & Burn: A one-step DATA Backup, not to be confused with cloning your hard drive. This is a basic cya position. You, the user select partitions, folders, or hard drives to back up. You decide what is necessary. You schedule a backup, specific folder(s) every day, or when changes are done. You can also search folders of older back-ups in case you overwrite it in the future and need to retrieve an older version. Backups can be started manually or on a schedule with a few clicks.
While this feature is available, you will need to invest some of your time to determine WHAT is necessary to recover a working computer setup. That is an inventory of what is necessary to put you back in business. This feature will more than pay for the product, when you need it. All hard drives fail, just a matter of time. I do not recommend incremental backups, OK.
In addition to the core three, the suite also offers an abundance of tools that you will grow to appreciate very quickly. These tools let you manage images, music, and videos easily. You can also crop and edit videos along with advanced video editing, effects, and adding effects with color. The list is long, goes on and on with all the features that Nero packed a lot into this suite.
Nero Multimedia Suite 10 is definitely better than the last release. Suite 10 is easy to navigate and use. Nero 10 can be found in both the Internet download and boxed format, in the 60USD area. Even less, if you want to play the endless rebates game. Nero is a class act – never fails me! For more info, updates and forums go to: www.nero.com.
Robert du Vernay, a HAL-PC member, is Chief Instructor for the 1st Saturday Basic 101 series of classes. His contact is rpd@hal-pc.org.