Dazzle Video Creator Plus
by Bessie Mae Harris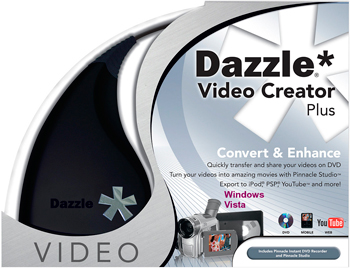 I just installed the software, plugged in the Dazzle device via USB port and I tried an old home video tape from 1981 - it captured it just fine! The tracking was excellent, no problems at all. I haven't had to adjust anything really, just some minor tweaks in the Pinnacle software to get the right brightness, that's about it. I decided to try a do-it-yourself solution that promised to be easier to embrace, and I was not disappointed by the results. Armed with the Dazzle Video Creator Plus from Pinnacle Systems Inc., I put the promise of ease-of-use to the test.
My PC has 512MB of RAM memory, so the software can run slow at times. I blame the slowness on my lack of memory (computer, not mine!). Pinnacle software is enormously user-friendly. The video editing is very intuitive. There's a beginning tutorial after you first load the software that is worth watching. After that, you're off. It's really fun, and I was surprised at how much you could do.

I have captured portions of 14 year-old video tapes from a camcorder that used full-size VHS tapes. I was surprised how good the image quality was when I played a DVD that I edited and created. The drag and drop editing was very easy to learn. I had to use the ''Help'' only to figure out how to designate where I wanted Chapters to start. I had zero problems with performance or PC glitches, but I must point out that I'm running a new and fairly powerful PC.
This is a multifaceted solution to transfer and share your videos either on a DVD, or export your video content to an iPod, PSP - and of course upload it to YouTube or similar online platforms.

When you're transferring from old video tape you will want to "enhance" your content before you turn it into a finished project. The Edit function enables you to adjust the volume for each individual segment, or the whole project. It also gives you the option to auto-correct the color, and adjust the brightness of individual video segments. Auto corrections are nice and convenient, but custom is better. For older tapes, Auto is quite acceptable.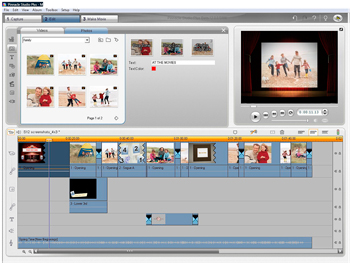 Video processing is time intensive and it's going to take you a while, because its working in real time. But when I weigh the costs of paying someone to professionally transfer VHS tapes to DVD, doing it with Dazzle makes cents (pun intended). I've thus far saved a lot of money.

Their relatively bloated software was a small concern – you need a good, strong system to work with any video. Caution: If you have an older Sony Digital Tape camcorder (or an 8mm), you'll need newer software. Overall I am pleased with both the quality of the captured video and the process of adding titles, chapters and burning a disk. If you have a half-way decent computer and a bunch of memory, it will work exactly how it should and the program that comes with it is decent. A Hollywood movie producer you won't be, but you'll be a star to your family! For more info, updates and forums go to www.pinnaclesys.com.
Bessie Mae Harris is a HAL-PC family member who is half way through converting three dozen VHS tapes.