Adaptec's Ultra320 SCSI Card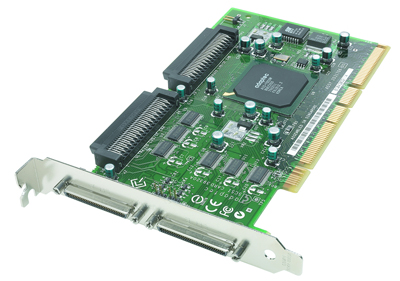 As usual, Adaptec is on top of the heap. This is their highest performing dual-channel Ultra320 SCSI card with HostRAID™ RAID 0, 1, and 10 for data protection 2-channel, 64/133 MHz, full-height, half-length card. That's a mouth full, but this is a powerful card. Since it moves data to/from a fast hard drive to a very fast CPU/memory combo, it can't be a slow poke. The particular one used in this system is the 39320A-R. It has lots of features, but I'm most interested in its getting data to/from the HD and the rest of the computer. Bravo, it does it spendidly.
OK, but what about installing and set up? I just don't know of anything that is simplier. Just install the card, pop the install CD in and respond to a few basic questions. Oh yes. Go to their web site and check for any updates.

The Adaptec SCSI Card 39320A-R is a 64-bit 133 MHz PCI-X, dual-channel Ultra320 SCSI card with integrated HostRAID. It is a very cost effective RAID 0, 1 and 10 solution. In addition, the Adaptec 39320A-R offers new drivers for HostRAID, both Linux and Windows Server 2003, as well as the same browser-based management tool used by Adaptec RAID products. The Adaptec 39320A-R provides data protection at the fastest SCSI speeds available up to 640 MByte/sec, ideal for mainline storage, streaming video and audio, and other bandwidth-intensive applications.
The Adaptec SCSI Card 39320A-R is designed for maximum configuration flexibility and ease of use. And it accomplishes those two things easily. This card is backwardly compatible with Ultra160, Ultra2, Ultra Wide and all other previous-generation SCSI devices. The card's PCI-X interface enables host bus rates of over 1 GigaByte per second, making it possible to take full advantage of Ultra320 SCS's doubled bandwidth.
Highlights of your package:
HostRAID RAID 0, 1 and 10 data protection (Windows and Linux)
Adaptec Seamless Streaming® - (what is this?)
320 MByte/sec performance per channel
Seamless backward compatibility protects legacy devices
Industry-leading compatibility and reliability
Adaptec Storage Manager™ – Browser Edition
RoHS compliant – a European standard
Supported operating systems:
Microsoft Windows Server 2003
Microsoft Windows 2000
Microsoft Windows XP
RedHat Linux 8.1 & 9.0
SuSE Linux 8.1 & 8.2
Novell NetWare 5.1& 6.0
Sun Solaris 9 (x86)
SCO / Caldera UnixWare 7.1.3
SCO / Caldera Open Unix 8
What's best for you?
Dual-channel, Ultra320 card ideal for mid-range to enterprise servers requiring RAID mirroring or striping
Ideal for mid-range to enterprise servers and workstations requiring entry-level data protection. Could be used as a server or at one of several RAID levels. Like past Adaptec devices, it can chain upto 30 SCSI devices.
Internal Connectors - Two 68-pin Ultra320
Data Transfer Rate - 320 MByte/sec/channel
System Requirements - PCI slot (2.2 compliant)
Package Contents
One Adaptec SCSI Card 39320A-R
One 5-position Ultra320 SCSI LVD cable with terminator
Adaptec Storage Manager - Browser Edition software and supported operating systems drivers
Warranty: 5 year limited warranty, 2 years tech support
MTBF - 1,435,915 hours (I'll be gone by then!)