Window to the Web
Beverly Rosenbaum
Computers and Electronics Dominate 2007 Wish Lists
This year computers have jumped to the top spot on holiday wish lists.
The Consumer Electronics Association (CEA)® recently conducted a survey of projected holiday shopping that revealed a change over previous trends. When adults were asked for a top-five gift wish list, the majority of them put computers first, followed by peace and happiness, big-screen TVs, clothes and money, in that order. This is a big change from last year, when most adults listed clothing as their top priority followed by peace and happiness, money and then computers. The teen wish list remained the same as last year – they still want clothes first, followed by an MP3 player, video games, a computer and a cell phone. The report was based on a September 2007 telephone survey of 1,003 adults and 501 teens aged 12 to 17.
Their 14th Annual CE Holiday Purchase Patterns report also listed the specific consumer electronics items that people hope to receive. The top five CE gifts adults wish for are MP3 players, laptops, video game systems, digital cameras and any type of TV. For teens, MP3 players, digital cameras, laptops, computers and any type of TV round out the top five items on their wish list.
In addition, Forrester Research projected that online purchases this holiday season may exceed $33 billion, an increase of more than 20% over 2006 holiday shopping totals. Respondents to their survey also indicated a planned increase in the purchase of gift cards, and 80% will purchase at least one item online. Falling component prices will make it easy for consumers to combine entertainment and portability by choosing new laptops and smart cell phones to replace their desktop computers. The computer is becoming an entertainment hub in and out of the home, and is no longer used just for handling word-processing, e-mail and other basic tasks. These days both audio and video entertainment are most conveniently enjoyed on some kind of computer platform. Video games are appealing to all age groups.
With all those things in mind, here is our Holiday Gift Guide for 2007. According to the various published studies, the prevalent trends show that consumers want to be connected with others, create digital content, be more flexible or mobile, and add accessories to enhance the products they already have. So it's likely that video game systems, digital cameras and additional memory for them, MP3 players, and DVD players will be hot sellers this season.
Let the Games Begin
For a direct link to PC and video console game information, check out the GameZone at www.gamezone.com/bullseye/bullseye.htm. They average the review ratings from major gaming magazines and leading game sites to provide a daily update of the best titles for every platform. There are links to news, previews, and a price locator. CNET maintains a similar site at www.gamespot.com/games.html, and www.gametrailers.com/ has trailers and interviews as well.
As the centerpiece of any home theater, the TV is becoming just a glorified monitor with various video sources to plug into it. CNET published their list of the best home video devices to round out any home theater. These devices varied widely from HD video discs (Blu-ray and HD DVD), to video game consoles (PS3, Xbox 360, and Wii), and HDTV services (cable, satellite, fiber optic, IPTV, and over-the-air antenna).
Even though CNET reviewers found that the $499 Nintendo Wii is a lot of fun to play, and the similarly-priced Sony PlayStation 3 has more built-in features like Blu-ray and Wi-Fi, their "pick of the litter" was the Microsoft Xbox 360. They apparently felt that more flexible video outputs (including HDMI), a new lower price at $399, exclusive game selection, and extended warranty outweighed the high rate of failure and poor customer service. You may not agree, but you can view the comparison for yourself at reviews.cnet.com/4321-10109_7-6551960-1.html?tag=feat. If you opt to buy any of these game consoles, you must be prepared to buy or rent games for them. So take a look at the helpful information at gamerentalguide.com/.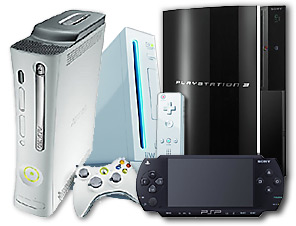 From left: Microsoft Xbox 360, Nintendo Wii, and Sony Playstation 3
HomeTheater
If you're still undecided about the new High Definition standards for your home theater, Onkyo's TX-SR605 7.1-channel A/V receiver is the first to support both the Blu-Ray disc and HD-DVD, and sells for $469.95 from B&H Photo and Electronics, www.bhphotovideo.com/bnh/controller/home?cpncode=09-13432126&srccode=cii_6688033&A=ShowProduct&Q=&O=&sku=484690.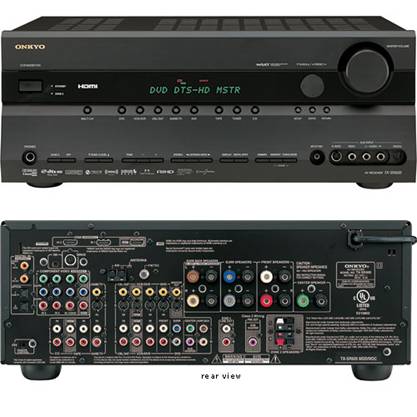 The Slingbox, an unusual gadget first introduced by startup Sling Media in 2005, is for those of you who need video place-shifting. This is the traveling couch potato's new best friend. It can stream your home TV programming from any A/V source to broadband-connected computers or smart phones in other parts of your house or anywhere in the world. New models are available online or in stock at CompUSA (www.compusa.com/products/products.asp?N=0&ref=google&Ntt=slingbx&Ntk=All&Nty=1&D=slingbx&Dx=mode%20matchall), Circuit City
(www.circuitcity.com/ssm/Sling-Media-Slingbox-AV-SLINGBOXAV/sem/rpsm/oid/161903/rpem/ccd/productDetail.do), and Best Buy (www.bestbuy.com/site/olspage.jsp;jsessionid=W5WX2UN4HHL0VKC4D3HFAHQ?_dyncharset=ISO-8859-1&id=pcat17071&type=page&st=slingbox&sc=Global&cp=1&nrp=15&sp=&qp=&list=n&iht=y&usc=All+Categories&ks=960) for $119-$229. There are no host PC or monthly charges required and it produces excellent video quality over LAN, and decent video quality over the Internet. However, cellphone/PDA viewing software costs extra, the attached device is monopolized during viewing, and a lack of pass-through outputs may require cable splitters. A detailed and unbiased review with installation steps can be found at www.pocketpcmag.com/_archives/Apr07/slingbox.aspx.



The Slingbox A/V works like a long-distance remote, providing full control of virtually any type of A/V device, including video recorders, digital cable boxes and satellite TV receivers. It can be controlled by a cell phone, but additional charges may apply.




The Slingbox Pro lets you take your entire show on the road, allowing you to remotely control 3 standard-definition and 1 high-definition A/V devices.
The perfect way to relax is in Ace Bayou Corporation's X-Rocker Sound Chair, available for $96-$139 in the store or online at Wal-Mart (www.walmart.com/search/search-ng.do?search_constraint=0&search_query=x-rocker&ic=24_0), Target (www.target.com/gp/search/602-6105117-8503815?field-keywords=x+rocker&url=index%3Dtarget&ref=sr_bx_1_1), or Brookstone (www.brookstone.com/shop/product.asp?product_code=548560&cm_ven=Compare&cm_cat=ChannelAdvisor&cm_pla=Gifts&cm_ite=datafeed).
You can plug in an MP3 or CD player to hear 100 watts of sound through the stereo speakers and integrated subwoofer, or use the headphone jack for private listening. Also compatible with home theater and video gaming equipment, the micro-leather chair has an ergonomic design with lumbar back support and integrated arms. It can be folded in half for easy storage. Dimensions are 22 ¼" w x 20 ¾" l x 30 ¾" h.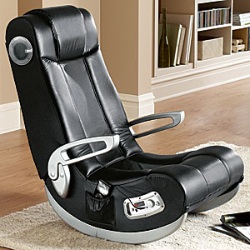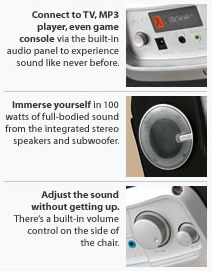 Altec Lansing's retro-looking speaker is a palm-sized, lightweight system that's an ideal iPod or MP3 player companion when you want a break from headphones or to share your music. It puts out 360-degree sound, runs 24 hours on 3 AAA batteries, and is available for $39.95 only from the manufacturer at www.alteclansing.com/product_details.asp?pID=IM207.



Customize MP3 Choice to Fit Lifestyle
There seems to be no one-size-fits-all among MP3 players. So you can read recommendations at reviews.cnet.com/mp3-player-buying-guide/?tag=txt to get an idea of the choices and their features. The design of this device simply must fit the lifestyle of the recipient, or they won't enjoy using it. People who like to listen while jogging or exercising will want something small and lightweight, while others who listen or watch for relaxation may want an FM tuner or high resolution screens. Although the Archos 605 WiFi portable video player is considered by CNET as one of the best mobile distractions money can buy, the battery life is only average. Various models are available in 4GB-160GB models from $199.99-$279.99 in stock or online with free shipping at Circuit City, www.circuitcity.com/ssm/iPods-MP3-Players/sem/rpsm/catOid/-17363/Ntk/Champion/Ntt/archos%20605/searchType/user/rpem/ccd/categorylist.do. The Internet-capable and WiFi-enabled multimedia player weighs 6.7 ounces, has 800x480 resolution in a 4.3-inch screen, and supports SD (secure digital) media cards to swap out additional content.

Sales are up for Apple iPod products, which include a complete range of sizes from the shuffle, nano, classic and touch models, compared at www.apple.com/ipod/whichipod/. And there's a plethora of accessories for them, available from Apple as well as third party sources.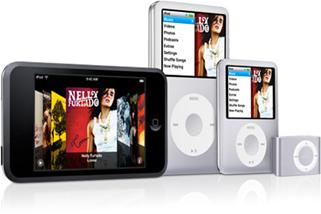 Left to right: iPod touch, classic video iPod, iPod nano, and iPod shuffle
A Nike + iPod Sport Kit is $29 from the Apple Store or www.apple.com with free shipping. The box includes a sensor for the built-in pocket beneath the insole of the left running shoe, and a receiver that plugs into the dock connector on the bottom of the iPod nano next to the headphone jack. Sign up for a free Nike+ account at.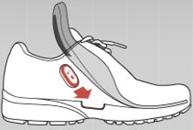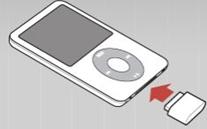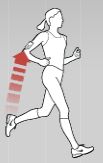 This kit works with all Nike+ shoes, jackets, shorts, and other Nike+ apparel. A complete list of all the available Nike+ gear is posted at www.nike.com/index.jhtml#l=nikestore,grid,_grid,f-26005+22004&re=US&co=US&la=EN.
So for all of you who, forty years ago, dismissed Maxwell Smart (of "Get Smart" fame) and his shoe communicator as silly Hollywood blather or at least only available to elite CIA operatives, check the mall shoe stores for the latest spyware built in to your OdorEater insoles and the latest/greatest/affordable technology available to everyone not working undercover.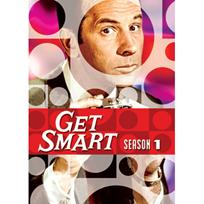 If your frame of reference doesn't extend back forty years, you can get the complete digitally restored and remastered Get Smart series as a boxed set from Time Life Video (www.timelife.com/webapp/wcs/stores/servlet/CatalogSearchResultView?storeId=1001&catalogId=10001&langId=-1&pageSize=6&beginIndex=0&searchType=EXACT&searchTerm=get+smart). The pilot and first season of 30 episodes on 4 DVDs plus a bonus disk of interviews and bloopers is $39.99, or a complete set of 138 episodes on 25 DVDs is $199.95.
You can order any one of several iPod nano armbands or a set of iPod socks in 6 colors for $29.95 at Apple Store locations or online with free shipping from store.apple.com/1-800-MY-APPLE/WebObjects/AppleStore.woa/.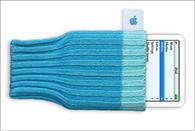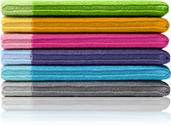 There are all sorts of removable skins available for $12.95-$14.95 from www.gelaskins.com/ for iPods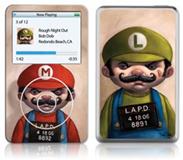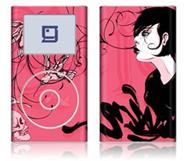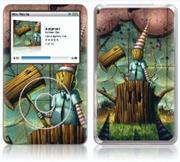 as well as covers for iPhones that include matching wallpaper, and covers for laptops up to 17 inches. One of them even features the art of Claude Monet ($29.95).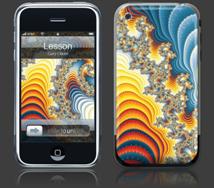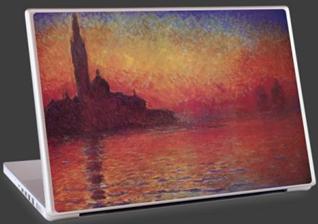 In fact, there are thousands more skin designs for $14.95 each to fit all sorts of devices at www.skinit.com/. If you can't find one you like, you can use the Skinit uploader to customize your own photo and create a one-of-a-kind skin for $19.95. Skinit skins are photo-quality protective membranes that protect devices from the nicks and scratches of everyday use.



Input Devices
For the hottest new mice and keyboards, visit saitekusa.stores.yahoo.net/ to check out their latest Eclipse high performance USB model for $69.95, featuring variable backlighting through laser-etched keys in user selectable colors of blue, red or purple. Or choose a 3200 dpi laser mouse for $59.95 in black or blue, with 6 programmable buttons, pulsating light effects, and on-the-fly sensitivity adjustment. ExtremeTech reviewers (www.extremetech.com/) rate this mouse as a top contender. Both devices are available for Windows PCs only.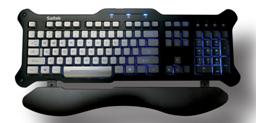 Maybe you'd like the Saitek Photo Mouse for $19.95. Print out your favorite photograph, cut it to the right size using the template provided, position it under the transparent cover and secure it by closing the cover. Once you're tired of that picture, print out another, cut to fit, and insert it.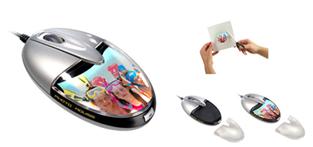 Logitech's latest wired mouse, the G9, is $84.99 in stock or online at Best Buy, offering a 200-3200 dpi sensitivity range, two interchangeable grips, and the ability to store five profiles. The Logitech cordless model G7 sells for $69.95 in stock or online at Circuit City, featuring sensitivity up to 2000 dpi, a five-level battery charge indicator and twin hot-swappable lithium-ion battery packs.
A Microsoft competitor in the gaming class, the Sidewinder, sells for $69.99 in stock or online at Best Buy, and offers lots of weights, buttons, and other customizable options, with a sensitivity range up to 2000 dpi.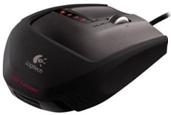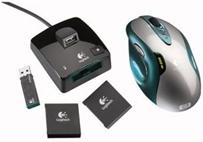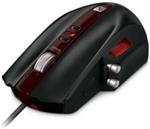 Left to right, More Gaming Mice: Logitech wired G9, Logitech wireless G7, Microsoft wired Sidewinder
Smaller and More Portable
Many cell phones now have QWERTY keyboards, scaled down Intel processors, and software that allows the user to not only check e-mail and browse the web, but also read and write Microsoft Office documents. Forrester Research studies found that cell phones are surpassing land-line phones and, along with laptops, have become the most important devices for American consumers under 40, outranking even the TV. Rapid growth in sales of smart phones, the cell phones with computer-like features, are fueling the theory that the smaller smart phones with Bluetooth capability will replace the more expensive laptops. Until the proposed $100 notebook becomes commonplace, these phones are becoming the cheaper and more efficient choice.
However, several computer manufacturers do offer ultra-portable models, like this 2-lb. ASUS 7" Eee PC for $399.00, at Directron www.directron.com/eeepc4g.html. It's the cheapest of the group, featuring an Intel processor, 512 MB RAM, 4 GB hard drive, WiFi, webcam, HD audio, microphone, VGA out, and 3 USB ports. The price is certainly appealing. The OQO one-pound model with its 5-inch wide screen and built-in mobile broadband was ahead of its time when it was first introduced a couple of years ago, but the cost is still around $2,000, making it an expensive novelty. The most useful Ultra Mobile PCs (the OQO and 1.8-lb Vulcan FlipStart) house 3G radios for connecting to the Web at broadband-like speeds from anywhere cellular reception is available. Among the 1.5-lb and 5.6-inch screen models, the 30GB hard drive FlipStart sells for $1499 while Fujitsu's 40 GB convertible model sells for $950. See details on all of these at www.buildyourumpc.com/. Left to right below: Asus, OQO, Fujitsu.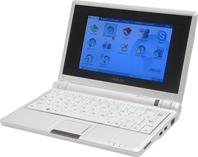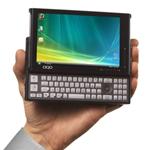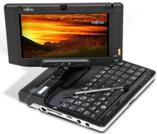 For the Younger Set
Fisher Price makes a virtually indestructible 1.3 megapixel kid-camera in pink for girls or blue for boys. It's a real digital camera with a viewfinder, preview screen, stores up to 60 pictures, and supports SD cards for more storage. The USB cable is included, and the camera is compatible with either PC or Mac. It's $54.88 online or in the store at Wal-Mart, with matching cases for $14.95. The Spy Gear Digital Spy Camera ($27.72) pairs sunglasses with a small digital camera (PC-compatible only). Various Disney movie-themed cameras like this Pixar Cars Pix Micro Digital Camera would appeal to those 8 years old and up. They are all point-and-shoot models for kids new to digital photography, and sell for $19.84, also available at Wal-Mart.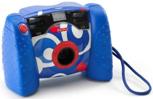 The Fisher Price Fun 2 Learn Laptop is easy for preschoolers from 2 years of age to master the letters/games/music modes, and is available online or in stock at Wal-Mart for $29.95. Or youngsters from kindergarten to 4th grade can learn by playing five levels of Math Baseball with the $59.84 Leapster learning system. Full details on all Leapfrog products can be found at www.leapfrog.com/en/shop.html.
Below - Left: Fun 2 Learn Laptop, Right: Leapster Learning System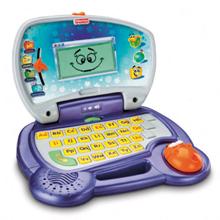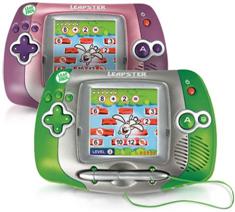 The Fisher Price LeapFrog ClickStart My First Computer system includes a child-friendly wireless keyboard with automatic shut-off, a cartridge-based console, a child-sized mouse with a right- or left-handed adjustable mouse pad, and four games for $50. This is a good way to introduce pre-school skills and basic computer functionality, and additional software featuring popular children's characters is also available for $20 each.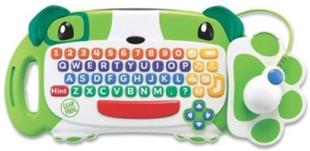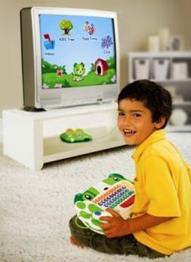 I Can Play Piano ($75) makes a game of learning to play music for youngster ages 4-8. This piano teaching system comes with a color-coordinated 3-octave keyboard that can be plugged into your TV set, or played alone. The set also includes a software cartridge of 8 "Family Favorite" songs and two warm-up games that the whole family can enjoy.

A similar I Can Play Guitar ($90) for ages 6 and up makes learning to play the guitar as easy and fun as playing a video game with high scores and multiple levels. Pop in the song and game cartridge, plug the guitar into your TV, and follow the color-coded system to learn how to find notes on the fret board, chords, strumming, rhythm, timing and more.


A Photo Finish
For the sports fan or outdoor enthusiast, Cabela's offers a digital camera/binoculars combination from Bushnell for $119.95, powered by CR123A battery (not included). Both the binoculars and digital camera have 8X magnification, the integrated camera takes photos with 2.1-megapixel resolution, and the internal flash memory (16MB) is expandable by using SD cards (sold separately).
www.cabelas.com/cabelas/en/templates/links/link.jsp;jsessionid=MGMHXMRPD3IRXLAQBBISCN3MCAEFEIWE?id=0050237712909
a&type=product&cmCat=gifts&cm_ven=data_feed&cm_cat=gifts&cm_pla=0540401&cm_ite=0050237712909a&_requestid=38737
Adorama sells an ultra compact binocular camera with AVI movie capability and lower still picture resolution at .35 MP for $64.95,.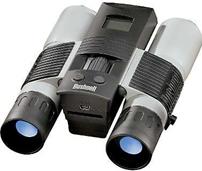 www.adorama.com/BS110718.html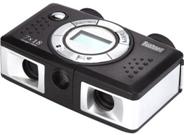 Bushnell combo binoculars & digital camera Ultra compact Bushnell 7 X 18
My list would be incomplete without something a little silly, like this Popdrive keychain for $24.95 at X-Treme Geek (www.x-tremegeek.com/templates/searchdetail.asp?sk=MX72141&productID=14105). The 1GB flash drive can be disconnected from the opener so you can transfer files and open bottles at the same time, for true multitasking.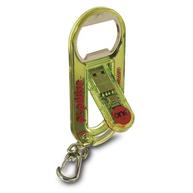 I'll just go check out these BrightFeet lighted slippers for myself, so I can shuffle off to the kitchen at night. They have a light sensor that alerts the LED to come on only in the dark, and a weight sensor to tell the LED that someone is wearing them. That conserves the life of the included lithium ion batteries. The bright LED can easily illuminate 20 to 25 feet in front of me, and they have non-skid soles. If you want a pair for yourself, they sell for $39.95 at JC Penney or online from the manufacturer at www.brightfeetslippers.com or Extreme Geek at.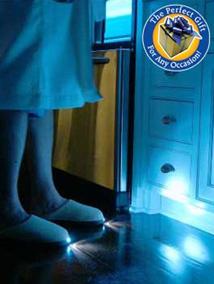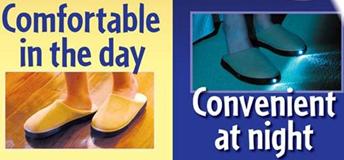 www.x-tremegeek.com/templates/SearchAll.asp?search=slippers&sort=rev
I sincerely hope you enjoy your holiday shopping, and find time to spend with friends and family. A wish of peace and happiness for all is still first on my list.
Beverly Rosenbaum, a HAL-PC member, is a 1999 and 2000 Houston Press Club "Excellence in Journalism" award winner. Send her your comments about this column to webwindow@hal-pc.org.