TurboTax Deluxe: Helpful Features
by Kathryn J. Tenakie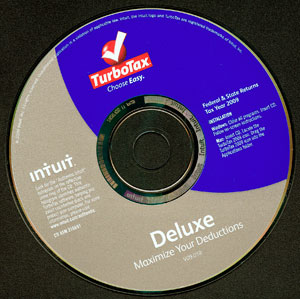 TurboTax's beautiful design, simple navigation, extensive help library, responsive online community full of knowledgeable users and overall ease of use, make this one of the best tax return software. Even if you're a beginner, TurboTax's audio and video explanations will ensure you ease right through your tax return. Their step-by-step interview questions were clear, appropriate, and not too overwhelming.
TurboTax 2009 is available in multiple online versions and for Windows and Mac. While TurboTax is more competitively priced this year, add-ons like state returns and tax audit insurance adds up fast. I like TurboTax's ability to import data from a personal finance application such as Quicken, Quickbooks, or Microsoft Money.
TurboTax Basic is very quick and easy for simple tax returns, and provides plenty of added features for those purchasing a Deluxe or Premium versions. Intuit has several versions of the software, ranging from a basic bare-bones version for the simplest tax returns to their top-of-the line Home & Business for entrepreneurs.
TurboTax includes the ItsDeductible checking your return for overlooked deductions (more than 350 deductions possible) in Deluxe and higher versions of TurboTax. Premier and Home & Business also include my favorite feature: a 401(k) Maximizer for figuring out how much you can contribute to a 401(k) retirement plan without decreasing your net paycheck. It also includes Audit Risk Meter which decreases the chance of being audited.
TurboTax's Live Community provides a Q&A forum for help either with the software or with tax issues, right from inside the software. The questions are context sensitive. Live Community is practical and useful, but requires taking an added step to create a user ID and log in. The "Search Q&A" link below the Live Community logo lets users search for messages in the Live Community and by-pass the registration step.
Important topics are explained through a Learn more about this topic link or through in-depth interview questions when clicking on "Guide Me". From the program's Help Center, users can search for help content, access official IRS Publications, find tips for using TurboTax, and watch videos covering common tax situations.
Whoray!
TurboTax must now ask "Before We Continue, Tell Us Which Options (sales pitches) You Would Like To See." An affirmative answer results in TurboTax being allowed to pitch refund loans and other bank products. TurboTax is required to ask for your consent before pitching these products.
The clean and uncluttered interface will help people stay focused on the preparing their tax returns. However, I still have trouble finding specific data entry screens. The "Guide Me Through" button will guide you step-by-step through the most popular deductions and skip over less popular areas of the tax form. Hummm.
I had no problem finding the worksheets for a SEP-IRA or solo 401(k) plan. The questions and calculations for the solo 401(k) sounded a bit awkward, but TurboTax's calculations corresponded to my own calculations by hand. Congrats TT.
Some especially nice features:
1. Better at finding deductions via a guided review
2. Free online preparation and eFile your federal taxes
3. Free product support via phone, online or e-mail
4. Ask Tina, a free online chat feature where you can ask one question at a time about using TurboTax.
Not so good features:
1. Help on the right side beginning to become cluttered
2. For securities, must upgrade to Premier
The tax interview gets right to the point and flows well after a couple of introductory screens. For help with answering a tax interview question, click on the Guide Me button on each interview page to find additional information. A review screen to verify information entered after each tax topic is easy to read and edit.
TurboTax imports W-2 and 1099 data from many sources. Importing data for one W-2 took me approximately 15 seconds, much less time compared to manual entry.
TurboTax Deluxe covers life changes and explains how the changes will effect your taxes. Either program will help you, but you must take the first step the first year. For the price, ease of use and full set of tools/features, you just can't beat this program. For more info and updates go to: www.turbotax.com.
Kathryn J. Tenakie is a HAL-PC member who is a partner in a tax preparation service.