The Latest Trumors, Beverly Rosenbaum
Great Expectations for 2007?
And Some Surprises!
Technologically, 2007 will be a banner year. But will there be more concerns as well?
Year of Mobile Phone Domination
The sale of laptops had already surpassed desktops. Now this is the year that technologies from PCs, PDAs, MP3 players, media players, and cell phones will all converge in the perfect smart phone device. This gadget will be able to handle anything a computer can do now, including banking, writing, email, blogging, video, music and even Voice over Internet Protocol (VoIP). See a table comparing the features of new models at en.wikipedia.org/wiki/Smartphone#Comparison_table. Ranging from 3 to 6 ounces, all but the Apple iPhone have email capability.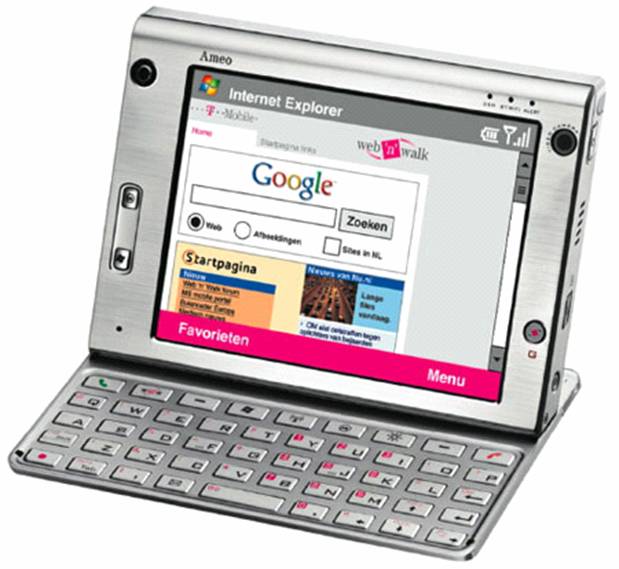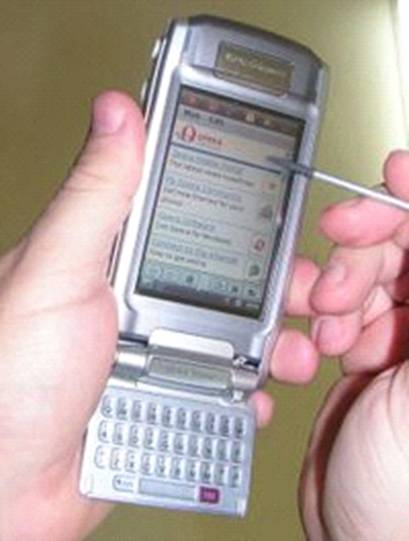 In addition, a federal requirement will force cell phone companies to begin including a GPS chip, which communicates with global positioning satellites. This technology can provide a location for the cell phone owner, useful in case of emergencies and other new services.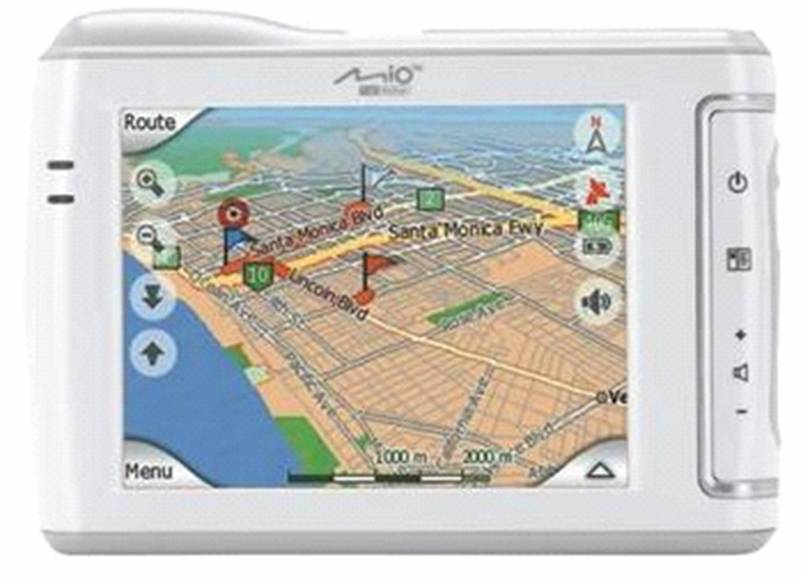 Palo Alto-based Loopt (loopt.com) is already providing a social mapping service. Using Loopt, Nextel's Boost Mobile (www.boostmobile.com/boostloopt/) alerts you if your invited friends are nearby. And Sprint already offers a service called Family Locator, that lets parents pinpoint the location of their kids with cell phones. Details are at www.wirelessweek.com/article/CA6324698.html.
Google signed a deal with Japanese mobile carrier KDDI last year, so that the Google search box will appear on KDDI phones in Japan. With the combination of a GPS chip and the Google search engine, search results can be personalized for any location. And that would open the door for you to begin receiving ads directing you to the nearest restaurants or bookstore.
Security Risks
But these kinds of advances can also open the door to a number of other security risks, such as identity theft, international bank fraud, stock or credit card fraud, or the sale of private information. The one emerging technology with the greatest risk will be multimedia phone commerce over the Internet, mainly because people wanting to save money will adopt VoIP as it becomes available, because it is so inexpensive and easy to use. Analysts believe that VoIP will become mainstream, as people move from dial-up connections to broadband. Unfortunately, U.S. Homeland Security is allowed by law to decrypt and monitor this type of communication, and that means cyber-criminals can do the same. There aren't enough laws yet to deal with VoIP crime, and free sophisticated software tools are available to criminals for detecting VoIP streaming, downloading it, recording it, and decrypting it.
The Internet security company McAfee published some predictions of their own for 2007, describing such threats as continued increase in email spam volume (including bandwidth-consuming image spam), widespread use of computer bots and botnets by hackers, and a resurgence of parasitic malware. The complete list of threats was published by IT News Online at www.itnewsonline.com/showstory.php?storyid=6952&scatid=8&contid=3
Here is that list in more detail:
The number of password-stealing websites will increase, using fake sign-in pages for popular online services like eBay.
The volume of spam, particularly bandwidth-eating image spam, will continue to increase. According to our own Postini service, 10 out of 11 messages are spam. This increase causes email systems to experience unexpected overloads in bandwidth and server storage capacity. Half of all spam originates from outside the United States, and are not covered by U.S. laws.
The popularity of video sharing on the Internet makes it inevitable that hackers will target MPEG files as a means to distribute malicious code.
Mobile phone attacks will become more prevalent as mobile devices become 'smarter' and more connected. Recently reported in the news was a model of TomTom GPS device that was shipped with a Trojan horse and virus, see www.infoworld.com/article/07/01/29/HNtomtomvirus_1.html or news.zdnet.com/2100-1009_22-6154198.html?tag=sas.email.
Adware will go mainstream following the increase in commercial Potentially Unwanted Programs (PUPs). This is a term created by McAfee to refer to the malware group that includes spyware, adware, and dialers.
Identity theft and data loss will continue to be a public issue – at the root of these crimes is often computer theft, loss of back-ups and compromised information systems.
The use of bots, computer programs that perform automated tasks, will increase as a tool favored by hackers. These are compromised machines that have been programmed to run invasive malware programs, see en.wikipedia.org/wiki/Botnet for a good explanation.
Parasitic malware, or viruses that modify existing files on a disk, will make a comeback.
The number of rootkits on 32-bit platforms will increase, but protection and remediation capabilities will increase as well. A beta version of McAfee's Stinger Rootkit Detective is offered from their web page at vil.nai.com/vil/stinger/rkstinger.aspx.
Erode Privacy
New communities and social collaboration made possible by the Internet are growing on a scale like never before. Users are participating in and taking control of technologies and content from those who create them on YouTube, eBay, MySpace, Digg, Wikipedia, and their iPods. Consumers may find that they unwittingly expose themselves to privacy violations as they use such social networking services, where more than just friends may be lurking. Protecting your privacy may require more aggressive measures than the passive approach of the past.
Analysts predict that this trend will only accelerate, that privacy will be eroded as the communications revolution continues. When more records go on-line and are carried around on unsecured laptops, hackers and computer thieves will be able to score big with identity theft. And the government's pursuit of the war on terrorism can potentially erode privacy as well. The most obvious example (mentioned above) is the FBI's attempt to make sure it can monitor voice over Internet protocol (VOIP) phone calls.
Games and Entertainment
Most mobile content in the past was simply repackaged Web content. Now the games, advertising, social networks, music and even global positioning systems that can track down your favorite restaurant are being designed for the phone's smaller screen. The improved presentation, easier use of applications and competition among carriers will all inspire people to download more than the occasional video.
Last year games were an estimated $28 billion industry worldwide, according to the Game Industry Research firm DFC Intelligence (www.dfcint.com). As Sony and Microsoft compete for hard-core gamers with their new high-priced machines, the cheaper Nintendo Wii may overtake them both and become the first console in many years to appeal to the entire family and find a home in nearly every house. The company's DS handheld is already catching on with non-gamers, and easy-to-play "casual" games are showing up in every gadget from iPods to mobile phones, allowing users to play solitaire or more while waiting for the bus or a meeting to start.
IPTV
The dream of a world where anyone can watch just about any Hollywood movie ever made in their living rooms at the touch of a button will also start to become reality in 2007. AT&T and Verizon are planning big rollouts of their IPTV (Internet protocol television) services, which have the potential to offer hundreds of movies and other programming on demand.
Meanwhile, Apple Computer will launch its iTV device, connecting consumers' TVs with its iTunes music and movie service. BitTorrent plans to launch an iTunes rival soon, with thousands of major studio movies. And with Intel offering Viiv-based entertainment services on PCs and Microsoft already offering downloadable movies to Xbox 360 users, Sony is likely to follow with a similar service for its rival PlayStation 3.
Google Predictions
In an interview with Time Magazine, Marissa Mayer, Google's Vice President for Search Products & User Experience, made some predictions as well, promising fewer, but more exciting product releases.
GDrive will finally be launched (80% chance). Many of the newer Google products already rely on web-based storage. The only thing that's missing is a desktop client to view those files in a consolidated fashion. Some of these products include Google Docs & Spreadsheets, Picasa Web Albums, Google Video, etc. They even hired Jeremy Allison (Lead Samba developer) away from Novell to work on this project.
Google TV will be launched (40% chance). Eric Schmidt, Google Chief Executive Officer and another Novell recruit, issued a statement that they are definitely interested in television, and are reportedly in talks with Apple regarding their iTV product to be launched soon.
Google will launch enterprise version of Google Apps for Your Domain (100% chance). Google Apps for your Enterprise will offer organizations the peace of mind that comes with 24×7 phone technical support — something that is currently not available for Google Apps for your Domain.
Google/NASA partnership starts to bear fruit (80% chance). Google Earth will have a wealth of new information available, including a similar interface for Mars and the moon, and will also provide real-time temperature and climate information for any point on the planet.
Google releases their "Medical Scrapbook" (75% chance). Adam Bosworth, engineering manager for "Google Health", publicly called this product the "Health URL" in a speech he made recently. He is leading a team to standardize how the world uses personal health records.
Google Checkout goes completely international (80% chance). In order for Google Checkout to truly compete with PayPal, the product will need to begin accepting merchants from countries other than the United States. Google Checkout has already started accepting payment from all buyers (regardless of their location), but many stores simply do not ship internationally. Links to all Google products can be found at www.google.com/intl/en/options/. Watch this page for new additions.
Vista
Windows Vista may give a small boost to sales of computers in 2007, but it won't light the world on fire as predicted by Microsoft. The industry analyst reporting firm Endpoint Technologies estimates that about 82 million copies of Vista will be sold, mostly on new computers, representing a 7 percent sales growth rate for the year. Experts advise caution when upgrading older systems, because most do not have adequate video memory or other resources. They can be tested for compatibility by using the Microsoft upgrade advisor available at www.microsoft.com/windows/products/windowsvista/buyorupgrade/upgradeadvisor.mspx. According to Microsoft, "the downloadable web application available there will help Windows XP users identify which edition of Windows Vista meets their needs, whether their PCs are ready for an upgrade to Windows Vista, and which features of Windows Vista will be able to run on their PCs. The end result is a report that explains which edition of Windows Vista to buy and provides suggestions about what, if any, hardware updates may be necessary to install and run the appropriate edition and features of Windows Vista." Running this Windows Vista Upgrade Advisor is a necessary first step for anyone considering whether to install Windows Vista on a PC they already own. Software compatibility issues are posted at www.iexbeta.com/wiki/index.php/Windows_Vista_RTM_Software_Compatibility_List, and users are invited to add their own entries.
Businesses are expected to wait until Microsoft patches early problems with a follow-up version. The announcement of so many flaws and vulnerabilities prior to Vista's release was somewhat of a disappointment after years of hype from Microsoft touting the security features of the new improved operating system. By the time it becomes more widely accepted, web-based software, documents and applications may provide plenty of competition.
Daylight Savings Time Will Change
Last, but by no means least, the Energy Policy Act of 2005 will result in a change for Daylight Saving Time beginning this year. Passed by the U. S. Congress on July 29, 2005, and signed into law August 8, 2005, the statute is an attempt to combat growing energy problems. The bill amends the Uniform Time Act of 1966 by changing the start and end dates of daylight saving time beginning this year. Clocks will be set ahead one hour on the second Sunday of March (March 11 this year) instead of the previous first Sunday of April. Clocks will be set back one hour on the first Sunday in November (November 3, 2007), rather than the last Sunday of October. This will make electronic clocks that had pre-programmed dates for adjusting to daylight saving time obsolete and will require updates to computer operating systems.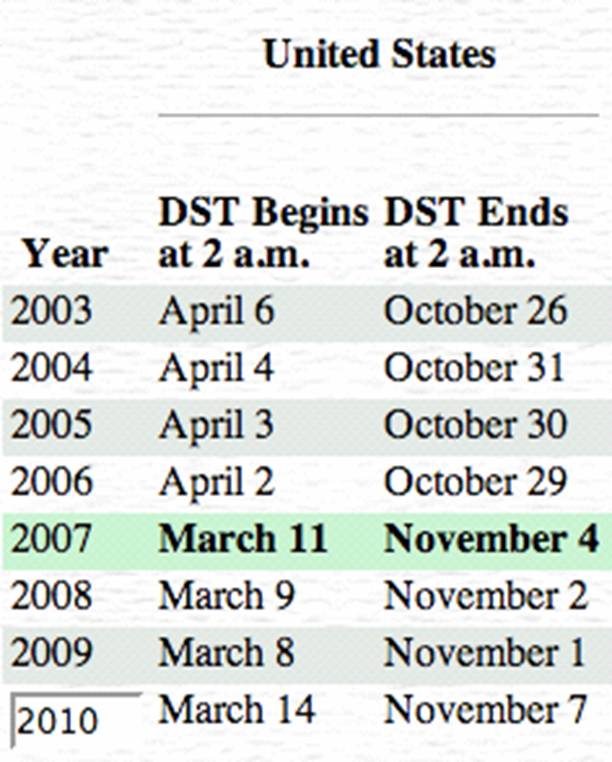 Details about the observance worldwide can be found at webexhibits.org/daylightsaving/. This year we will "spring forward" 3 weeks early and "fall backward" a week later, effectively adding nearly a month to the DST period. Approximately 70 countries utilize daylight saving time, but do not necessarily start and end on the same days. The controversial idea was first conceived by Benjamin Franklin. It was introduced in the United States in March of 1918, during World War I (known then as "Summer Time" until World War II), and later President Franklin Roosevelt instituted it year-round from 1942 to 1945 (calling it "War Time").



(Text inside text box above, if not visible, is:
General information including resources and a list of all Microsoft applications affected by the 2007 DST changes can be found at
support.microsoft.com/default.aspx/gp/dst_topissues.)

Electronics such as VCRs, DVRs, and phones that have timers and do not have a patch available will be obsolete unless the DST feature is turned off and the clocks manually set. Microsoft has provided links to the updates for Windows 2003 Server and Windows XP in KnowledgeBase Article # KB928388 at support.microsoft.com/kb/928388, but older versions of Windows will have to be patched manually using a time zone data update tool. SQL Server 2005 updates are at support.microsoft.com/kb/931815, and time zone data updates for Outlook 2000, 2002, and 2003 are at www.microsoft.com/downloads/details.aspx?familyid=e343a233-b9c8-4652-9dd8-ae0f1af62568&displaylang=en. Exchange Server 2003 support is at support.microsoft.com/kb/926666. A Windows mobile fix has been posted at www.edgeblog.net/2007/daylight-saving-time-windows-mobile-fix/.

Apple had already released such a patch as part of Mac OS X 10.4.6 and later, but there's none for Mac OS X 10.3 and earlier. However, an AFP548.com contributor has provided the necessary updates for Panther. Ian Ward Comfort released a patch and installation packages for Mac OS X 10.3.9 and 10.2. Links are on www.afp548.com/article.php?story=20070128143720897 as well as his own website at www.stanford.edu/~icomfort/panthertz/. An uninstaller is also provided, should you wish to revert the changes made, as this patch is completely unsupported by Apple.
Red Hat and Novell SUSE Linux updates can be found at www-1.ibm.com/support/docview.wss?rs=0&q1=T1010301&uid=isg3T1010301&loc=en_US&cs=utf-8&cc=us&lang=en.
A thorough explanation of how various applications are affected and in which Windows registry keys the time zone data is stored can be found posted at en.wikipedia.org/wiki/Daylight_saving_time.
Beverly Rosenbaum, a HAL-PC member, is a 1999 and 2000 Houston Press Club "Excellence in Journalism" award winner. She can be reached at trumors@hal-pc.org.