Window to the Web, by Beverly Rosenbaum
Light Your Fire(Wire)
FireWire is becoming an indispensable part of the consumer electronics and personal computer
industries, and will play an important role in our new digital lifestyle.
The cross-platform serial input/output standard IEEE 1394 known as FireWire (Apple), iLink (Sony) and DV (used on video camcorders, Digital Video), is a high-speed multimedia bus that has enabled a reliable, cost-effective and efficient way to move audio and video files and large volumes of data.
FireWire ports have long been provided as standard equipment on Apple products as far back as 1995, and are integrated into Power Macs, iMacs, eMacs, PowerBooks, iBooks, and the iPod. Apple's contribution to FireWire was even recognized by the Academy of Television Arts and Sciences with an Emmy award for the creation of the standard, receiving a 2001 Primetime Emmy Engineering Award for its impact on the television industry. And in the computer industry, digital video and FireWire are now becoming a bigger part of PCs.
As recently as last year, FireWire PCI cards still had to be added to some standard PCs. But the new FireWire800 port is now an option desired by the PC enthusiast who prefers a custom-built multi-media/gaming computer. High-end systems provided by boutique makers such as PC Club ( www.pcclub.com ), Alienware ( www.alienware.com ), Falcon ( www.falcon-nw.com ), or Voodoo ( www.voodoopc.com ) now include several FireWire 800 ports. Today, FireWire is an integral part of most notebook computers, many Media Center PCs, and digital camcorders, as well as the home theater network infrastructure. Soon it will deliver high definition signals, both audio and video, replacing coaxial (RCA-type connectors) and optical cables. It will be a big part of the transition from analog to fully-digital consumer electronics hardware.
Speed Comparison
When the original FireWire standard was introduced in 1995, it provided thirty times the bandwidth of the Universal Serial Bus (USB) 1.1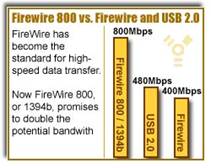 peripheral standard, and enabled a whole new host of features and applications. Then USB 2.0 achieved speeds of 480 Mbps. Now FireWire 800 provides data-transfer speeds of 800 Mbsp, which is twice as fast as the original 400 Mbps speed.
All versions of FireWire offer "Plug & Play" connectivity, allowing users to simply plug in their device and begin using it. They also allow up to 63 devices to be connected via a single bus and offer peer-to-peer connectivity, enabling multiple computers and FireWire devices to be connected at the same time. FireWire also supports both isochronous and asynchronous capabilities, meaning that it can guarantee real-time data delivery, with no danger of inaccurately ordered or delayed content.
Existing legacy peripherals and devices continue to operate at the original FireWire 400 speed, and the new standard was designed to be backwards compatible. When FireWire 400 and FireWire 800 devices are mixed, however, all transfer rates revert to the original FireWire 400 speed. The 800 devices have 9-pin ports while 400 devices have 6-pin ports and iLink connectors have 4-pin connections. "Beta cables" are the true FireWire 800 cable, intended for connecting a 1394b device with a 1394b port on your personal computer. Both ends will have a 9-pin connector, compliant with the 800 standard, and are designed to get all the speed of FireWire 800.
There are a number of other different cables, depending on your device. "Bilingual cables" refer to those that have a 9-pin connector on one end, for an 800Mpbs device or port, and an "A" connector, either 6-pin or 4-pin, on the other. If you have a FireWire 800 device but your computer is still FireWire 400, you can still plug and play, but you'll need a special cable and you'll achieve a lower speed. The two types of bilingual cables available for mixing 800 and 400 devices are:
9-pin to 6-pin - For connecting a standard FireWire device or computer to an 800Mbps connector. Example: connecting any legacy device (hard drives, DVD drives) to a new faster FireWire 800 port on your personal computer, or
9-pin to 4-pin - For connecting an 800Mbps device or computer port to a 4-pin "I.link" connector, like those used on video cameras and some Windows computers. Example: Connecting your video recorder to a computer equipped with the new 800Mbps ports.
FireWire 800 has found a very successful place in both the computer and consumer electronic industries. It's ideal for hard drives, video, digital audio and digital cameras to name a few. FireWire is more suitable for the time-critical isochronous data transfers that will be necessary for high definition video or bandwidth-intensive projects, such as high-speed data storage or professional video capture and editing. For digital video, the new standard will enable new bandwidth-intensive applications, such as multiple-stream content. FireWire 800 can also provide a long-distance capability of up to 100 meters and 45W of power, enough for portable hard drives and other devices to run without a separate power supply.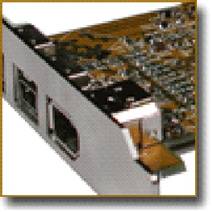 Up to 63 devices can be connected to a single FireWire port, including DV cameras, CD and DVD burning drives, digital cameras, high resolution printers, scanners, set top boxes. FireWire will be the common connector on new products from Pioneer, Philips, RCA, Sharp, Sony, Toshiba, and Yamaha, just to name a few. These products can all be interconnected and include HDTV sets, HD tuners, DVD recorders, high definition PVRs (Personal Video Recorders) and HDRs (Hard Disk Recorders). And then the 1394 Trade Association ( www.1394ta.org ) will be working on "wireless FireWire." The quest for "latest-greatest" is still a moving target.
Beverly Rosenbaum, a HAL-PC member, is a 1999 and 2000 Houston Press Club "Excellence in Journalism" award winner. Send her your comments about this column to webwindow@hal-pc.org .
Beverly Rosenbaum, a HAL-PC member, is a 1999 and 2000 Houston Press Club "Excellence in Journalism" award winner. She can be reached at trumors@hal-pc.org.