Eliminating Office Annoyances
I get a great deal of e-mail about Microsoft Office issues.
Back in August of 2000, I told you about a then-controversial design change in the Microsoft Office Suite (The Latest Trumors, "Office Inconsistencies"). Microsoft claimed that the new Single Document Interface (SDI) was introduced in an attempt to simplify cut-and-paste operations and switching documents for novices. This change meant that every document would be opened in a new application window, each with a separate button on the Taskbar. The Arrange All command on the menu no longer tiled document windows inside a single application window. Instead, it arranged all instances of the Word application window, each with its own menu bar, status bar, and toolbars.
This was the opposite of the previous Office 97 Multiple Document Interface (MDI), and produced a great deal of desktop clutter. With MDI, all documents had appeared within a single program window, so it created a major change in how people worked. Some people loved it, while others hated it and wanted to restore the previous format.
The interface option could be toggled in Excel, Access, and PowerPoint, by following these easy steps:
Select "Options" from the "Tools" menu, and choose the "View" tab.
Turn off the "Windows in Taskbar" option by removing the checkmark next to that option, and click OK.
Unfortunately this simple option was not made available in Word 2000. But VBA programmer and then-columnist for Microsoft Office & VBA Developer Magazine Romke Soldaat wrote a complex macro to solve the problem to toggle the Word windows in the Taskbar. Several people wrote to tell me that his file is no longer available at the location listed in the original article, but I've tracked it down again. You can download the archive WD2K-MDI.ZIP (22858 bytes) from forumsb.csi.com/GVForums/FileAbstract.asp?SRV=MSOfficeForum&HMN=0&FID=3675. It will restore the ability to switch from the Word 2000 Single Document interface (SDI) to the Multiple Document Interface (MDI) interface.
To use it, unzip the file and put the .DOT file in the Startup folder that's listed in Word under Tools=>Options=>File Locations. When you start Word check the "Window" menu and you'll see the toggle.
Microsoft "Wish Program"
Many of you will be glad to hear that Microsoft has restored the ability to switch between SDI and MDI in Word 2002. It sounds like they may have listened to the people who contacted their "Wish Program" about this problem.
Do you have a suggestion for product enhancements that you would like to see in future versions of Microsoft products? According to the Microsoft Knowledge Base Article 114491, "How to Contact the Microsoft Wish Program," there are several ways for you to send comments or suggestions to improve Microsoft products. The suggestions can include improvements for existing products, suggestions for additional features, or ways to make products easier to use. Remember, however, that Microsoft is under no obligation to provide compensation if your suggestion is implemented. All product enhancement suggestions received become the sole property of Microsoft.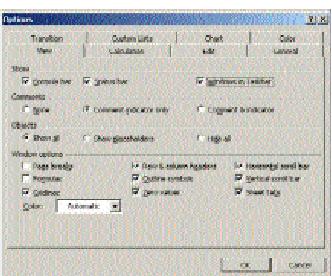 To send a comment or suggestion via the Web, use one of the following methods:
In Internet Explorer 6, click "Send Feedback" on the "Help" menu and then click the link in the "Product Suggestion" section of the page that appears.
In Windows XP, click "Help and Support" on the "Start" menu. Click "Send your feedback to Microsoft," and then fill out the "Product Suggestion" page that appears.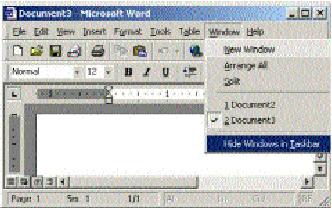 Visit the following Microsoft Web site at www.microsoft.com/ms.htm
. Click "Microsoft.com Guide" in the upper-right corner of the page and then click "Contact Us." Click the link in the "Product Suggestion" section of the page that appears.
Visit the Microsoft Product Feedback Web site at register.microsoft.com/mswish/suggestion.asp to complete and submit the form there.
To send comments or suggestions via e-mail, use the Microsoft Wish Program e-mail address, mswish@microsoft.com.
Fax your comments or suggestions using the Microsoft fax number (425) 936-7329, making sure to address the fax to the attention of the Microsoft Wish Program.
Mail your comments or suggestions to:
Microsoft Corporation
Attn. Microsoft Wish Program
One Microsoft Way
Redmond, WA 98052-6399
Many other readers have asked about opening Office files when they don't have the programs. There are viewers, or readers, available that enable you to read and print a file if you don't have the program installed on your computer. Viewers for Microsoft Word, Excel, Outlook, PowerPoint, Access, and Visio can be downloaded from the Office Download Center at office.microsoft.com/downloads/.
In the "Search for Downloads" section in the center of the page, use the "Products" and "Versions" drop-down list boxes to choose your product and version, select the "Converters and Viewers" check box and click "Update List." There are free security updates and service releases, add-ins, converters and portable document viewers for any and all versions of Microsoft Office applications.
Readers have also reported that Word can freeze or stop responding if they attempt to exit the program while two or more documents are open. They've found that this happens when they select "Exit" from the "File" menu and click the "Yes" button when prompted to save each open document. To avoid this problem, Microsoft support documents suggest saving and closing all open documents before exiting Word.
Are you tired of the hassle? Next month I'll tell you about some free or low-cost Office alternatives that have some pretty nice features.