PCmover: Move Programs From/To Computers
By George Walker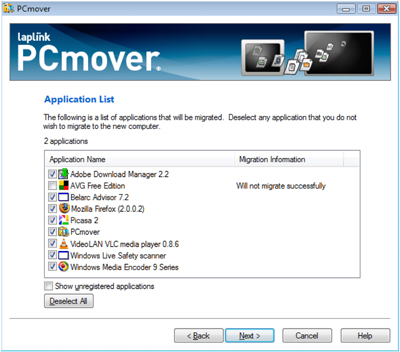 Laplink's "PCmover" has again provided the means of transferring programs between computers. When DOS was king Laplink could be used to migrate virtually all programs and data between computers. Then Windows arrived with its links and hooks between the installed applications and the Operating System, and programs (applications) like Microsoft Word could no longer be transferred. These applications had to be installed on the new machine. PCmover now provides the only means that I am aware of to move Programs between machines.
PCmover moves data and applications for an "OLD" to a "NEW" computer. The "OLD" computer can have Microsoft operating systems from Windows 95 to Vista. The operating system on the "NEW" computer must be the same or newer than the "OLD" computer. .
PCmover moves all of your files, settings, and programs to your new machine without overwriting anything on the new machine.
PCmover was used easily and successfully to move all data and applications on two separate occasions. In both cases the "OLD" computer operation system was Windows 2000 Professional. One of the "NEW" computers had Windows XP Home and the other Windows 2000 Professional. A third test moving Win 2000 information to Vista Ultimate resulted in quite a few of the programs requiring reinstallation after they had been transferred. Win 2K to Vista may be too big of a step.
Making the big move…
1. Both computers need to be virus free and free of malware. In addition to your favorite virus program running Ad-Aware, Spybot Search and Destroy and CCleaner may be in order.
2. Decide how the computers will be connected during the information transfer. You have the Choice of connecting the serial or parallel ports (some new computers no longer have these), using Laplink cables, USB ports using either a USB 1.1 or a USB 2.0 Laplink cable or Ethernet ports using a Local Area Network or a crossover cable.
3. Install the PCmover software on the "OLD" computer first. . During this process you will have to contact Laplink using the "OLD" computer or another computer with an internet connection or by phone to obtain permission to proceed. With the "OLD" computer blessed, transfer process can continue.
4. You will be given a list of Applications that PCmover has identified for transfer. You can uncheck those that you do not wish to have moved.
5. Install the PCmover program on the "NEW" computer and follow the instructions. Serial numbers and the Laplink permissions are not required during installation on the "NEW" computer.
6. If, having moved to the "NEW" computer you change your mind you can uninstall everything by running the PCmover program on the "New" computer and selecting the appropriate box. If in the morning you want to make the move again every thing will work as before, however you will not need to get authorization, the "OLD" machine is good to go.
Connections and transfer times:
To get an indication of transfer times (1) "OLD" PC (Windows 2K) was connected to (1) "NEW" PC (Windows XP) using USB 1.1, and then USB 2.0, and then a Network. The same information was moved in each case.
Network (both computers connected to a Linksys Router): 1h 6m
USB 1.1 Cable: 1h 26m
USB 2.0 Cable (Laplink Windows Easy Transfer Cable): A/A
(Time was not available because the process stopped and had to be restarted three times. On a restart the process picks up where it left off and was eventually completed, but no time was available.)
CONCLUSION: Based on the above times, a USB 1.1 cable appears to be adequate.
What you need to know about PCmover
NOTE: PCmover should be used only as intended as described in the Quick Start Guide. If you attempt to use this product for unintended purposes, your computer may become unstable or unusable.
1. Some programs on your old PC may not be compatible with a newer operating system.
2. Files with Digital Rights Management (DRM) such as music files and programs that require keys or serial numbers with a hardware fingerprint may require reactivation.
3. Some programs with unique copy write protection may need to be reinstalled or reactivated with their original key or serial number.
4. Antivirus and Anti-Spyware programs will not move to your new PC.
5. PCmover is not designed for migrations from new to older operating systems. Attempting this may render your system unstable.
6. Make sure to apply all appropriate Windows Updates (including .NET) to your NEW PC before performing a migration.
There are a variety of Laplink cables with descriptions at www.laplink.com. Look for "compare cables". Download PCmover from Laplinkor purchase a boxed version from Dell and others. Get the Quick Start Guide on their web site. When you are ready to move files and programs from your old to your new system, PCmover really is a must have tool. It will save you a lot of time, grief and aggravation.
George Walker is a HAL-PC member and a volunteer helping with "Build or Buy a Computer" and "PC Upgrade & Troubleshooting" SIGs. After joining the PC revolution during the CP/M era, he continues to build, use and fix computers. He can be contacted at gwalk@hal-pc.org