Ashampoo Burning Studio 9: DVD Burner with a Difference
by Robert du Vernay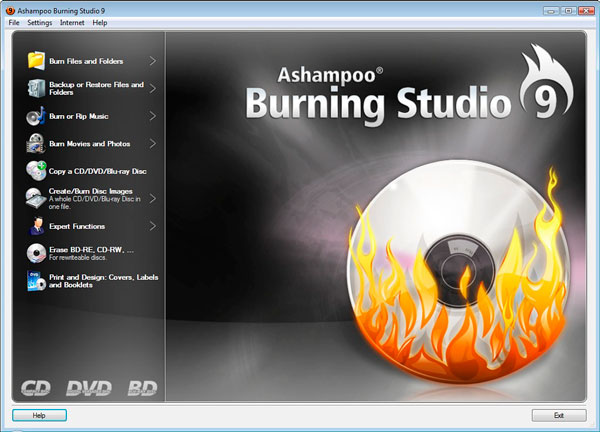 Ashampoo Burning Studio 9 is a very straight forward no nonsense package which allows you to do several tasks with a step down menu in actual English sentences.
I ripped two movies from RED BOX without problems; so it can beat Hollywood encryption and before you put your private label away, make sure you make yourself a insert for the sleeve. It will do the same for your music CDs…direct copy, or allow you convert into MP3 or WMA and re-master with your own selection of tunes. And, you won't spend three days and half a spindle of media figuring it out. Very straight forward - you need to do is select a task; the program walks you through the necessary steps. Simply choose format you want, select files, and record the disc!
You can:
Make an audio CD or MP3 CD for your car or home stereo;
Rip music from existing audio CDs and make your own compilation;
Computer (data) backups CD/DVD/Blu-ray: spanning multiple discs;
Author DVD movies with themes that can be played in a set top player;
Rip commercial DVD's and make yourself a backup copy of your DVDs.
Create DVD slideshows with your images including music/transition/menus; and
Create Inserts-Covers, setup to and design labels direct print discs.
Movie Editor is a new feature in this release. The new Movie Player interface has also been redesigned with a significantly improved video rendering engine and a modern graphical interface.
Slideshow Editor makes it a snap to turn your photos into impressive DVD slideshows with menus. You can mix video clips into your slideshows. The resulting Slideshow I created was with 50 slides and the video resolution was impressive. The processing is slow, but resulting output show well worth the extra time. Best I have seen in a long time.
Cover Designer feature is superior to a few I have tried to use, very flexible. Much easier and straight forward than another German company.
Computer DATA backup. This is data backup, not a clone or bootable backup.
Ashampoo Burning Studio 9 has a trial period of 10 days, which can be extended by another 20 days by registering for a free trial key. This is not the way to do this. You pay extra for two years of support and not sure what that means. Ashampoo is an internet download and currently going for $20. Definitely worth the bucks. For more info, updates, Q&A, etc. go to: www.ashampoo.com and click on the "Burning Studio 9" button.
Robert du Vernay, a HAL-PC member is Chief Instructor for the 1st Saturday Basic 101 series of classes. His contact is rpd@hal-pc.org.