Camera Memory: Regular or Premium Grade?
by Charles W. Evans
Traditional photography uses film as a storage medium. When one roll is used, simply take it out and pop in a new one. Digital photography also has a form of removable storage - memory cards. The advantage of these cards over film is that they can be erased and reused. Images stored on memory cards can be transferred to a computer for further processing and permanent storage, or they can be transferred directly to a printer. On-camera storage (memory) is typically very limited and generally insufficient for the camera's video mode.
There are several factors you need to consider. The camera's "film" speed, pixel size (3MP or 8MP or ??). Speed refers to how quickly the camera will "process" your picture and send it to the memory card. A slow memory card will slow the transfer to newer, faster cameras and increase the time to take the next shot. (It takes from a half to two seconds to accomplish the total "processing" step.) A half to two seconds? Often you want to take the next shot quickly plus the processing time doesn't take into account autofocus time, etc. The one reviewed in this article, a 2GB, 133X SD card by Corsair.
Memory devices come in speeds from regular 1X to premium-speed 133X. Since video is a connected series of still pictures, a fast card is very important. Consecutive pictures at a little league game also depend on a speedy card!
Speaking of "image processing", which is what occurs when you take a digital picture, cameras "take" a picture in a RAW (read and write) format. Higher end cameras will allow you to save a picture in this RAW format. Editing a picture saved as a RAW file is the very best method. However, a RAW image file is anywhere from 8-20 times larger that the more common JPG format. JPG is by far the most commonly used format. It is a compressed file and as such each time you FILE/Save it, it will lose some quality. Most cameras will automatically convert, in the camera, the original RAW file to a JPG file.
Several of the newer characteristics of memory cards include a "write accelerated" capability. This allows for a much quicker storage of your pictures. NOTE: Since WA cards are more expensive, make sure your camera supports this feature. If not, just buy a regular memory card.
Format or not format your memory card? NO. NO, NO. Never format your memory card via your computer. Always use the "Delete" option on your camera. Otherwise, you can permanently damage your memory card.
Just like any external device (DVD recorder, flash drive, scanner, etc.) turn the camera OFF when switching or remove/insert a memory device.
Corsaire 2GB 133X SD Memory Card.

Corsaire is recognized as one of the best quality and most reliable memory vendors and is a leader in leading edge technology. Two users I spoke to complained about the card's not being recognized by their card reader. I suspect they need to update the "firmware" of the card reader.
Corsair's high speed 133X Secure Digital (SD) cards are small yet surprisingly fast and reliable. They also incorporate the latest power saving technology to maximize battery life. Whether you need more storage for digital pictures, MP3s, your cellular phone or PDA, SD cards are your best bet. This high-speed version is designed for the pro-sumer and digital photography enthusiast and features read speeds up to 21MB/s and write speeds up to 15.5MB/s. A lot depends on the size of your picture file, but on average you could store these numbers of images: 640/6MP or 1024/4MP or 511 MP3 songs! For more info go to www.corsairmicro.com.
This size card comes is handy for long vacations without computer access and video recording. It takes less than 15 seconds to "set up" including formatting. I can finally shoot pictures without an inordinate lag between shoots.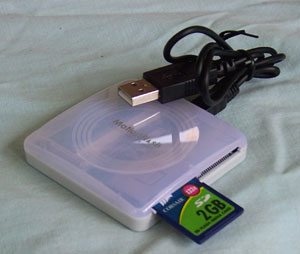 MotionFlash 23:1 Multislot Reader with a USB2 connection is useful to transfer picture files from your camera's memory to your printer or computer.If this Reader can't read it, nothing will. And you can't get much more portable than this MotionFlash reader at less than 1.6 ounces and two inches square. I've tried it with four different cards and all worked. Transfer speed is actually faster than the camera can send the file!
For more info go to www.datafab.com/product/card_reader_writer_milti_ecr23b.htm
Common Camera Memory Formats.
SD Card (SecureDigital)
Used in a wide variety of digital cameras and is now the most popular format.
CompactFlash
Mainly for high-end cameras, professional users enjoy the giant capacity which can hold up to 16GB.
xD Picture Card
Produced by Olympus and Fuji for their digital cameras.
Memory Stick
Sony commissioned SanDisk to produce a card solely for their own devices.
SmartMedia card
Used by photographers with older digital cameras, primarily Fuji, Olympus, Ricoh, Samsung and Toshiba. The SmartMedia format can also be used in MP3 players and PDAs. It is generally limited to a 128MB size.
MicroDrive
A MicroDrive (brand name) is an actual, one inch hard drive and because they are mechanical drives with moving parts, they are somewhat more delicate than flash memory cards. Handle with care. MicroDrives also have a slower access time but have larger storage capacity at cheaper prices.
Charles W. Evans is a HAL-PC member and Reviews Editor for the Magazine. Contact him at reviews@hal-pc.org.