Counterspy 2.5: Malware detector and eraser - An Update
by Harold G. Spangler
For "malware" protection, ask these questions: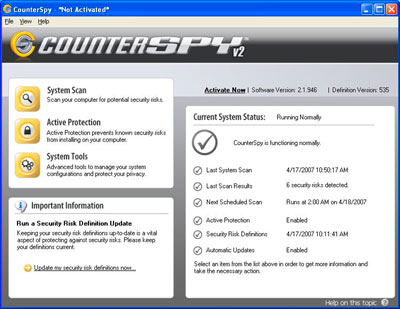 Does the anti-spyware include tools to enhance the ease of spyware detection and removal? Does the software offer descriptions of detected spyware so you can determine whether or not you want to keep detected item?
Does the product provide real-time protection from spyware - preventing its installation instead of just removing it afterward? Is the product effective at finding and removing the many different types of spyware and adware? (Sometimes refered to as "malware".)
How easy is it to use? Can you quickly find the features you are looking for?
Is there a Help section installed with the product? Can you read the box or web page and basically unerstand the product? Am I asking too many questions?? Yes, so let's get on with the review.
Now, Counterspy 2.5 by Sunbelt Software: Installation is a snap and changing any options/features is as simple as a few mouse clicks. The updated CounterSpy is even more agile. And it does the job I bought it for and without a lot of attention from me.
Counterspy is easy to use and requires little user intervention. It will automatically update itself (or not, if you have chosen the "Manual" option.) Note to Sunbelt: A more efficient and less intrusive update method would be the first login of the day – I think CounterSpy typically updates about once a day.
Support is pretty good, but e-mail is a bit slow. If you are really in a bind (I never have been), use the telephone. There's also support via the web, tech support number and the included Help function.
The auto-update feature allows you to keep your spyware protection up-to-date; while the scan scheduler allows you to set up automatic scans for anytime for any part of your hard drive. I don't use the automatic method.
Active Protection, which runs in the background, shields your system from spyware and adware continuously. This feature won't slow down the speed of your computer and is especially useful for people that are always connected to the Internet.
If you are a novice use features such as Active Protection and the program's default settings and you'll receive excellent protection. A more advanced user can select exactly what the program protects against and what it ignores, depending on preference.
CounterSpy incorporates a new technology that Sunbelt calls VIPRE (Virus Intrusion Protection Remediation Engine), as well as boot-time scanning, active protection at the kernel level, and reduced usage of system memory. Version 2.5 is compatible with Windows Vista32, but does not support 64-bit Windows Vista.
Rootkits and other deeply entrenched malware are hard to remove because they subvert the operating system itself; Sunbelt's FirstScan technology scans for and removes this type of threat at boot up. Nice.
Specifically, it uses less system memory and creates less of a load on the CPU. Spyware definition updates now just include incremental changes (thanks Sunbelt) rather than a full download of all definitions, so updates download much faster.
In disinfection tests, CounterSpy cleaned up 91% percent of adware and spyware samples. This is impressive considering the average industry detection is less than 75%
Counterspy has system restore features and four privacy-centric utilities under a "Tools" heading: MyPC Explorer lets you view and modify Windows and browser system settings; My PC Checkup performs a check of your overall system security; History Cleaner purges Internet Explorer surfing trails; and Secure File Eraser makes sure that nobody can resurrect your deleted documents.
Counterspy has consistently protected my system from various spyware, etc. It has been and will continue to be an important part of my computer "tool kit". It is the most effective one I've seen. It sells for less than $19.95 for one computer for one year and well worth it. For more info and updates go to www.sunbelt-software.com.
Harold G. Spangler is a HAL-PC member and retired from NASA space flight operations consulting and a former university instructor. He can be contacted at hgsbu54@hal-pc.org.