Go green. Go solar. Go portable. Go Solio!
by Charles W. Evans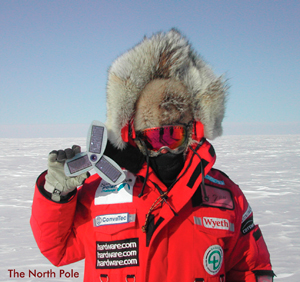 When was the last time your iPhone went dead at the North Pole and you couldn't find an electrical outlet? Well, me too! We both should have carried a Solio Solar Charger Classic. This device is about as "green" as you can get. Twice the thickness of a deck of cards, it slips in your pocket and when you need iJuice, just remove it, unfold it, point into the sun (or work off its battery) and talk. As my doctor would say, "just put the sun in your pocket."
This portable rechargeable battery is so very cool. It can juice up virtually any low voltage portable cell phone, iPod, Blueberry (or is it Bluetooth?), GPS, digital camera and I could list a dozen or more – just go to their site for the full list. It takes about eight hours in the full sun to fully juice it. Your Classic comes with a handy variety of adapter tips, plus a USB charging cable and a mini-USB. There is an extra-cost optional wall plug charger. It has the capability to work with their 12 volt universal adapter cable that connects to your auto's chargers.
Here's an interesting video of the Solio at work on an African Safari: www.youtube.com/watch?v=dzJyjzy8D6o.
Solio is a Hybrid because it can accept power from either the sun or the wall plug, storing this energy within its internal rechargeable battery. Solio then uses this energy to power your gadgets at the same rate as your wall adapter. Solio will also hold its charge for up to a year. Is your device compatible? Go to www.solio.com/charger/explore-solio/comp-devices.html page.
The Magnesium Edition of Solio has about 50% more watts and amps than the Classic.
It's three, five inch solar panels fan out when needed. It can charge a cell phone or iPod with stored power from the sun OR by plugging into a wall outlet. That part makes it perfect for traveling. And for the true outdoors adventurer who still needs to keep in touch with the folks back home or find your way - GPS. I put the Solio on the dashboard of my car while driving and it works.

On the rear-most panel are ports for the wall charger and for the cord that connects to your phone. There is a small power button that conveniently flashes to show the juice strength.
The Solio has an internal battery charged via a conventional wall charger or directly from the sun. Charging from the wall should get you a full charge in about six hours. Solio promises you can fully juice the device with 8 to 10 hours of direct sunlight. A cloudy day will make charging more difficult.
According to Solio, 60 minutes of sun will power your phone for about 10 minutes of talk time and four days of standby time. The Solio does not balance on its side, but with the included suction cup you can attach it to a window. It needs to be placed in direct sunlight. There is a hole in one end to insert a common pencil to assist in directing into the sun. Wow. Your own Apollo tracking device!

Specifications
Rated output: 4-12V, 0-1A
Solar panel output: 155mA @ 6V
Internal battery: rechargeable 3.6V, 1600mAh Lithium Ion
One-Year Warranty
Technical Specs:
Nominal DC Output: 3V 2A
Maximum Wattage: 6 Watts
Special green note: Solio is carbon neutral and made from recycled and recyclable materials. This is an impressive solar device. For such a beautifully designed device, it is sad to see that there is no protective cover for the bottom solar panel. Solio work on this.
Caveats? It is not a toy and it is small. Be careful when using the adapters – don't force them. Realize that for its size it performs as advertised. Don't let your expectations exceed reality. Have fun! For more info and accessories go to www.solio.com.
Charles W. Evans is a HAL-PC member, volunteer and the Magazine Reviews Editor. He can be contacted at reviews@hal-pc.org.