Launcher X
There are now several models of Palm handhelds that offer the capability to add additional storage in the form of multimedia cards (MMC) or secure digital cards (SD). And while the Palm Install program will allow you to install software to the memory card, it doesn't give you an easy way to launch these programs. Software on the card shows up as a separate category on the Applications screen, requiring you to change the category to launch a program.

Several third-party launcher programs are available for the Palm. After examining a few, I chose to keep Launcher X, from Little Mobile Creations.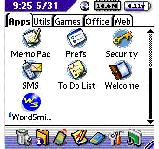 When you start Launcher X, it comes up with a tabbed interface. (See Figure 1 at right). The tabs are the categories that are set up on Launcher X - you can edit, add or delete categories as needed. It doesn't have the same sixteen category limit that the Palm launcher has - you can create over 2,000 categories in Launcher X.
By default, all programs are in the Apps category. You can move a program to a different category by dragging the icon and dropping it onto the appropriate tab. Unlike the built-in Palm launcher, programs in RAM can appear in the same category as programs on the memory card.
At the bottom of the Launcher X screen is a row of "gadgets," which activate various functions. Depending on your screen resolution, 7 or 8 gadgets will be displayed. You can choose which gadgets are displayed, and in what order. Available gadgets are:
Backlight: turn the backlight on or off
Beam: beam an application by dragging it to this gadget
Contrast: bring up the contrast adjustment dialog box
Off: turn the device off
Tools: quick access to OS utilities (HotSync, Preferences or Security) or to access the Launcher X configuration
Card tools: Drag an application to this gadget to copy or move it between RAM and the memory card, or to create a shortcut in RAM for a program that is stored on the card. Tap this gadget to bring up a file manager application that can browse the Palm's RAM or the memory card.
Brightness: bring up the brightness adjustment dialog box
Rename: Change the displayed name of an application by dragging it to this gadget.
Information: Get information about an application by dragging it to this gadget.
Trash can: Drag an icon to this gadget to delete the program. You are then asked if you also want to delete the associated databases and preferences.
Lock: Locks your handheld (the standard Palm security lock)
Off & Lock: Turns off and locks the device. Next time you turn it on, you'll have to enter a valid password.
Email: If you are using SnapperMail, you can email any application or database by dragging it to this icon.
If you're using WordSmith, iSilo or QuickWord, you can turn on options in Launcher X to show icons for these documents in the Launcher - you can open a document directly by tapping it, rather than the usual method of having to launch the program and then use the Open command to select the document you want to see.
Launcher X displays the current date and time at the top of the screen, along with available RAM and remaining battery charge. Available RAM can be displayed in megabytes or as a percentage, and battery level can be displayed in volts or as a percentage. It's possible to change the look of Launcher X by using "skins." A few skins are already available, and they are planning to release a Skin Builder that will make it easy to create your own.
A lot of this functionality should have been built into the Palm OS before now. Until it does show up in the Palm OS, Launcher X is a great tool that can make your Palm much easier to use.
Launcher X, Little Mobile Creations
www.launcherx.com
Shareware, $24.95 registration
SnapperMail, Snapperfish Ltd
www.snappermail.com
Shareware, $34.95 registration
© 2003 by Charles M. Olsen