USB 2 Universal Drive Adapter
by Cynthia Harris Miller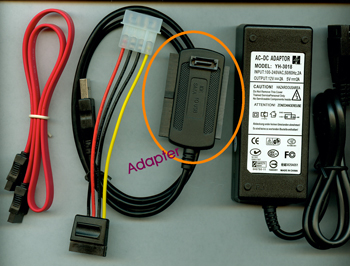 Typically, we tech support people have a whole bag of goodies that we can use to solve computer problems. Much as we'd like strict standardization, it just doesn't happen. NewerTech's Drive Adapter is a gem. It is simple and couldn't be easier to use. It is a straightforward adapter that I use to connect a variety of different ports from our long time friend, the IDE, and the ATA and ATAPI through SATAII (SCSI ports not supported). And all I do is use one plug or the other and since each socket is unique, you cannot plug the wrong cord in the right port! To be blunt, it is so simple, you don't need a teenager to help you.
Let me first tell you what you get. The nice box contains the adapter with a USB2 to IDA adapter cable, 2.5" to 3.5" adapter, power adapter and cord, A/C power cord and a SATA cable. Yes, it is backwardly compatible with USB1 and SATA1. File transfer rates max out at USB2's 480 MB/second. Any computer that has a USB port is supported, namely, PC and Mac systems.
What is also nice is that you can remove an internal hard drive or CD/DVD drive and take to a friend-in-need and hook it up to their system. From tech support experience I will tell you that you can transfer home movies, pictures, large data files, etc. You don't need to burn a CD or DVD. Just hook up your hard drive to the other computer and it will appear as just another "letter" drive. In fact, you have just created an "external" drive. Congratulations!
WARNING: If you remove a "bare" drive from your computer, put in gently into an antistatic plastic bag and insure it is well insulated against shocks. It is a hard drive and subject to all the vagaries of an unprotected device. Please be careful and, obviously, I speak from experience in losing a hard drive!
It is well-constructed with each part nicely designed. No cheap plastic molds made this device. It works with Windows 2K, XP and Vista and Mac OS 9.2 and, ta dah, Linux 2.4.X. Too bad Win9x. It also supports older stuff like ZIP drives (please, no e-mails since I still use a 100MB external ZIP drive).
Oh yes, just in case your company transfers you to Paris, this device is also EU RoHS compliant (the closest I'll ever get to Paris is Old Towne in Tomball). This device should be a part of your basic tool kit. You don't have to be a geek to appreciate this tool. Available at various retailers for less than $30. For more info on this excellent tool, go to: newertech.com.
Cynthia Harris Miller is a HAL-PC family member who is a level 3 tech support person for a large auto parts distributor. Send questions to reviews@hal-pc.org.