Plustek's Mobile OpticSlim M12 Scanner
by Richard Serbin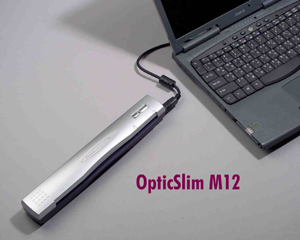 The M12 was created for the on-the-go executive. The unit is light weight, slim and compact, and can easily fit in a brief case or alongside a laptop. Capable of scanning A4/legal-sized documents using a USB2 interface for power and communication with the computer, the M12 could be the most usable piece of mobile equipment since the cell phone. Many mobile professionals would love to have the ability to quickly scan documents and images while on the road. It will cut down on the amount of paperwork you need to carry.
Install and setup were a breeze and include a User manual, a calibration sheet and a sensor cleaning paper for the scanner as well a 63 inch USB cable and the Quick Start guide, which was very easy to follow.
NOTE: Install is the reverse of typical USB device installations. Plug the scanner in first and then install the software. Once the software is installed you are asked to calibrate the M12. Calibration is a simple, one-minute task.
I found a color product picture, inserted it in the scanner and pressed the scan button. The picture scanned quickly and PageManager automatically started. The photo quality was acceptable but not the same quality scan as my desktop scanner. The richness of the photo did not come through with the M12. Generally, features of PageManager are a bit limited
Scanning page 3 of a "white paper" with the ABBYY 4.0 FineReader's OCR capabilities, I was very impressed, again. (I think it is one of best OCR programs.) The accuracy was close to 98% recognition. Every page that had "normal" type was recognized easily - 8-12 point Ariel or Times Roman. You can scan to either a JPG or PDF file.
Special features:
Optical resolution: 600 dpi
Scanning Modes:
Color: 48-bit input
Grayscale: 8/16-bit output
B/W: 1-bit
Max. Scanning Area: legal/A4 size
Net Weight: Approx. ½ pound
Scan Speed: three ppm
The choice of software is okay, aimed at scanning images rather than documents. The software versions aren't the most recent but will get you up and running. Since the main object of this portable scanner is docs, I just cannot worry about that limitation.
The included software: NewSoft Presto! PageManager is document/image management software. It also supports OCR and full-text indexing. NewSoft Presto! ImageFolio LE (limited edition) is multimedia image-processing program. You will use this software for touch ups and other image editing tasks. NewSoft Presto! Mr. Photo is a photo organizing program. Bridgewell Page abc is web page design software and ABBYY FineReader 4.0. Last, but not least, is the Smart Touch, a one-click, custom utility software. The only downfall to this design is that you cannot scan 3D objects.
The hardest part of getting a good scan is feeding the document into the scanner. Because it is a small sheetfed scanner it does not have guides to assist you. It would be very nice if there were some kind of fold out guides.
This scanner is clearly designed for traveling people that need to easily scan documents. For most scanning purposes, 600dpi is quite sufficient. If you are looking for a professional photo scanner then this is not for you. This scanner is great if you go to a lot of meetings and need to scan meeting notes or docs into your computer. The hardware is a winner. Unfortunately, most of the programs the scanner comes with are dated and focused on photos.
A couple of quirks: I could never get the "abc" program to correctly install and the scanner wanted to "calibrate" each time I initiated a new scan.
The OpticSlim M12 has some warts, but as an overall package and as a traveling businessman, I can easily recommend you put it at the top of your accessory list. For more info and updates go to www.plustek.com.
Richard Serbin is a HAL-PC member who is an international commercial real estate broker. He may be contacted at txcomb@hal-pc.org.