Hitachi One Trillion Byte Hard Drive
by Charles W. Evans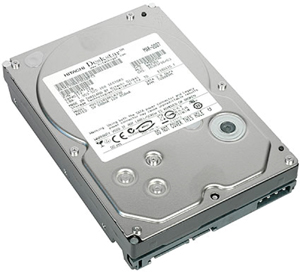 Hitachi's new Deskstar 7K1000 is the first hard drive with a capacity of 1 terabyte - and it's a keeper, scoring near the top on my performance tests. Be prepared to pay a premium for this drive's high performance and high capacity. (Street price at review time of about $385.)
Hitachi Deskstar drives have a long history of leading the pack when it comes to sheer capacity. In 2000 the infamous IBM 75GXP hit the scene. Later, IBM sold its hard drive business to Hitachi and the rest is great history. Hitachi scored a huge marketing and image coup through being the first manufacturer to bring a terabyte drive to the market.
You can never have too much money or too much storage. I'll be the first to admit that I'm a little bit of a pack rat. With file sizes getting bigger and bigger and with higher resolution audio, video, and images, you will need a bigger hard drive sooner rather than later, plus space for large backups!
Having 1TB of storage packs 330,000 high-resolution digital photos (3MB each) or about 150 high-definition movies (encoded at 9 MBs using MPEG-4 encoding) onto a single drive.
Previously, if you wanted to achieve colossal capacity, you had to use disk spanning RAID array to pair multiple GB drives.
This is Hitachi's first 3.5-inch drive to use perpendicular data recording to record on a desktop system.
The Deskstar turned in slightly less impressive performance on two other tests: copying files and folders, and copying very large files.
The spec sheets are pretty impressive:
Interface: SATAII – 3GB/second
Sector Size – 512 bytes (nice!)
Disks/Heads – 5/10
Perpendicular Recording? – Yes
Data Buffer Size – 32MB
Rotational Speed – 7200 rpm
Warranty – three years

Hitachi claims their five platter design, used on the Deskstar 7K1000, improves reliability since it doesn't push the bit densities.

I tested the Hitachi drive in a Windows Vista32 using SiSoft Sandra benchmarks. These tests were done on Duo Core 2 X 6800X. The hard drive mounted in an external case (see separate review), converting from the hard drive's SATA II to an external USB2/e-SATA - I used the USB2 connection.
Benchmarks (rates are MB/s unless otherwise noted) – SANDRA vs. XI.b
Physical disk transfer – 84 ms
File system – 136 ms
Burst mode (not a sustained speed) – 202 ms
Access time – 11 ms
Random access time – 13.2 ms
File system access – 7 ms

You don't give up any performance by moving to a larger capacity drive, even with five platters. I found the Hitachi drive quiet, even at a top speed, large file transfer.
Through perpendicular magnetic recording techniques, Hitachi crams 200 gigabytes of data on each of the 7200 rpm Deskstar's five platters to achieve the drive's ultra-capacity. An 8.8 millisecond seek time is remarkable.
Side notes on "numbers"
It is important to remember that access time and transfer rate measurements are mostly analytical and not really measurements of "performance" per se. Many additional factors combine to provide hard disk performance beyond these two easily measured figures. Like all other PC components, hard drives should be evaluated using application-level routines.
Perhaps partly due to its huge capacity and partly due to Hitachi's tradition of wringing the last bit of performance out of its ATA and SATA drives, the Deskstar displaces WD's Raptor WD1500 as the fastest drive around when it comes to single-user performance. The drive's low idle power dissipation contributes to cooler environments contributing to its long life.
The biggest story, of course, remains the drive's enviable capacity. When considered along with the drive's leading performance, the 7K1000 sets a new gold standard.
Random access times - a measure of a hard drive's ability to pull information from a variety of different spots on the disks - Hitachi is on the top tier. It was Seagate who first introduced a 1 GB (yes, one) drive in the early 90s and Hitachi is the first to bring a 1 TB hard disk to market.
Hitachi's new Deskstar 7K1000 is clearly worth recommending for those with huge storage requirements. And with the increase in digital data (movie files, pictures, music, presentations and back ups) it runs noticeably hotter than other 7,200 RPM drives, so it should be properly cooled for the sake of data safety. (See comments in the Enclosure review)
Negative comments? Actually none, except the price and that will drop quickly as competitors arrive in the market place. This hard drive is not a barn burner, but a hard worker whose value/performance has no peer. It really is impressively well designed, engineered for long term use and a solid performer, with features not yet available on other hard drives. For more info go to www.hitachi.us and click on Hard Drive in the center column.
Charles W. Evans is a HAL-PC member and reviews editor for the Magazine. Contact him at reviews@hal-pc.org.