Media Digitalizer 1.2
by Bessie Mae Harris

Tranfer record cassette tapes to CD, MP3 and WMA, using this all-in-one recording software called Media Digitalizer. You don't need any additional software because Media Digitalizer integrates the recorder, editor, encoders and CD burner software. The setup is simple. See the next graphic.
Media Digitalizer supports all the popular digital formats, so you can use your cassette tapes with virtually anything, from CD players, your car, computer, iPod, phone and more. The supported formats are MP3, CD, Wav and WMA.
Everything's included and built-in: Other recording solutions often require using multiple applications. This is confusing and unnecessary. The venders have carefully designed everything into one application. You'll glide through Media Digitalizer's wizard-style interface from start to finish easily.
Navigating the program: It's good software easy on new users with picture diagrams that explain everything...simply great. And you'd be hard pressed to find a single source solution and one time install that yours for life.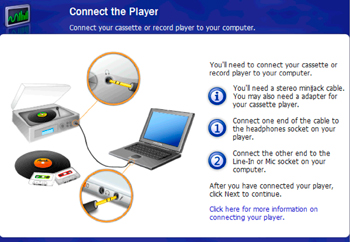 Even though the Digitope Multimedia Toolkit, is a complete solutions range of programs, including this one, I wanted to mention it to you – might be the one you have looked for. It includes five applications to work with pictures, music and icons. Record cassette tapes to CD and MP3 with Media Digitalizer.
Media Digitalizer integrates the recorder, editor, encoders and CD burner software into one application so the recording is quick and easy. Batch resize, convert, and watermark photos with Picture Converter, a powerful image processing tool. You can convert photos between all popular formats, including JPG, PNG, GIF, TIFF, and BMP, resize by pixels or percent, protect your photos with a watermark. Create icons for Windows Vista, XP and the web with Pixelshop, a complete icon and cursor editing studio. Pixelshop features an picture to icon conversion tool so you can quickly convert your logo or graphic into a brilliant, vivid icon in moments. Add a favicons to your web site with the Favicon Wizard. Record and edit audio with Sound Editor, a full-featured, VST plug-in expandable, editing app that includes a variety of effects and tools to help anyone produce quality music.
Media Digitalizer is a amazing application that allows you to record, edit and then burn cassettes to a CD, all using the same application! Along with CD, Media Digitalizer can also create MP3s for iPod, WMAs for Zune, and WAV for further editing. If you want, you can create all these formats from the same recording! It's easy to use Media Digitalizer. The unique step-by-step interface and close integration of the recorder, editor, encoder and cd burner make it easy for anyone to start recording. A detailed tutorial is also included.
Digitalizer is a delight to use because it is all-in-one package with an uncluttered, easily navigated interface that produces good results. All run under XP, VISTA and Win 7. Download whatever strikes your fancy, use it for three days – that's right, just three days then buy it or delete it. I think you'll like it. For more info, several "how to" guides and updates go to www.digitope.com.
Bessie Mae Harris is a HAL-PC family member who is half way through converting three dozen VHS tapes and has started on "tons of cassettes".