New XP Owners, by Charles W. Evans
Take Control of Your System.
A series of small programs that can do big things!
Preface.
The holiday season has come and gone and many of you are now proud owners of a new computer system running Windows XP. And for those émigrés from Win 9.x, welcome. By now you've noticed there are two desktops, but most features are deep down in some folder or under some indescribable icon. Help is on the way. So is help dealing with the Internet. Cookies and pop-up ads beware.your demise is near.
I've assembled a series of small programs that can do big things to improve the look and ease of use of your new system, tweak certain features to your liking, and help deal with incessant Internet annoyances. Oh yes, there is one program I think all will enjoy, and the only thing it will improve is your state of mind. It is the last program. But like a mystery novel, you really shouldn't read the last page first!
Enjoy,
Charles W. Evans, Reviews Editor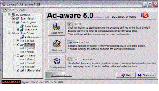 The Internet.
Ad-aware. Ad-aware is a convenient and powerful removal utility designed to scan your system for components of known spyware/adware, parasites, Browser hijackers, etc. and allows you to remove them efficiently and safely, without technical assistance. It scans your computer for the telltale files that adware programs plant on your system and deletes them. Ad-supported software (like the sponsored mode of Eudora) has been around for years. This is an adware/spyware removal utility that scans your memory, registry and hard drives for known spyware components and lets you easily remove them.
That's how adware - software that downloads advertising while you use the associated application or at random - was born. This insidious trade, in which adware skulks onto your hard drive and can invade your privacy on-line, has proliferated, frustrating more than a few Internet users. Some people call such programs spyware, because in some cases they permit advertisers to continuously monitor your online activities.
Periodically download the reference files that enable the program to find the latest spyware that has invaded your system (much as virus definition files help antivirus software detect viruses). It is simple to "set up" - actually, there is little to set up. Just select what areas you want to scan; I chose a scan of my memory, deep scan of the Registration file and all the hard drives. You are then presented with a list of "suspect" files, such as LOP and Gator, to remove. If you are unsure, first back up the suspected files and then delete them.
You cannot use Ad-aware to uninstall suspected components, but you can run it afterwards to clean out any left-over pieces. Ad-aware is compatible with Windows 98 through XP Pro. For Win 95, download version 5.83.
The personal version is free from www.lavasoftusa.com.
What is a cookie?
By far the most common method used to track individuals on the Internet is the "cookie", a small file stored on your system with information provided by a website...such as your password for the site, what you bought, which pages you viewed, etc. While the majority of the websites out there use this tool as it was intended, more and more are exploiting it in ways that were never intended. The stored data is then sent back to the Website every time you visit that site. While cookies don't place a virus or other threatening item into your computer system, they can enhance Website tracking abilities and allow advertisers and other marketing agencies to accumulate user profile data.
CookieCrusher. Works before your Web browser to give you virtually complete control over the cookies which are accepted by and stored on your system. Besides giving you the ability to specify sites and cookies to automatically reject or accept, CookieCrusher classifies each incoming cookie and automatically and transparently accepts or rejects all or individual cookies from specified web sites.
You can quickly add web sites and cookies to the accept from and reject from lists for automated cookie handling. Do you want to apply the same standard to an entire web site? Use the wildcard feature.
One of the better automated features is the automatic acceptance or rejection of cookies without user interaction, based on classification or expiration date. CC maintains a detailed list of the cookies accepted and rejected from all web sites for the current session. While CookieCrusher can control cookies for most Web-browsing applications, the program only shows stored cookies for the Netscape and Internet Explorer browsers.
"If you're tired of manually deleting cookies every time you log off the Internet, CookieCrusher is a solid option." CC works on Win98 through XP. A separate version is available for Win 95. CookieCrusher is free from www.thelimitsoft.com/cookie.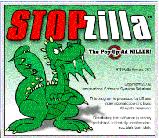 STOPzilla, the pop up killer. Block and manage intrusive pop-up ads while preventing most spyware and adware. This program also provides cookie and history clearing tools. Sites are automatically added to the built-in Black List to prevent all future pop-up attempts. This is a free service for one year.
Not all sites are on the Black List and some sites you cannot add, period. But for the most part, the List works well and gets 95% of the popups. I have yet to find a program that will stop all popup ads. Customizable settings allow you to block ads with a single click of the mouse, and audible alerts let you know when STOPzilla has thwarted a perpetrator.
The myth that popups only occur by visiting web sites is just that, a myth. "Free" software such as Limewire, Kazaa, CometCursor and Gator install additional software that is commonly known as adware or spyware which will reside on your system and monitor your surfing habits. STOPzilla catches these attempts to load spyware and will either preclude its being installed or add it to the List.
Curtailing the frequency of these popup ads is the purpose of any "popup killers". STOPzilla does this in a unique and effective manner and does so consistently.
The large "configuration" options menu has two large buttons: Allow or Block plus four options regarding notification of attempted popups. The separate Black List menu-box simply lists the blocked sites.
You can clear the entire list or remove individual entries. Although you can minimize these buttons, I'd prefer an on-screen stripped version, one less graphically aggressive.
STOPzilla actually includes series of smaller programs ("applets") designed for specific functions. The simplest is COOKIEzilla which you use to clear all cookie entries - an eraser.
HISTORYzilla is another eraser used to clear your surfing history. (Browers also have this one-click function.) SPYWAREzilla detects offending spyware applications when they attempt to pop up, then prohibits their action. ADWAREzilla does for ads what the prior applet does for spyware. ZILLAsense is the real popup killer.
It differentiates between solicited and unsolicited popups without user intervention..
Although it does miss the odd popup, including some on your Black List, I give this popup killer two thumbs up and a must buy. Get the free 15-day trial version or order on-line for $29 from www.stopzilla.com.
PurgeIE. If you don't use Internet Explorer versions 4-6, then skip this program. For IE it is the "Swiss Army Knife" for cookie control. It will display and modify functions for a Security Zone you can set up.
This is a simple and convenient tool for removing one's surfing tracks from the computer. (Don't be misled by "simple". It is easy to use, but makes available a number of options and settings to customize it to your use and level of security.) Internet Explorer leaves a lot of tracks that can reveal your surfing habits which includes a history of each site you have visited.
A Cookie Viewer function assists you in designating which cookies to protect and helps in cookie management. Cache files (off-line and on-line), unprotected cookies, the record of "Visited URLs", URL Address or location dropdown list, the History Folders, Strays and Recent Links are among the categories you can choose to purge.
PurgeIE does not delete or adjust "Index.dat" file; however, it does clean the "Index.dat" file using approved Microsoft functions. These "entry-files" effectively eliminate the information that is of greatest concern to privacy advocates. Many privacy advocates refer to the new I.E. UserData storage as "SuperCookies". The purge functions maintain the integrity of each "Index.dat" file.
For IE 5 and higher, you can purge the new UserData folder, Auto Complete Forms and Previous Searches.
As an added safety feature, you can configure PurgeIE to provide a preview of the cleanup.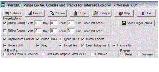 PurgeIE will work on Windows 95 through XP and IE 4-6. It's a pretty comprehensive cookie manager and killer. Try it for a couple of weeks or buy on-line for $19.95 at www.purgeie.com.
Handy Tools.
DarnPasswords. This program's name says it all. And this is one area (passwords) that a "woe-is-me frown" comes to mind. We've all got more passwords than we can accurately remember. I've tried the little discrete pieces of paper on back of the monitor (no, don't even think about looking - I've changed locations!) As my list of passwords grew, it was like trying to round up a herd of cats!
Then I found DarnPasswords. It is not the only password manager on the market, but it is one of the most convenient and sensible ones. One caution: you will need to enter a master password to access the Safe and your list of passwords. Put this password in two places, because if you forget it.then forget it, because you cannot access your list. This program is as mean about authorized access as Internet filtering software.
Everything starts with your Safe. Each time you open it, you enter your master password, thence to the Lobby and on to a variety of features from "security levels", "add browser" if you use more than the default, etc. Actually the "security" includes a very practical feature: encrypted backup of your password list. After all, why hide a password list if it could be read by just any ol' word processor? For the busy person, set the number of minutes 'till it will automatically close - a handy security feature..
The "Add Password" menu starts with Title and it has no effect on your password - just a name for the password info, which includes web address, access name, password, etc. You don't really need anything other than your password - all else is helpful info.
Get this practical, easily configured password manager on-line for $14.95 for the standard edition or $24.95 for the pro version. Either one works on Windows 95 to XP. Go to www.odarn.com/dpindex.shtml.
WindowBlinds. Eye candy at its best! It extends Windows XP through Windows 98 to have a fully skinnable user interface. You can change the style of title bars, buttons, toolbars, desktop, scroll bars, borders, radio buttons, Start bar and virtually every other part of Windows. It gives you total control over your graphical user interface, i.e., "look and feel". It works by applying skins; e.g., WinAmp "skins". It integrates natively into the Windows XP visual style engine and extends it to support new features and increase performance via hardware acceleration. It's beautiful but it will take up to 50% of your RAM and slow down your computer if you don't have a speedy computer.
So you don't like the boring rectangular bar on the top of every window? No problem, you can put a frog there. Want better definition in your buttons? Easy. You can have those yellow and black warning stripes on your windows. It extends the Appearance tab of the Display Control Panel to show not only the themes that XP installs, but also the ones added by WindowBlinds.
A gripe I have about skins is that artists seem to assume that users know where the Minimize/Maximize and Close buttons are, and don't create separate icons for them. Instead, they create three tiny icons, with no way of differentiating them. It's great to see co-workers say "ooh, how'd you do that?" but in the end it boils down to this - if I have to fight even one aspect of a skin, it's history.
If you have installed WinXP, the images or skins are probably located in C:\Windows\Web\Wallpaper. If you want to change your desktop image, right-click anywhere on the desktop (don't do it over a window or the taskbar), and click "Properties" and then select the "Desktop" tab.
I think that if anyone's even the least bit interested in customizing their desktop, they should run, not walk to the WindowBlinds web site and see for themselves what it offers. Also, check out www.wincustomize.com for more skins. For a free trial or on-line purchase of $19.95, go to www.windowblinds.net/.
System Tools.
RegCleaner. Now this may sound technical, but it's really not that technical and "reg cleaning" should be a routine part of your computer "housekeeping", along with regularly defragmenting your hard drive. Windows 2000 and XP have very large and complex registration files that contain info about every facet of your system. They are so important that there are always at least four backup copies. But in the course of computing, a lot of "trash" is created in the "Reg file". RegCleaner, sometimes referred to as a "registry editor", is fairly straight forward and you need no technical skill to use it effectively.
With RegCleaner you can easily get rid of those old and obsolete registry entries created by software that you have "uninstalled" or destroyed ages ago. And by easily, I mean easily. You don't have to be an expert to use this program. A few of its key features are these: it removes most any file type and remaining vestiges of old/uninstalled software (cleans up your registration file), removes unused DLL files and automatically detects and removes Shared DLLs (thanks Jouni). Of course, it will back up files, which you must always do with editing the famous or infamous registration file.
For the more experienced user, RegClean can automate some processes by easily created scripts to make many tasks more convenient. You'll find the multi-lingual user interface of more help than expected. I created one in Spanish for a local non-profit.
Not all the functions are available under Win95, but for all other Windows OSs, it works very well and conveniently and should be a part your "tool box". Download it for free at www.vtoy.fi/jv16/shtml/regcleaner.shtm.
TweakXP Pro. So you upgraded to Windows XP and now you want to make it sit up and bark like a seal? Tweak-XP lets you customize and personalize Windows XP's desktop, Start Menu, taskbar, and other settings. You can block banner ads and popups in Internet Explorer, configure Outlook XP, tweak your CPU and RAM, optimize your Internet connection speed, cover up or clean up your Internet history, and tidy up your hard disk. It was developed to combine both tweaking and optimizing features to increase the speed of your Windows® XP system
TweakXP Pro bundles more than 42 different utilities in one: all you need for Windows XP. With TweakXP you can do any of these easily, for example:
Disable 8.3 Filename creation
Clear PageFile at Shutdown
(These are technical, but the dozens of other tweaks are not. Making your system operate more effectively is the goal of this program.)
You can also tweak your Internet/Network settings for faster and more stable access. These settings can be set manually or you can use a pre-defined setting. This is just one example of the many seemingly minor tweaks that can have a major impact on the quality of your system's performance.
Easily made tweaks to your XP system to improve its operations:
Clean up your registry with Tweak-XP's Registry Cleaner
Use Tweak-XP's DiscDrive Doctor to detect and fix hard disk problems
Improve the readability of your monitor: ClearType configuration
Tweak lots of hidden Windows® XP settings
Enable several hidden performance options of Windows® XP
Configure Outlook XP security settings
Tweak your CPU and display adapter
Optimize your Internet connection speed
This is one of those programs that's not easily evaluated since each user will make his/her own unique determination of what features will/will not be tweaked. I can tell you that I am impressed with its ease of use and how obvious the features are to implement. I suspected there were numerous features that could be made more effective, but I didn't know where to locate them. XP has a very deep folder system and is not easily navigated. Tweak-XP Pro is an excellent "helper" in locating and adjusting these features and options.
For more info on this downloadable $29.95 program (Pro version), go to www.totalidea.de/ frameset-tweakxp.htm.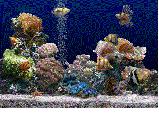 3D Aquarium. First off, this is a screen saver. Having said that, I can say it is so far above the typical genre that you'll be as impressed as I am. I haven't included a screen saver in these reviews for more than three years, but this one just catches your eye. Screen savers are no longer required for today's monitors; however, for security and just plain elegance, try this one. There's a free trial with three fish. The full version allows you to choose seven (at any one time) of 21 fish and a veeeery slow star fish. The entire image is an exceptionally realistic hi-resolution, industrial strength reef tank with 3D fish. It is based on Windows' DirectX and for best use, you need a fairly good 3D video card. This is no guppy level program! (Please. No letters from guppy owners.)
So what's so great? Simple. It actually looks like an aquarium and the fish and various coral formations actually look 3D, including the nice sound effect of the streaming bubbles. The fish move naturally and with a variety of motions - nothing mechanical here. Watch closely and you may see the yellow fish wink at you! Wait a few minutes for the full cycle of night and day, full front light and silhouette. All at a nice, gentle pace. What improvement would I suggest? Put some flowing green stuff in the tank and animate the fish's lips and eyes - you can hardly see their teeth as it is!!
Here's a bet: put a metal, aquarium-like frame around your monitor. Place a small container of fish food next to it. I'll bet the next person to come by will try to feed your fish! True story.
To download a trial version of three fish or on-line purchase ($21.95) of the full version with all the fish go to www.serenescreen.com/.