Adobe Photoshop CS2
by Marilyn Wright Gore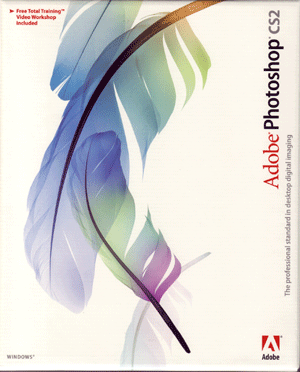 Adobe Photoshop remains the hands-down gold standard in image editing software. With its latest revision, CS2 (v9), Adobe has taken a quantum leap forward in several critical areas, introducing new features that make it well worth the upgrade.
Installation is quick and easy - CS2 installed alongside Photoshop 7.0, leaving both applications available. Product activation is required within 30 days, and you must transfer the activation information in order to install the product on a second computer.
It's Your Photoshop
CS2 provides an unprecedented level of customization. Along with a selection of preset work spaces for web design, painting, and image analysis, Photoshop CS2 also enables users to customize menu items, tool presets, keyboard shortcuts, palette layouts and (at long last) font size of the small font text that appears in the options bar, palettes and tool tips.
Bridge Over Troubled Waters
The File Manager introduced in Version 7 has been replaced by Adobe Bridge, a stand-alone visual file browser that integrates tightly with the other applications in Creative Suite CS, especially Illustrator. Bridge previews InDesign and Illustrator files, QuickTime movies and multiple page PDF's, as well as a full range of native Photoshop image formats. Some of the highlights of the Bridge interface include scalable thumbnails, user customizable metadata fields, image ranking, multiple workspace choices and keyword assignment (especially useful for more efficient searching). You can also browse and purchase stock photography from within Bridge and manage and work with RAW files without launching Photoshop.
Layers Palette
Layer functionality has changed dramatically in CS2. You can now shift-select multiple layers and transform, move or align them without linking them. The Auto Select Layer option of the Move tool now allows you to select objects across multiple layers by drawing a marquee around them. The link function is still available, but the link button has been moved to the bottom of the palette.
Smart Guides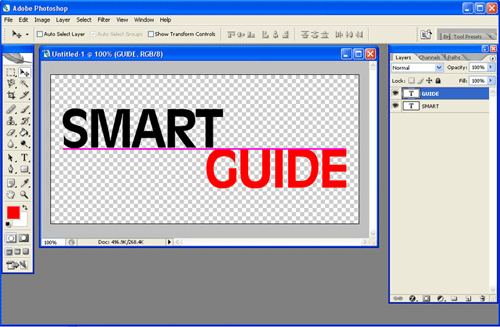 Alignment of items on different layers is now a snap with Smart Guides, guidelines that automatically appear when the boundary of one layer gets near another. (See illustration)
Smart Objects
In CS2, you can place vector objects, such as Illustrator artwork, directly in a designated Smart Object layer and edit nondestructively, with no loss in resolution. The object is not rasterized until (and unless) you choose. You can switch back to Illustrator at any time and modify the original file. Duplicate Smart Objects function as instances of the parent: any changes you make to the parent will be reflected in all instances that appear within a document. You can even create a Smart Objects from raster data.
Smart Sharpen
(Do you sense a theme?) The Smart Sharpen filter gives much greater control over the sharpening process than the old unsharp mask and sharpen filters. You can sharpen tonal ranges of an image and select the kind of blur
applied to the non-sharpened areas. Smart Sharpen minimizes halos and noise in the shadows.
One-Click Red Eye Tool
Adobe has at last incorporated a simple, accurate tool for correcting red eye caused by retinal flash reflection, a feature that has long been included in lesser photo-imaging packages. The tool works fairly well for reducing red-eye in people, but less well for the green reflections in animal eyes.
Spot Healing Brush
The Spot Healing brush is a simpler alternative to the healing brush tool. You don't need to alt-click a reference point with the Spot Healing brush – the tool automatically samples the adjacent pixels to 'heal' flaws in the image. This works great for quick and dirty corrections such as scanner artifacts and skin blemishes. The Spot Healing brush also works across multiple layers. For greater control, the healing brush and clone tool are still available.
Camera Raw
For serious digital photographers, CS2 now supports Camera RAW 3.0. RAW is to digital photgraphy what the film negative is to the traditional camera: uncompressed data captured by the camera's image sensor. Today's advanced digital cameras permit the photographer to save images in RAW format and apply various settings with greater control. With CS2, you can edit and process multiple raw images simultaneously while working in Photoshop, and save the results as Digital Negative images, a new archival format for the raw files generated by digital cameras.
High Dynamic Range (HDR)
Adobe has also introduced support for editing 32-bit HDR images while maintaining their fidelity, range and detail. Those of us with traditional digital cameras can take advantage of the new Merge to HDR feature, which creates a 32-bit HDR image by automatically combining a series of regular photographs taken at different exposures.
Optical Lens Correction
The optical lens correction filter compensates for several common camera lens distortions such as barrel, pincushion and perspective distortion, keystoning and fisheye effect for truer images from edge to edge.
Built-In Noise Reduction
The new and improved noise reduction filter allows removal of grain and color noise from the complete photo, or by individual channel, while preserving edge details. There's even special handling for reducing pesky JPEG artifact, a long-overdue feature.
Image Warping
Text warping has been around for several versions. With CS2 you can now apply non-destructive warping presets or custom effects to images. With image warp, you can wrap a 2D graphic around a 3D object – put your Aunt Hilda's photo on a Coke can!
Vanishing Point
For sheer "How'd they do that!!??" impact, it's hard to beat Vanishing Point, a filter that permits drawing and cloning in the image's original perspective. Define the perspective planes in your image with simple tools and Photoshop will automatically distort a layer to match the scene. It's now ridiculously easy to map text, textures or images to sides of building or floors. Vanishing Point even features a clone tool that works within the established perspective. Add more stories to the top of a building by cloning windows and walls from the bottom floors, in perfect perspective. It's hard to quit playing with this one...
Video Preview
You can now preview the output of your broadcast graphics with FireWire output to NTSC or PAL.
Native Animation
ImageReady is still bundled with Photoshop CS, but now you can create dynamic GIF animations directly in Photoshop with the new Animation palette and Layer palette animation options.
Font Menus
And last but far from least, CS2 finally provides a WYSIWYG font menu! Preferences allow you to change the size of the preview or to turn it off.
Photoshop CS2 is for the serious user. It has a fairly high learning curve, but well worth the learning time. For more info, updates and forums go to www.adobe.com.
Marilyn Wright Gore is a HAL-PC member and its webmaster. She can be contacted at marilyn@hal-pc.org.