CounterSpy 3: Malware Protection at its best.
by Harold G. Spangler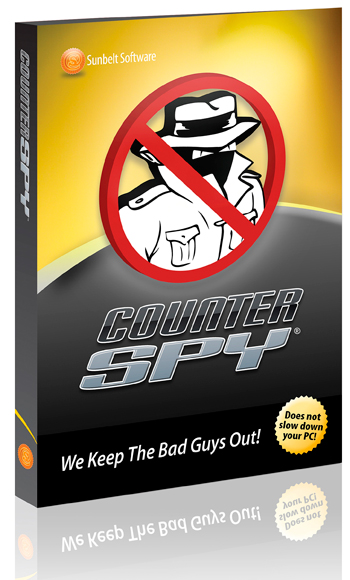 Does the anti-spyware include tools to enhance the ease of spyware detection and removal? Does the software offer descriptions of detected spyware so you can determine whether or not you want to keep detected item?
You can protect your computer from all kinds of threats including spyware, adware, malware and rootkits. CounterSpy is fully compatible with WinXP through Win7-64. As you read this review, you will see why I'm immpressed.
The program makes it simple to schedule and customize spyware scans or run scans on demand, while also offering an adjustable level of real-time protection. Installation is quick and easy. A configuration wizard walks users through the basic settings options for the program. I tried a number of times to change the scan time, but couldn't, then read that using the Wizard, it can't be changed, otherwise it is fully adjustable. Mind the Wizard, Harry Potter it isn't!
CounterSpy has a fully customizable option that lets you specify which areas of your system are scanned and what the scan is looking for. CounterSpy also throws in a few extra tools, including a file eraser, a history cleaner, etc. also available in Windows.
1. Boot Time Scans kill rootkits (sounds technical, but it is important)
2. Small/CPU memory use
3. Compatable with all Windows from XP to Win7-64.
4. User friendly interface takes you right to where you want to go
Brand New Licensing Option: home site license!
As many homes are now networke, CounterSpy now offers a unique licensing arrangement: home site license. For a subscription of $38.95/year you can install CounterSpy on as many PCs in one residence as you want.
There are many custom features, which is a hallmark of better software. For example, a novice can use features like Active Protection and with the program's default settings to obtain excellent protection. A more experienced user can select exactly what the program will protect or ignore.
The program offers Active Protection, which runs in the background while your computer is on to shield your system continuously. This feature won't slow down the speed of your computer. However, be careful. Deselect the box for checking IN/OUT of floppies and HDs and files. Only check the "incomming" box into your computer.
CounterSpy features a hybrid engine that allows the software utilizes FirstScan, which effectively scans your computer before the Windows loads to detect and remove deeply rooted malware and rootkits. Interesting. While FirstScan was at work, so was I, and I didn't notice any degredation in my system's performance.
Bottom line stuff: A full scans take around 10-30 minutes (latter for a huge terrabyte drive with lots of data). Active Protection incorporates three methods to protect the user: signature matching, comparing a file for an exact match against CounterSpy's definition database; heuristic analysis, which looks at the internal characteristics of a file to determine the probability that it is malware; and behavioral
analysis, observing the actual actions of a program to determine if it is possibly malware.
I was particularly impressed that each day there is an update. Now, that's paying attention to business! Those of you who do much updating will appreciate this: after installing new updates, you don't have to restart your computer!

Sunbelt Software, maker of CounterSpy, has excellent support, including a toll-free technical support number, an extensive, built-in help and e-mail support. Their customer service was a first-rate. Sunbelt also maintains an active blog.
CounterSpy's 15-day free trial is completely functional. My final comment? Three thumbs up. For more info, download, forums, etc. go to www.sunbeltsoftware.com.
Harold G. Spangler is a HAL-PC member and retired from NASA space flight operations consulting and a former university instructor. He can be contacted at hgsbu54@hal-pc.org.