HR Block AtHome formerly TaxCut
by Kathryn J. Tenakie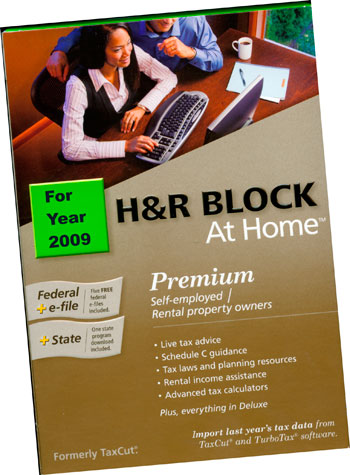 TaxCut is now known as HR Block AtHome series. With its easy-to-use interface, H&R Block's AtHome software is ideal for preparing simple tax returns. AtHome has done a good job of making data entry screens easy to read with extra help in their "Guide Me" interview-style questions.AtHome has a well-designed interface, with easy-to-find buttons and links to the Help Center, Ask A Tax Advisor (additional cost), filing an extension and reading up on new tax law changes. Help topic pages are printable, as are introductory pages for each tax topic which outline the documentation needed to complete the tax return.
Preparing your own tax return can save you hundreds of dollars. This same software is also available online, as is eFile. A real plus: you will better understand your own finances.

Each of the HRBlock AtHome software is directed to different user needs. The AtHomeBasic (free) is most appropriate if your tax situation is fairly simple. If you are single or married, no kids or dependents, have a job and do not own a home, this will probably work for you.
The AtHome Deluxe version is valuable when you are a home-owner or have significant investment activity (stocks, bonds and such). The Deluxe version will guide you through the investment situation with ease.
The AtHome Premium version is also intended for SOHO business. It encludes all the features of the Deluxe version, and also takes care of your business related filing needs, such as including Sch C.
What exactly is eFile? eFile is the electronic transmission of your tax return to the IRS. No more print and mail routine and with direct deposit, you'll likely see your refund in two weeks rather than six. With AtHome you can e-file upto five 2009 tax returns.
H&R Block offers "Worry-Free Audit Support" included in the price of the software. This means an H&R Block employee will personally help you defend your return against an IRS audit. Audit support is typically offered at an additional cost in other tax preparation software programs. Read the fine print.
AtHome Premium, best for wage-earners and the self-employed, handled my fairly comprehensive tax return with a minimum of frustration. AtHome's clean interface and short interview questions all helped speed things along. AtHome also imports data from personal finance software, such as Quicken and Microsoft Money. Self-employed taxpayers will appreciate AtHome's business assets and depreciation interview, which nicely handles deductions for business equipment.
If you get stuck on your tax return, you can have your data routed to an H&R Block employee who will personally review your data and finish preparing the return. H&R Block calls this product the "Best of Both" (prices start at $99.95). State and e-file fees are extra with some versions.
Setting up an account to use AtHome online tax software is very quick and easy. No account is required to try the software, but you will need an account to save your return. You do not pay for H&R Block AtHome online versions unless you file a return.
AtHome finally brings W-2 and 1099 imports to its tax software this year, saves time and increases accuracy. However, my attempt to download and import W-2 data failed, and the Help Center recommendation was "...simply enter your tax information manually…".
AtHome does not let you to skip ahead in the return to enter information that you receive numbers for early in the tax season. H&R Block says this is to ensure that all tax topics are covered, but I skipped through pages in the interview then used the Take Me To feature to move to any part of the return.
AtHome Online has versions that offer income tax preparation features for just about any personal tax return. I don't recommend the online tax versions H&R Block AtHome is an excellent value for the ease of use and price. For more info and updates go to: www.hrblock.com.
Kathryn J. Tenakie is a HAL-PC member who is a partner in a tax preparation service.