Fixing Your Digital Pictures, Simply.
by the Reviews Team
PREFACE.
How about those holidays? Lots of good food, great friends, delightful gifts…and photos! But help is on the way. To help you make some sense out of all your holiday pictures, we've reviewed three "image" (pictures) edit and management programs. All three are designed to provide at least the basics of editing your photos and managing all of them.
I could tell you which one is best for you to use, but I can't - only you know for sure. I can say, however, that Elements 3 is easily navigated and comprehensive designed for both the novice and intermediate digi camera user – stronger on editing than management. Then you have Picture It! which combines a lots of both editing and management – a good general set of tools. Third is ACDSee PowerPack which has a long history of excellence in picture viewing and management now adds some nice, basic editing tools.
So which one is best for you? A good way to answer this one is to download "trial" versions of each one. Reviews are listed in order of suggested retail price. Note: With so many sales and rebates available, I think you can find any of these programs at about 40-50% off retail.
Enjoy, Charles W. Evans, Reviews Editor
ACDSee 7 PowerPack: The name says it all
by Marie Linstrum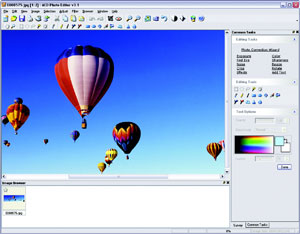 This well-known photo-management application is more powerful and feature rich than previous versions. It offers more control over your image library with an easily navigated interface. This set of programs is refreshingly practical, logical, and intuitive.
ACDSee PowerPack is an integrated set of programs for your snapshots that's smart looking and smart acting. In brief: PowerPack includes ACDSee image organizer with quick-editing features; FotoCanvas, a simple picture-editing program; and FotoSlate, for making layouts, projects, or contact sheets.
The image editor, FotoCanvas, is great for novices. A Common Tasks window categorizes tools by their use - choose a simple Photo Correction Wizard or click on a link to an Editing Task or a File Task. Each tool functions as a dialogue box that guides you to a result.
FotoSlate, is a basic layout program with many templates. Use wizards to make eye-catching calendars, greeting cards, or contact sheets. Fill in templates for T-shirt transfers, CD and DVD covers, etc.
Photo management: You can instantly move all your photos into a single virtual folder, known as the Image Well, so you can browse your entire collection. Using the Calendar interface, you can view pictures by the month, day, or even hour they were taken. You can manually enter properties for each photo - adding captions, keywords, etc. Adding tags is simple; when you highlight an image, a window with all the image data fields opens on the right side. Using these criteria, you can then search for images.
PowerPack now includes a Context Sensitive Toolbar that helps you find the right tools at the right time. The new Device Synchronization tool makes it easier to download pictures from your camera, scanner and other devices – even automatically save new photos to a particular folder. The image-editing tools are respectable, but not much change since the last version. You can do all the things you'd expect, like cropping images, adding effects, and red-eye removal.
You can create slide shows in PDF, Flash, and screen-saver formats. You can burn images onto CD and DVD, but you'll have to download separate plug-ins from the ACDSee Web site. You can also send photos via e-mail, print photos via SnapFish, etc.
New stuff in ACDSee 7
Acquire, organize, view and manage your images faster than prior versions.
Save time using more batch image editing functions.
Share your photos instantly using SendPix, ACDSee's free on-line image sharing, now with mobile phone support.
Examine your images in their original RAW formats – most major camera brands are supported.
Publish your images to TiVo's Digital Photo Viewer and bring the digital experience into the living room.
Great set of tools in the improved Image Basket.
Create PDF and Flash slide shows.
For anyone new to digital imaging who wants some basic and quick results, the PowerPack is a versatile, value-packed investment. Fast and worth the money and less of memory hog. For the really serious photographers, there's lots of value, but they might consider a more comprehensive image editor. One last "wish" – please make the interface less busy. For support forums go to forums.acdsystems.com or for info, download version and updates go to their homepage at www.acdsystems.com.
Marie Linstrum is a HAL-PC family member, graphic artist and genealogist who can be contacted atreviews@hal-pc.org.
MS Picture It! Premium 10
by Robert DuVernay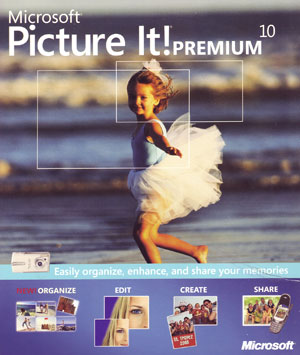 Picture It! an old friend from way back to vs 5. Picture It Premium 10 is even better. It still comes with a book! Can you say 128 pages? Yes! A real printed manual, and even more detail available via the internet on the details of the individual features.
Picture It! offers four tool sets, grouped by function:
Organize - Library, Import, and Keyword Painter; and
Create - Templates, Special Effects, fun things and more; and
Edit - Mini Lab, improved Tools, Auto Fixes, Red Eye removal; and
Share – Print, Resizing, and Web/E-mail.
Organization is perhaps the one area where most of us drop the ball! and the chaos which follows, due to our inability to remember where we put, that shot or what we named it. You can import from your camera, scanner, existing hard drive photos or an external thumb drive.
The LIBRARY has a few impressive features, you can paint individual or groups of photos with keyword, you can mark individual items for further action, and there is a slider on the top bar which allows you to make the thumbnail prints larger or smaller! Time, date, and size of the photo are provided in plain English, and you can caption with a simple click.
The FOLDER's View is very clever arrangement where PICTURE IT does a sweep of the hard drive and presents you all the photos it finds, and shows you where they are! You can review and manage very easily. Like me, you may find some of those photos you though you had already deleted by mistake.
Create didn't impress me so much; not being into framing photo's, making fuzzy edges and changing the look to watercolor…painting. If you need to do the art/craft thing, scrape book job or create a nice card or invitation it is here for you.
Edit tools are limited, but do work. Red-eye is easy to fix, the auto fix options for color, contrast and brightness are some of the simplest and easiest to use...and effective. Also, the manual provides descent, basic English explanations fir some of the causes and effects, and the magic jargon of the photo world. Had to go get my camera manual and see if my camera supported some features talked about.
Share is wonderful; your relatives will appreciate this feature. Share will automatically take that five gig photo you took of the kid and reduce it to 50K. Hopefully, you will convert it before you drop it on an unsuspecting person in an e-mail with attached photo requiring 30 min's to download. Please remember, most of other people do not have broadband. You can print multiple wallet size; you can mix and print different photos on the same sheet of photo paper.
Read the manual and check out the well-prepared tutorials, which will talk and walk you thru the basics. This is not Photoshop or Paint Shop Pro, but for the individual who is interesting in doing a little more than looking at their digital pics on 2-inch viewer of the camera, this is a nice package. The tools are sufficient to cover the basics; crop, fix it a bit, put more than one picture on a page for printing, create a calendar of the grand kids, e-mail to someone in a size that will not victimize the recipient or re-size them for your cell phone and more.
MS Picture It! Premium10 is a two-thumbs up winner. Available for $36 via the internet or $45+ over the counter. Works on Win98 and higher. For more info, updates and FAQs, go to www.microsoft.com.
Robert Du Vernay is a HAL-PC member and is the Chief instructor for the CD Burning for Everyone and DVD Burning for Everyone classes. He can be reached at rpd@hal-pc.org .
Adobe Photoshop Elements 3.0
by Paul Downs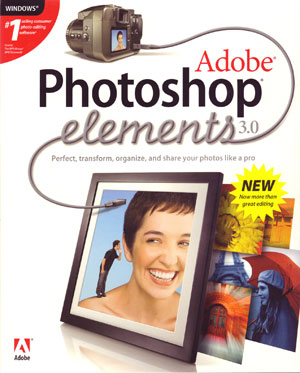 Photoshop Elements 3.0 is designed to appeal to a broad audience - from novice digital camera users to advanced users who would rather not ante up for the full-blown Photoshop program. Some may utilize only the simplest features and others may take advantage of the professional capabilities in this sub-$100 product. Elements 3.0 is a long-awaited and major upgrade to the 2.0 version with twin photo-editing interfaces and all of Adobe Photoshop Album, an image organizer and creative project program.
The Welcome screen lets you pick which component you want to launch first; whichever you choose, there are handy buttons in the interface to launch the other component at any time. There are two distinct modes: Quick Fix (hides most tools and offers the QF pane only) and Standard (a full set of tools).
Installing Elements is fast and easy. Remember first to upgrade to the included Acrobat Reader 6.1if necessary. You must have Windows 2000 (SP4) or XP (SP1) as your operating system and a fairly fast Pentium (P3/800+).
Navigating Elements is a little confusing at first. I highly recommend viewing the Windows Media training movie, "Overview" included on the CD. This 30 minute feature takes you through the basics with show and tell clarity. I was stymied at first after double-clicking on an image in the browser/organizer before figuring out I could double-click again to go back to multiple view. After watching the training video I could see the convenient slider bar at bottom right that allows quick control of the catalog view. These buttons and tools are a gray colored and a little difficult to see. NOTE to Adobe: make these icons in color to make it easier to differentiate among the various options- gray won't do it.
You couldn't ask for more functionality. The core product is a world class photo editor from the Photoshop company, Adobe. If you are a beginner or are in a hurry you can use the Quick-Fix editor to adjust basic flaws in your photo by simply clicking auto-fix buttons and moving sliders to affect exposure and color settings. If you already know paint programs, you should have little difficulty adapting to the streamlined professional Edit module which incorporates new features from Photoshop such as The Healing Brush; which lets you easily remove blemishes and imperfections from photos. There's also an easy tool for removing red-eye and built-in support for most Camera RAW formats.
The real home-style flavor of Elements comes from the Photo Browser and Create modules borrowed from Adobe's Photoshop Album which makes acquiring and cataloging your photographic efforts a fairly simple task. The tagging feature allows you to cross reference photos in various categories without duplicating them on the hard disk. The viewer mode lets you view your photos in a slide show and the calendar view shows you your photos in a calendar layout by date of creation.
The creative module allows you to publish slide shows, calendars, scrap books, greeting cards, and web galleries of your photos. Templates are provided that make it very fast work. The printing option, print multiple photos, lets you gang-up your photos on a single sheet of photo paper. The images you print from this program are the best possible quality, optimized for quick publishing to a variety of media. The slide show capability is excellent and it will burn VCD's or DVD's of your slide shows with its own internal burning software that recognizes most burners.
Generally, the right click options are minimal - there should be a greater use of the right click. Adobe provides a bang-up product at a reasonable price, but customer service is pay-as-you-go and the help files and manual are fairly superficial. Help is also available at Adobe/Windows Publishing SIG meetings the second Monday of the month. For a 30-day download trial version, more info, updates and help go to www.adobe.com.
Paul Downs is a HAL-PC member, employed by Teas Nursery where he maintains their website and assists with publications, advertising, and store management. He is a long-time volunteer of the Adobe and CorelDRAW and Windows Publishing SIGs. He can be reached at madriguy@hal-pc.org.