CyberLink Power Director 7 Ultra
by Margaret Hatcher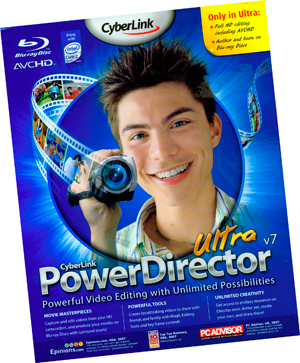 It is me again. Although my formal title is Office Manager, I'm also the go-to person for A/V services. You see, when a broker "tapes" a new listing, s/he rarely do so linearly. That is, it the front door, upstairs, the kitchen, back yard, back inside, etc. Now you know why I looked for a program that didn't take a PhD to learn. Power Director 7 Ultra is my choice. First, I'm going to list a few special features - others are useful and you'd expect them, but these simply stood out in my mind.
Novices and advanced users alike will find something to love in Power Director 7 Ultra. There are sufficient visual clues to help beginners get started while giving more-experienced users a no-frills, straightforward editing suite. Installation takes just 10 minutes and it also installs the high-def movie player, PowerDVD. I use it also for the annual report to my homeowners association.
The timeline covers the bottom of the screen, the preview window is on the upper right side, and the explorer, called Media Room, resides on the upper left side. Along the left side of the screen are a series of other "rooms," which essentially function as tabs to access effects, picture-in-picture objects, titles, transitions, audio mixing, voice-over recording, chapters, and subtitles. The interface is uncluttered and clean, and each room is assigned an icon
1. From Capture to Produce - in High-Definition - Create high-definition videos with support for HD content including AVCHD, MPEG-2 HD, and WMV-HD formats, including Blu-ray. Awesome.
2. Disc Menu Designer - Work with new designs featuring "select scenes" navigation and animated chapter thumbnails. Output to Blu-ray Discs and DVDs.
3. nVIDIA CUDA Optimization - PD7 is now optimized for nVIDIA CUDA technology enhancing HD video editing performance. nVIDIA CUDA technology renders certain video effects significantly faster. (I have an nVidia 8600 video card.)
4. Automated Video Editing - Select a movie theme and let PD7 complete your video for you. No need to set a single edit point or add an effect. It's totally automatic…sorta.
5. Professional Slideshows - Choose from seven unique templates, including the new "3D" style and slideshows. Retrieve photos you already have uploaded to Flickr.
6. Improved! End-to-end high-definition: complete production process for high-definition (HDV) and widescreen (16:9) videos, from importing, to editing, producing and authoring/outputting.
7. Improved! More responsive user interface: up to 30% faster loading and launch times of editing and authoring features, and quicker importing of photos and videos into the library.
8. New! Menu template designer featuring DVD subtitles option: users can design their own DVD menu template, and choose whether to add subtitles to single clips or to their whole movie.
9. New! Home theater audio: support for 5.1-channel Dolby Digital allows users to create discs for their home theater systems.
10. New! Key frame control in the effects room: users can now edit the properties of all the hundreds of effects in Effects Room - to create the exact the result by controlling the key frames.
Magic Tools for Enhancing Videos and Photos
1. Improved! 1-Click Editing: automated enhancing and editing with Magic Editing Tools, for one-click fixing of problem videos with auto backlight, stabilizing, and white balance adjustments.
2. Magic Cut automatically edits videos to keep the best scenes;
3. Magic Music compiles complete soundtracks by selecting audio then dragging it to the required length;
4. Magic Movie Wizard: the guided movie-making process blends in styles, music, and transitions to videos and photos of the user's choice, creating a stunning edited movie in just a few clicks. I also noticed the PD7 has more fun effects than other editing suites.
5. New & Improved! Customized Animated Slideshows: seven remarkable slideshow styles, featuring a new "3D" style. Even easier than PowerPoint.
New! Unlimited source of audio and photos: direct download of photos from Flickrand audio clips from Freesound.
I noticed the icons aren't easy to decipher (read: unintuitive). One of the crowning jewels of the PD7 Ultra is the Magic Movie Wizard that instantly creates an edited video based on your video.
If you don't remember the shortcut to the media room where all of your clips are stored, simply hold the mouse over the clapboard icon and you'll see keyboard shortcuts.
I like the wizard because it actually changes your video: adds many more transitions, overlays and split screens than the other programs, and you are able to view and edit the wizard's changes on the timeline.
Verdict
On the whole, Cyberlink's Power Director 7 Ultra is an affordable video editing suite for families and beginners that users can grow with as they become more experienced. It's not intimidating out of the box and it comes with more effects, titles, and transitions. It combines the power of these programs with the intuitive interface to create a well-balanced editing suite for editors of all but the most experienced pros. For more info and updates go to www.gocyberlink.com.
Margaret Hatcher is a HAL-PC family member who is the office manager of a large, multi-location real estate firm.