A 5.1 Headset – Amazing!
by Jamie Marshall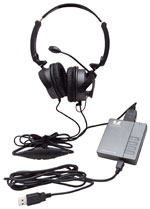 Years ago I bought a stereo headset, a Koss Pro4A. It is still working quite well and still has the very large, soft "ears" – ear phones that are about five inches across. At the time these were the best you could buy and stereo was the latest technology. Now, go to a movie or view a DVD movie and what great "surround sound" is available – in some games, up to eight audio sources. So what is so great about this Personal Cinema 5.1 headset? A lot of pleasant surprises and great sound in a small package.
What surprised me about this earphone is that the ear pieces were about three inches in diameter yet contains eight speakers – two front, two center, two each L/R and two woofers. Now granted, my floor model speakers put out over 100 watts in large wood cabinets, so you won't get quite the same response in either the mid or bass range. But you will be pleasantly surprised at the quality of sound, especially what we call "presence". And to have a drag race from one ear to the other really is amazing.
If there are eight speakers why is it refereed to as a "5.1"? Actually, the "5" is the number of directional sources. Back, front, L/R and center. If you have an existing audio card you'll need to go to your BIOS and disable it. Now simply put the CD in the player, plug one end into an available USB2 slot and the other end into the external audio card thence to the in-line audio control device. It may take all of four minutes. Now put in a 5.1 DVD movie, sit back and enjoy. Installation and setup are a breeze. There are a few options to select, but selections need no assistance.
The external USB audio card delivers a rich, full Dolby Digital Surround Sound/AC-3. Also, built-in DTS decoding eliminates the need for a separate sound card and output for each channel. The audio card contains control panel apps. This system can be used equally well for DVD movies, games and video conferencing (there's an included excellent quality mic for the last two). Is that all there is? Not really. How about a realistic vibration mode! It actually vibrates.
The bundled software is about the best on the market and includes WinDVD 5 which is one of the best DVD players and WinRip2, which I didn't try. Using the earphones at home will give family members a break. They might not be interested in hearing your computer. This is the only earphones to include an external (in an external case) USB 5.1 surround sound card capable of decoding both AC-3 and DTS, making it compatible with any Windows PC.
MANHATTAN Personal Cinema Headset, a 5.1 surround sound headset complete with microphone, eight speakers, and a "vibration mode" resulting in excellent crisp and clear sound. The product is a bit pricey and in-line earphone controls are a bit small and awkward. It retails for about $149, but go to their web site for more info www.manhattan-products.com.
Jamie Marshall is a HAL-PC member and senior audio technician. She requested all questions be sent to the Reviews Editor.